**Fab Sponsorship / Gift Suggestion for any occasion**. The Cats Aid Sponsorship Pack is an abundant pressie for your cat loving friend for just 45 euros!
Thursday, November 7th, 2019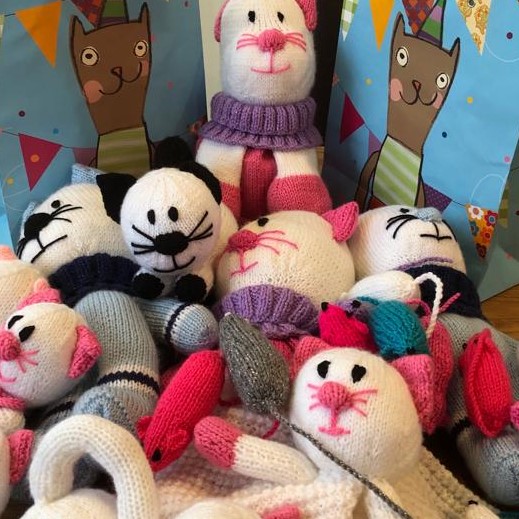 *** A FABULOUS GIFT SUGGESTION FOR YOUR CAT LOVING FRIEND ***
Why not treat yourself or a Cat loving friend to a beautiful Cat themed goodie sponsorship pack as a gift.
By making this purchase you will be helping Cats Aid with some much needed funds to enable us continue the vital work of rescuing, rehabilitating and re-homing sick and needy cats and kittens.
Each pack contains the following –
*2 hand knitted items – a big cat and a mouse
*Personalized certification of sponsorship
*A lovely re-usable cat gift bag
*Feather wand
*Handmade cat greeting card
*Cat bookmark
*Key-ring
*Cat treats
*Cat nip
*Kitten toys


Cost is just €45 per pack and orders are only accepted for hand delivery in the greater Dublin area.
Please email catsaid@gmail.com giving your details including address and phone number so we can arrange delivery to you as soon as possible. We will ask you to arrange a payment via bank transfer or via Paypal.
Thanking everyone for their ongoing support.
From All The Kitties!
---