Meet Layla! (Sister of Leo) BOOKED
Friday, February 4th, 2022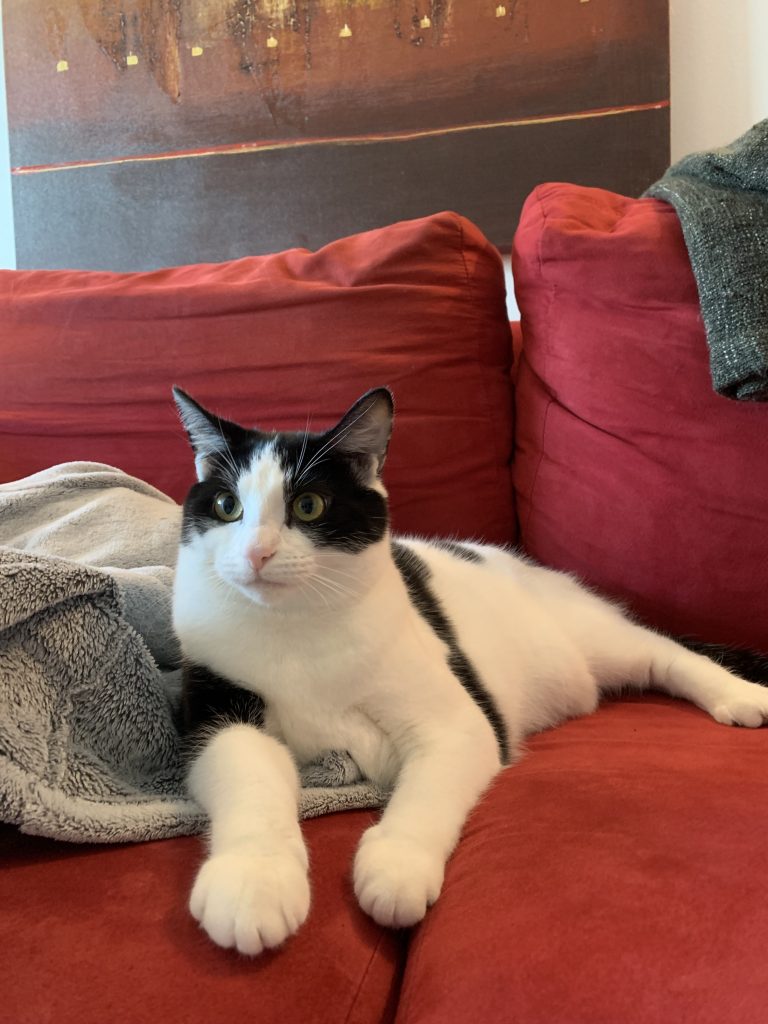 Layla is the sister of Leo so she is also 10 months old. She is mostly white with a few black patches
Layla is a queen and she knows it. She also knows that she had a hard start to life and deserves a life of luxury and relaxation. She loves to lie down on a soft carpet or sofa, but she really loves to play with a toy by herself whilst lying down. Layla is a mix between active and lazy. She does like to zoom around the house with her brother or investigate new places, but she loves a nap more than anything. She loves toys, especially toys that are left lying around that she can pick up by herself later. She loves to bird watch from the wind and watch TV. Layla is really coming around to humans and interacting with them. She loves scratches on the top of the head and lots of pats on her back, but she is still getting used to the humans always touching her. Little treats are a great way to get her comfortable with human touch as she responds very positively to food.
Layla will let you know when she doesn't like something, but she is very polite in letting you know when she's not comfortable. She is still a little apprehensive of humans who want to touch her too much. She does like to be patted but a few times is enough because she doesn't like her perfectly groomed fur to get messed up. She will politely let you know if she has finished with your pats and cuddles by meowing or moving her paw on your hand and signalling she's had enough. She also doesn't love to be picked up yet. She will politely meow and say no to being picked up, but we think over time, she will get used to it as she tolerates us picking her up all the time.
Layla has grown up with her brother Leo, so she is used to another cat. However, she is great on her own, she is very self-sufficient and can play by herself and sometimes Leo can be too much for her. She is however quite resilient, so if she was introduced into a multi-pet household, she would get used to it but still demand to be the queen.
Layla likes to eat a mix of dry adult biscuits with half a packet of wet food (she shares the packet with her brother). She has that twice a day, but she also loves to have a few chicken flavour Dreamies every day.
Layla has only been an indoor cat so far, but we think she would like to be introduced to the outdoors slowly, as she does love watching the birds and the squirrels climb trees.
Her foster family describe her as – Sweet, quiet, easy going, very self-sufficient, resilient and initially shy with people.
Layla is all set for her new home, she has had a full health check, all of her vaccinations, she is also neutered and wormed. She eats a very basic adult cat diet – mix of dry food and wet food pouches. If you feel that you can offer Layla a good home please get in touch with Cats Aid today.
Please call message minder to leave your details: 087 148 3032 & we will get back to you.
---