Meet Bru & Bo! (Booked)
Wednesday, April 27th, 2022
Look at us, aren't we just fab, we are called Bru and Bó – and we are the latest addition ready for homing and we make a wonderful dynamic duo! We were taken in by Cats Aid about six months ago and are both 7 months young, having lived with one foster family during that time. We are neutered and vaccinated and ready to find our furever home!

Bru: I'm ginger and white (think Irn-Bru, in fact I'm often described as a sugar rush on paws by my foster mam), and smaller than my brother, but I make up for my size by being more mischievous and adventurous. I enjoy playing, snuggling, sleeping, cackling at birds and attacking toes under blankets. I'm also the more likely of us to be heard talking and will appear out of no-where when the treats come out. I love chasing whatever makeshift toy I can find around the floor and distracting my foster mam by climbing around exploring new places and heights. But I also love to spend my afternoons sleeping in the sun, or on a pillow on the desk next to my foster mam while she works.

Bó: I'm black and white (think cow), and the slightly chunkier member of this duo. I'm slightly (only very slightly) more timid, but will only be one step behind Bru during expeditions. I've got a much quieter and croaky voice – it's quite endearing. I'm a bit clumsier, not always the best at spatial awareness and think my tail is the best thing to chase around. I also share many of Bru's interests – playing, snuggling, sleeping (big fan of sleeping actually!) and showing those pesky toes who is boss – but one thing I do better is forcing my love onto my foster sister, Penny, by climbing into bed with her. My favourite toys are two purple and orange fuzzy balls that I love to carry around in my mouth and chase under the sofa so my foster mam has to get on her hands and knees to retrieve them.
Here is an adorable picture of us having the craic….!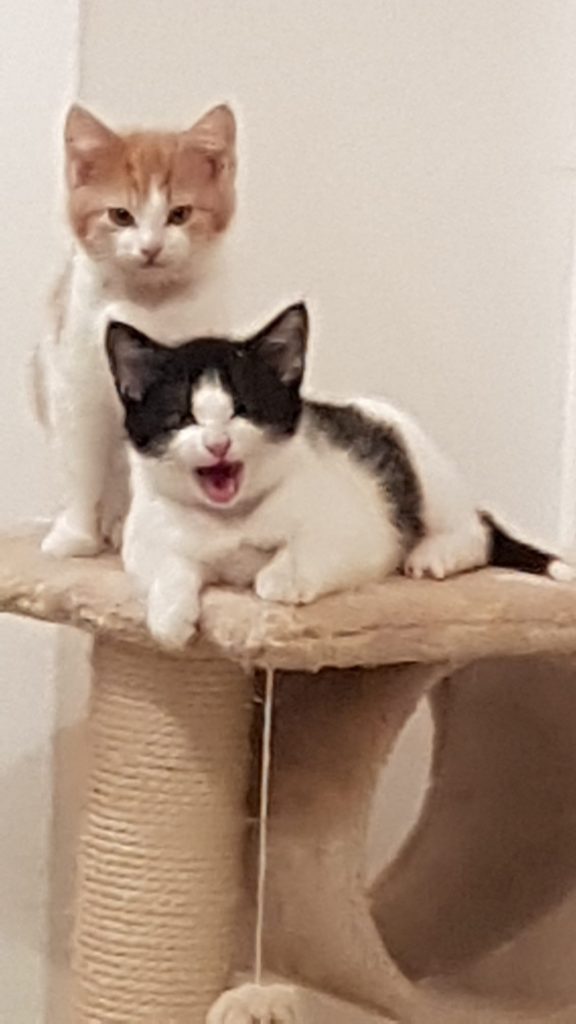 We may have different purrsonalities, but one thing we definitely share in common is our ability to shake the foundations with our purring! Usually one or two scratches in the right place and you'll fire us up. We are still young and will keep you laughing with our antics and melt your heart when we snuggle together in bed. We're brothers and best friends and we hope you might be our new furever family.
Please consider adopting us as a pair as we are very close and very much depend on each other. Bó and Bru xx
---