Meet Dash & Dory!
New additions Dash and Dory are a gorgeous friendly pair of siblings. They are now 12 weeks old and all set for their forever home. Dash is a beautiful black and white male and Dory is a lovely black female.
Be warned they are full of mischief and a bundle of joy and would be a great addition to the right home.
They are so playful but we would not recommend them to be around dogs or small children as they have not been exposed to either in their short lives so far.
Both are fully vaccinated and have their bags all packed. Please call us if you are interested in adopting this gorgeous duo.
Meet Dot & Delilah!
Dot and Delilah have come on in leaps and bounds (quite literally). From two very scared kitties rescued from under a shed to two happy little purrballs. These two gorgeous gals spend their days playing, chasing and wrestling. They keep themselves entertained for hours on end, in between cat naps of course.
Delilah is small but mighty, she's was the smallest of the litter. She was already purring the day after being rescued and is a very brave and confident little kitty who has no problems making sure she's heard. She adapts quickly to new people and is used to children over 6 years of age in her foster home.
Dottie is a bit more shy and wary, it takes her a while to come around to new people but once she comes out of her shell, she is a lovely, gentle girl who loves to play. Dottie has also been around children over 6. She has a beautiful thick black coat with a little white dot.
Dot and Delilah have been with their foster mammy for about 6 weeks and are now ready to find their furever home. Ideally these girlies would be homed together in their new family as they are still very young kittens (around 3 months) and love to play together. If they are homed separately they will need a lot of dedicated playtime several times a day in a home where someone will be home with them. They are interested in other cats, they have no experience of dogs.
They have both had their vaccines and have been regularly dewormed. They will need to be spayed when they are the appropriate age.
If you feel that you have the right home for this gorgeous duo please get in touch with Cats Aid today.
Meet Barry!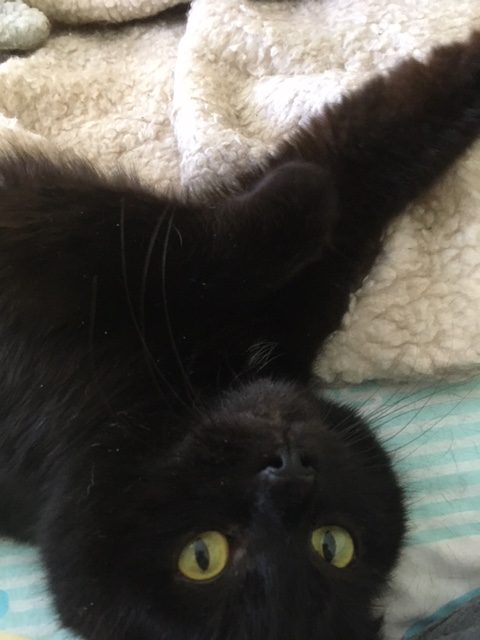 Meet Barry, he is a sweet little two-year-old neutered male who came to us as a stray. He is very quiet and very affectionate; he loves being petted and having his fur brushed and could purr on your lap all day.
Barry is used to friendly dogs and cats in his current foster home so we are trying to find a suitable indoor-only home for him. He can be a little bit skittish at times and will need someone with cat experience who is used to nervous cats.
Barry has been vaccinated and micro-chipped and has his bags all set so he is ready to go.
Please get in touch with us today if you think you have the right home for our Barry.
A BIG Thank-You!
To everyone who kindly donated to our recent Easter Roof Appeal we would like to say a massive THANK-YOU for helping making this happen.
The job was completed over a period of five days and the finished job looks really terrific and well beyond our expectations.
Not only was the roof completely redone but the ground area was also extended slightly.
The cats are absolutely chuffed too.
Cats Aid Team
Meet Bru & Bo! (Booked)
Look at us, aren't we just fab, we are called Bru and Bó – and we are the latest addition ready for homing and we make a wonderful dynamic duo! We were taken in by Cats Aid about six months ago and are both 7 months young, having lived with one foster family during that time. We are neutered and vaccinated and ready to find our furever home!

Bru: I'm ginger and white (think Irn-Bru, in fact I'm often described as a sugar rush on paws by my foster mam), and smaller than my brother, but I make up for my size by being more mischievous and adventurous. I enjoy playing, snuggling, sleeping, cackling at birds and attacking toes under blankets. I'm also the more likely of us to be heard talking and will appear out of no-where when the treats come out. I love chasing whatever makeshift toy I can find around the floor and distracting my foster mam by climbing around exploring new places and heights. But I also love to spend my afternoons sleeping in the sun, or on a pillow on the desk next to my foster mam while she works.

Bó: I'm black and white (think cow), and the slightly chunkier member of this duo. I'm slightly (only very slightly) more timid, but will only be one step behind Bru during expeditions. I've got a much quieter and croaky voice – it's quite endearing. I'm a bit clumsier, not always the best at spatial awareness and think my tail is the best thing to chase around. I also share many of Bru's interests – playing, snuggling, sleeping (big fan of sleeping actually!) and showing those pesky toes who is boss – but one thing I do better is forcing my love onto my foster sister, Penny, by climbing into bed with her. My favourite toys are two purple and orange fuzzy balls that I love to carry around in my mouth and chase under the sofa so my foster mam has to get on her hands and knees to retrieve them.
Here is an adorable picture of us having the craic….!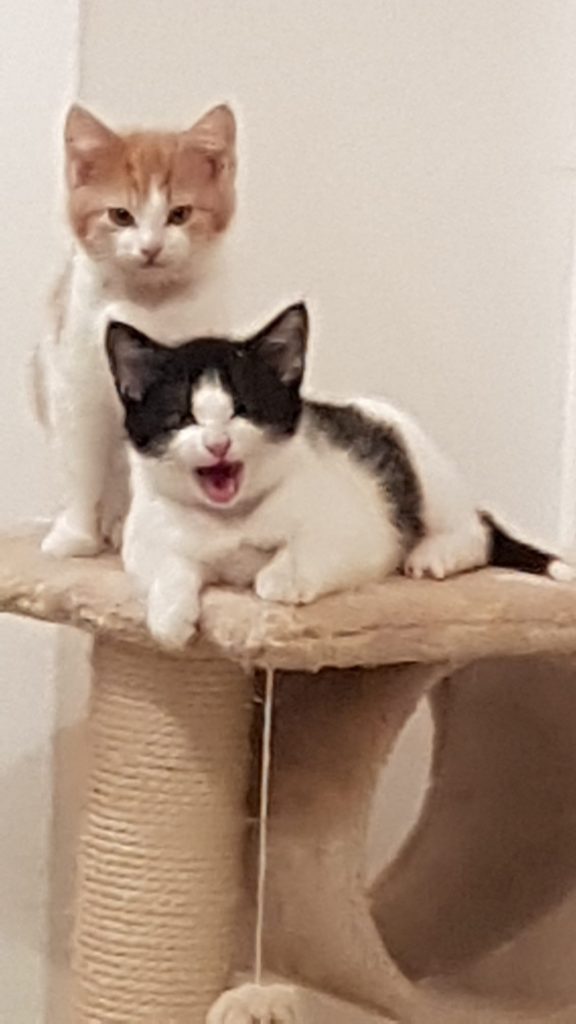 We may have different purrsonalities, but one thing we definitely share in common is our ability to shake the foundations with our purring! Usually one or two scratches in the right place and you'll fire us up. We are still young and will keep you laughing with our antics and melt your heart when we snuggle together in bed. We're brothers and best friends and we hope you might be our new furever family.
Please consider adopting us as a pair as we are very close and very much depend on each other. Bó and Bru xx
Meet Luna! (Booked)
My name is Luna and I am a gorgeous five year old tabby male cat. I am neutered and fully vaccinated and all set for a new home. I am such a sweet boy and I love humans and will give cuddles all day if you have the time!
I also like to mix with other cats in the cattery where I am being fostered. Sometimes I do really cute things like carrying my water bowl around with me.
If you like to give me a forever home contact Cats Aid today. I have a feeling that I will be snapped up!
Meet Annabel!
This gorgeous grey and white gal is all set to go to her new home. She is from a litter we called the Famous Five from earlier this year. All of her siblings left for their new homes last month. Anabelle got a bit delayed due to a sore back leg which has thankfully healed. She is now 7 months old and is fully vaccinated and neutered.
Her foster mammy has confirmed that she is super sweet and a good eater. She likes Royal Canin dry food and Whiskas or Sheeba wet food.
Annabel is a gorgeous cat and loves the other cats in her foster home. She has a small experience with dogs, enough to confirm that she is not fond of them. So if you have a dog free home please get in touch today.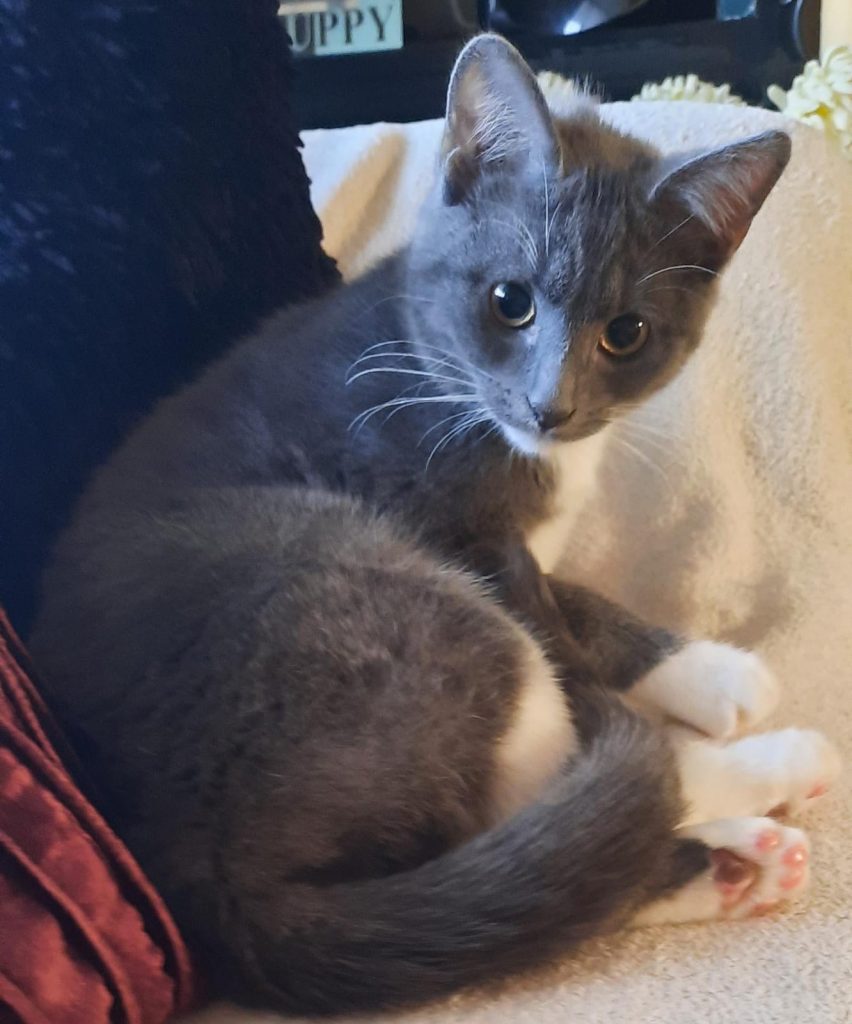 NEW : Easter Roof Appeal 2022!
We are appealing to all of our amazing Cats Aid supporters to help us to literally raise the roof!
Our current cattery has seen better days and is lacking in TLC and structural maintenance for many years now. Basically the roof needs to be completely replaced along with all the joists, it will also involve re-plastering and repainting.
This is a big job which will take over ten days to complete however it will result in us being able to fit in a few more cats in dire need and also keep the current ones warmer and happier. The cats in the cattery are in temporary accommodation until the work is complete.
The best quote we got for this work is €4,200 so if you would like to contribute in any small way we would be very grateful.
Here are some of the ways you can help us –
Donate any amount via our Donate button on the website as follows – https://www.catsaid.ie/donate/
Order a sponsor cert for €30 for someone special in your life, all the details are here https://www.catsaid.ie/shop/sponsor-a-cat/
Order an Easter sponsor pack for €49 Here are the details **Gift Idea for your cat loving friend ** The Cats Aid Sponsorship Pack is an abundant pressies full of cat themed items for just 49 euros! https://www.catsaid.ie/2019/11/cats-aid-christmas-fair-2019/
Text donate LOVE to 50300 to donate €4
Happy Easter
The Cats Aid Team
April 2022
Meet the Famous Five!
We are a family of 5 siblings made up of two males and three females. We are now 14 weeks old and are fully vaccinated, litter trained plus we have our little bags all packed. Our names and colours are as follows –
**Delighted to say that 4 of this little family have gone to super homes so from the list below only Annabelle is now available**
Albert (black/white/grey undercoat)
Ace (black/white/grey undercoat)
Annabelle (grey/white)
Ada (black/white)
Abigail (black with spec's white).
We are all super sweet kittens with lots of energy. We each have our own personalities. We love to play and get up to mischief so our foster mum gives us loads of toys to keep us busy. We also get to play with our foster mum other cats who we also love.
We are currently being fed on whiskers in jelly and Royal Canin kitten dry food and it works well for us.
If you would like to give any of us our new forever home please contact Catsaid! We are happy to be homed in pairs or on our own.
Meet Cadbury! (Booked)
Cadbury is a very sweet 5-year-old boy who was straying for about 5 months before he came to Cat's Aid. He is neutered, microchipped, and fully vaccinated.
Cadbury is very quiet and doesn't play much. He is very friendly but a bit nervous at times so would be best suited to a quiet home. He does like to be around people and to sit on laps but seems to prefer to sit near a window.
Cadbury loves treats and will come running when he hears the treat bag being opened. He can be a bit chatty when he's looking for food and water and is very good at letting people know when his dishes need to be filled.
Cadbury is all set for a new home so please get in touch today and ask about him.