Meet Little Baba!
In June 2021 a kind person found a one day old kitten in their backyard, it looks like it had been abandoned by his mum. After waiting for some time confirming the kittens mum wasn't coming back to get him, they brought the little fella into the vets who handed it over to a foster.
The foster couple has been hand rearing this gorgeous little boy, who was born mid-June. He is full of life, eating healthily and enjoying his human cat parents
When he is old enough he will be available for adoption, so keep an eye out for him on the adoption pages.
In the meantime please consider sponsoring this sweet boy, he has a few vet visits ahead of him to help him grow big and strong and ready for adoption!
Meet Larry G!
Hi there, my name is Larry G and I am a male adult cat who was rescued by Cats Aid in July 2016 as a three month old kitten. I am now almost 5 years old.
When I was rescued I was living in a colony and as my mother was feral I had to learn to trust humans. I went to a foster home with my sister. She got a home as she trusted humans and was very friendly but I was still afraid and traumatized from living rough and all that entailed. As a result I lived in the Cats Aid cattery for a few years.
In March 2021 Cats Aid secured me a loving foster home and I am now doing really well. I am beginning to trust humans and understand what being loved means. My foster parents are working from home and I am really enjoying all the teams calls and daytime laptop naps plus the food here is amazing!
When I come out of my shell, I am very playful, fun and funny. I love my Felix treats! I thoroughly enjoy couch and window naps, playing in my tunnel, hiding my toy mice then trying to find them. I am very clever and love my target training, I would love if my loving home would continue this with me. I think with time, patience I can build enough trust to become a lap cat!
I am looking for a very special home, someone experienced with cats who will spend the time with me, continue the training I am doing and have patience for my quirks.
I am neutered and all vaccines up to date.
Please call Cats Aid today and we will endeavor to do a home check via WhatsApp.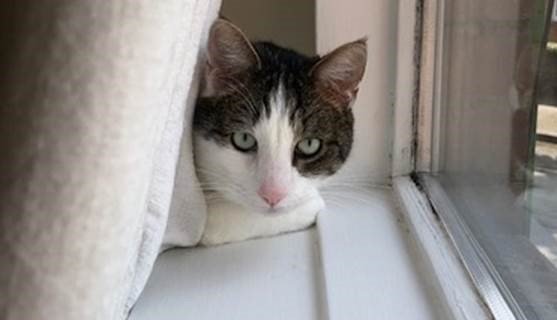 Meet Gucci!
I am gorgeous 18 week old black & white kitten who was rescued along with my brother. He went off to a home a while back but I needed some time to get used to humans and home life so I am currently in a loving foster home.
My foster mum thinks I am a great boy as I love to play and be held. I also love her cuddles and if I am not too busy I also enjoy carrying my toy mouse around. Please note that I am a little bit nervous of new people and changes so my new forever family will have to be in a position to give me a little time to show them I am the best boy that my foster mom sees. So a nice quiet home with an experienced cat owner would be ideal.
I am a good eater and am currently eating Royal Canin sensitive 33 dry food and whiskas or felix in jelly.
I am fully vaccinated and neutered and have my bags all packed.
If you think you could give me my forever home and a chance to shine contact us.
Please donate to our **Katrina Appeal**
We got a call about Katrina who had recently given birth to three gorgeous kittens in a garden shed. Unfortunately she had sustained a serious injury; probably hit by a car. In spite of this trauma she thankfully made her way back to her kittens and they were all rescued.
Cat's Aid rushed Katrina to the vets for care and assessment and the diagnosis was that her pelvis is broken and she needs specialist surgery to repair it. Cost estimated at 1500 euros. See x-ray below.
Katrina is a young, healthy, sweet-natured cat and a great mom and we feel that she deserves every chance to live a normal life.
We appeal to your generosity to enable us to help Katrina.
Due to the current kitten season, there are many other cats like Katrina in our care needing help. Our TNR (Trap, Neuter & Return) program takes place all year round but it is especially busy right now. Every day Cat's Aid are responding to phone calls about mammy cats and their babies in back gardens needing help. Some are in a bad way needing urgent medical intervention which can involve expensive vet bills (see below) once they are rescued and assessed.
Some average costs:
Antibiotics 5 – 30 euros
Worming/Flea treatments 10 – 15 euros
Vaccinating 35 – 50 euros per shot
Neutering 45 – 60 euros
Scans 175-200 euros
Dental Surgery 150 -260 euros
Many of the cats rescued are friendly and home-able once they have recovered from their ordeal.
Due to the pandemic, we have been unable to have our annual fair this year for the second time running so we are appealing for your help with donations.
There are a few ways to help us help the cats as follows –
Making a general donation for any amount via PP or EFT here – https://www.catsaid.ie/donate/
Purchase a fun cat horoscope for only 10 euros
Purchase a gift cat sponsor cert for just 30 euros
Purchase a gift sponsor cat pack for 45 euros
A big thank-you from all at Cats Aid xx
Meet Bradley!
Hi there, I'm Bradley. For a while I fell on hard times times until a friend of Cat's Aid found me living in the wild. On my first trip to the vet I had to be shaved from my neck to my paws as my coat had become matted. After readjusting to being indoors and part of a family I am feeling and looking much better. My appetites is back, I'm getting regular exercise through play and catching up on lots of sleep stretched out near sunny windows.

I went back to the vets recently and he says I'm in great shape. While my hair is a little patchy my long sleek black hair is well on its way back!.

I'm ready to find my new home. I don't like dogs. I like a back and neck rub but don't like to be picked up. I do like to be with humans and spend a lot of my day following around my foster mom or watching my foster Dad work.
An adult home or experienced cat owners would suit me where I can be in the middle of the action or left alone when I'm ready for quiet time.

I'm 2/3 years old and have been neutered. Could I join your family?
Please get in touch with Cats Aid if you can offer me a good home and the people there will try to do a homecheck via Whats App.
Meet Luka! (Booked)
This little fella is a recent rescue. He has been in foster just a few short weeks and already he is described as super friendly, he loves humans and his cuddles. He has a lovely personality and is an all round good natured cat.
The vet reckoned his age is around two years. Cats Aid have had him neutered and wormed so he is all set for his forever home. He would make an ideal indoor & lap cat.
If you feel you are the right home for Luka please do get in touch and we will endeavor to do a home-check via Whats App.
Meet Dobby!
My name is Dobby and I'm a charming little gran with a big heart and winning personality. The vet says I'm about 10 years old and have a lot of love and affection left to give. I enjoy spending my days gazing through the window or snoozing in my favorite spot on the couch. I also love to sunbathe and you'll find me snoozing wherever those sunbeams are warmest.
I'm a little shy at first even though I appear very comfortable so it's best to take it slow when getting to know me. I will quickly warm up to you and show you my preferences, which include gentle petting, scratches on my head and lounging in very close proximity to you.
Some signs that I am enjoying myself include purring, vibrating the base of my tail, and rubbing my face against your hand. When I have become comfortable with my home, I will seek you out to spend time with you, which I might need some help with if your beds or couches are far from the ground. This also applies to window sills for me to perch on.
My mobility is limited when it comes to reaching higher surfaces so pet steps or a ramp to assist me are important to my quality of life as I don't enjoy being picked up. My balance is also not great and you may catch me stumbling from time to time, especially on uneven surfaces like duvets or blankets. You should also know that I like to watch what I eat because my tummy is a little sensitive so please read the preferences my foster mam provides below. 
If you are keen to adopt me please make contact today with Cats Aid and we will endeavor to do a home-check via Whats App.
| | |
| --- | --- |
| Basic info | Female 10+ years old, jet black short hair with a sneaky white patch on her belly. |
| Vets visits | Neutering plus full health check, few teeth removed. they mentioned a possible liver issue, but it wasn't bothering her + it would need more investigation. She also has some issue with her back/back legs, it causes her to stumble and tumble from time to time – but vet couldn't see an obvious cause. |
| Dobby likes | Being brushed on her terms, playing with feathers and sleeping. |
| Dobby dislikes | Being picked up front on, over stimulation. |
| What was the cat exposed to in foster | Other cats through glass, a toddler, 24/7 work schedules as Dobby and I share my office |
| Met other cats? | Through glass she met some neighbor cats but not keen. |
| Indoor or outdoor | Indoor only please |
| Diet | Dobby has some tummy issues, currently on wet whiskas gravy pouches + dry royal canin indoor 7+; fed 1 pouch + 40g dry, split morning and evening |
| Grooming | She enjoys a brushing and sheds quite a bit – but again on her own terms. |
| Personality description | Shes a confident kitty – no fear, rarely shy's away. Doesn't meow often, when she does she wants something. |
| Info on how the cat came to cats aid | Dobby was picked up from May park with an injury on her head, she was in a bad way. Original plan was to let her recoup and release her but she's just not suited to outdoor living. |
| | |
Kittens Ready To Go!
Meet Quince! (Homed)
Quince is looking for a new home, due to a change in home circumstances. He is vaccinated and neutered. He has been an indoor cat since his owners got him, he is three and they have had him for three years.
Quince has never been around other cats or outside so maybe an indoor house would suit him but if someone wanted to take him outdoors with training I'm sure that would be possible. It just wasn't possible for his owners in an apartment.
He is a really playful and energetic cat, he loves playing. He is very fluffy and loves cuddling as well as playing! Children don't live in our house but he has been around children several times and he really liked them.
DISCLAIMER: Cats Aid does not accept any responsibility for this cat.
Bengal Cat Found in Sutton in early April!
Message copied from Facebook Post – We've found a Bengal in Sutton area of Dublin.
We suspect he's been stolen as he's a young male, entire, and probably escaped his captors. He's been hanging around our house a fair few number of weeks, is always starving, and is showing signs of fight wounds and other damage. Today myself and Hazel took him to be boarded, he doesn't appear to be chipped.
These cats are worth quite a lot of money, hence my suspicion that's he's been stolen. Please share around. I have contacted my local Fingal cat rescue people as well, and we've sent out notifications around the area to see if anyone knows who owns him. So far nothing.
Not sure who is minding him but possibly a vets in Sutton.