Meet Jake & Jazz!
This gorgeous due are Jake and Jazz. Jazz is an all black cat and Jake has tuxedo colouring! They are two fun loving kittens born roughly three weeks apart in May. Jake and Jazz are a bonded pair and would love to be adopted together.
Jake is much more confident than Jazz despite being the younger of the two. He loves to be petted and will happily hop onto your lap the second you sit down. Jazz is much more shy but is becoming more trusting every day. He is definitely learning from Jake's confidence!
They are both fully vaccinated and love to chase each other up and down the stairs.
They are the sweetest little things and are so excited to find their forever home. So if you can offer them their forever home please get in touch with Cats Aid today.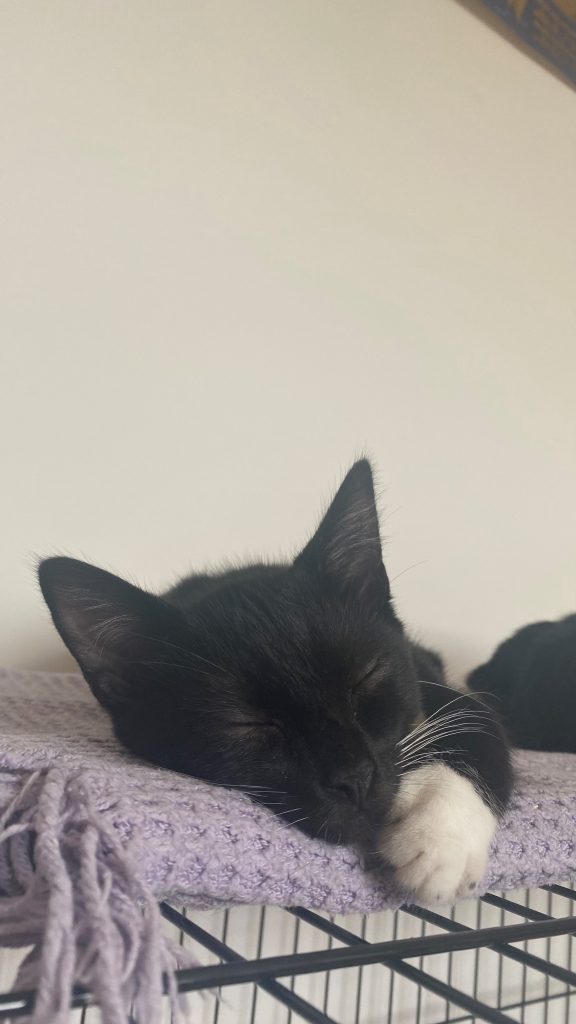 Meet Nicco & Nuri!
Nicco Tux and his brother Nuri Black are two shorthaired incredibly loving sweet kittens looking for a quiet, warm home where they can relax and sleep, play and have lots of cuddles. They were rescued from a bad situation having been born in June. Being typical Gemini babies, they are totally bonded and reliant on each other to feel safe and secure. It would be best therefore if they can be homed together.
Nicco is a distinguished boy with white Tuxedo markings on his chest and white boots on his hind legs. He loves nothing more than tummy rubs and food – lots of it and frequently! Nuri on the other hand looks like a miniature black panther being totally black, silent, and always on the alert watching out for and minding his brother. He is so graceful. Both kittens love playing with their toys and chasing balls together. They also love climbing, looking out the window at the birds and their scratching poles. They are great cuddlers and Nuri gives the best headbutts! They purr loudly like engines when happy and when eating!!
Both Nicco and Nuri love eating dried and wet sachet food and also love to play with the drinking water. They are used to having dried food being available all the time and water to drink. They really enjoy all sorts of treats and come running as soon as they hear the packet rustling. They have been kept indoors in the fosterer's house and are totally litter trained. They have had no experience of meeting other cats or dogs or children.
They need a quiet home where they will be given time to blossom further and become more confident. They do not like sudden movements or loud noises. They are a little shy at first and need a little time to get to know you. When that happens, Nicco just wants cuddles all the time and Nuri will settle in your arms for a sleep. While Nuri also loves his tummy rubs, he is only now getting used to being picked up and his fosterer is confident he will be less shy over time once he feels secure and loved.
Nicco Tux and Nuri Black have both been health checked and have been wormed and vaccinated.
Both little boys are totally adorable and affectionate and love company and will make a really great addition to a loving home. They would be best suited to an adult home or one with older children (10years +) . If you feel that you can offer this gorgeous duo a loving home please get in touch with Cats Aid today.
Meet Marbles!
Marbles is a gorgeous shorthaired male kitten. He is approximately 12 weeks old and is very friendly and playful. He loves company and would suit a busy enough household.
He is in the same foster home with his siblings called Mango and Milo and they have a ball playing together.
Marbles is fully vaccinated and has passed his recent full health check at the vets so he is all set to go.
If you feel that you can offer this gorgeous fella a good home please get in touch with Cats Aid today. Don't delay as he is expecting to be in high demand!
Meet Maddie!
This is Maddie and she is a five month old female kitten. She's very playful, very active and very affectionate.
She loves playing hide and seek and chasing feet, she also loves playing with other cats. There was a six year old child in her foster home and she was good with this age group and older.
She loves cuddling up in a warm blanket or on a lap and purrs constantly. She's a quarantine kitten, so she loves having people around.
Maddie can be a bit nervous of new people and places, but with a bit of patience, play time and whiskas she'll be fine.
If you are interested in adopting Maddie please get in touch with Cats Aid today.
Meet Mango & Milo!
Mango (brown tabby) and Milo (black and white) tuxedo are happy, confident and outgoing kittens. They are approximately 12 weeks old and are more than ready to move on to their forever home from being fostered.
Their foster household had an adult cat and a small dog. Milo and Mango both wanted to play with the adult cat, but also politely left her alone when she'd had enough of kitten shenanigans. Mango also wanted to play with the dog while Milo preferred to have many friendly sniffs.
Mango wants to be friends with everyone and isn't shy about it. He's a vocal little cat, especially at meal times, and will grow up to be an absolutely stunning cat.
Milo has a gentler approach to new friends and like his brother purrs up a storm when petted. He will become an affectionate, sleek and dapper gentleman cat.
These two will do best when adopted together, and will happily keep each other entertained while people are out. They'll slot right into most households, including those with existing cats and/or dogs – careful introductions provided, of course. Their absolute favourite things to do are to chase each other around the house like mad things, and have wild wrestling matches.
Mango and Milo are fully vaccinated and vet checked.
If you are interested in adopting this gorgeous duo please get in touch with Cats Aid today. Their bags are packed and they are ready to go!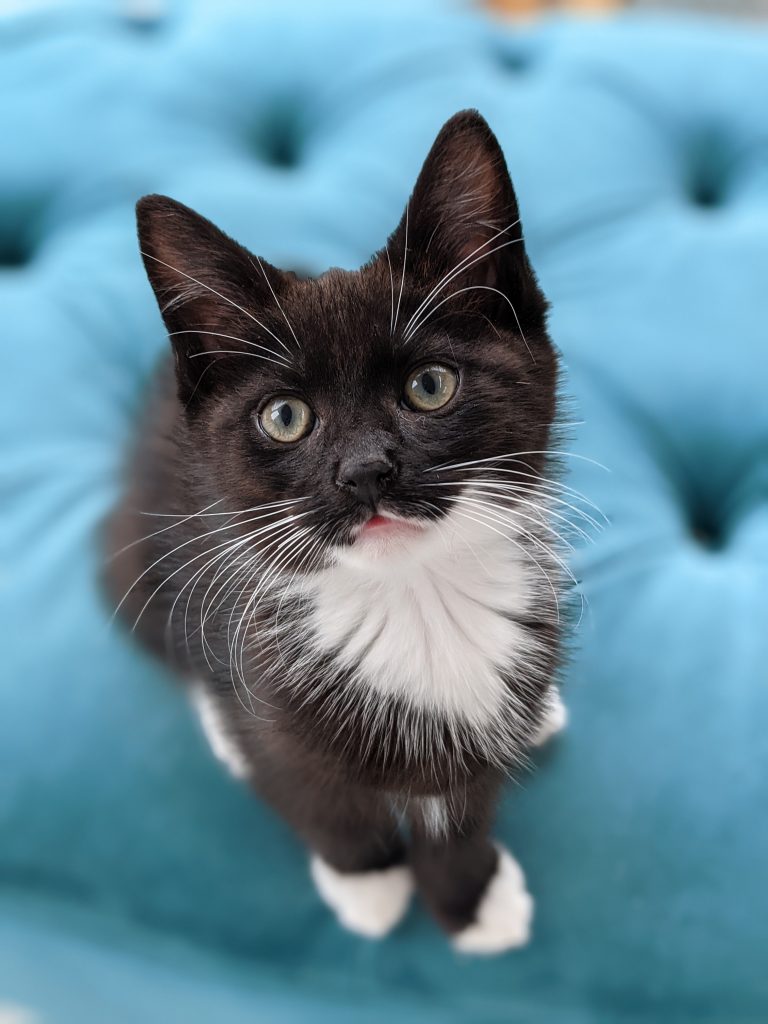 Meet Will & Lizzy!
These two adorable kittens are Will and Lizzy. They are about 14 weeks old, have had their full vaccinations and are ready to find a loving home.
These little purrballs are full of energy and love to play. They are quite attached to each other so it would be great if they could be homed together. If they are homed separately you will need to spend a lot of time with them as they are not used to being alone. They will be best suited in a home with adults or a family with older children (10+).
Will is a handsome little black & white kitty, he's a bit bigger than his sister and has a big appetite and gobbles his food down. He's very relaxed and friendly.
Lizzy is a beautiful little petite calico, she's a little but shy at first but once she gets to know you she loves sitting beside you and getting lots of attention.
They are both very affectionate and lots of fun and would make a lovely addition to your family.
If you can offer this gorgeous duo a home please get in touch with Cats Aid today via the Helpline (01-2751665) and we will endeavour to do a home-check via WhatsApp.
Meet Dolly and Dotty!
My two cats are sisters and are called Dolly and Dotty. They are both 3 years old and have been fully vaccinated. They are out-door cats, but used to be indoor/outdoor.
Dolly is the tabby and is friendly and sociable, and very smart too. When she meows, it's like she's talking to you. She loves sneaking indoors for a little warm-up and a cuddle! She purrs as soon as you start to stroke her, and loves the warmth of the heater, in winter.
Dotty is a little more shy, but is ever so grateful to be fed, and makes sure to let you know. She is the black cat with the white socks. They both love their whiskas, wet and dry, but mostly the wet food.
I need to rehome them as my circumstances have changed. If you feel that you could give them a good home please get in touch with me directly on 087 7118390.
DISCLAIMER: Cats Aid does not accept any responsibility for this cat.
Meet Katrina & Little Kitt! (Booked)
You may remember Katrina from our appeal a few months ago well she is now aged approximately one and a half years old and is doing great. Her foster mother said that she is a very sweet little cat; a great mom to her kittens and patient while recovering from the serious injury she sustained.
Katrina is now fully recovered and is ready to go to a new home. She will be vaccinated and spayed beforehand.
Kitt is Katrina's son. He is 11 weeks old; lively and playful; a typical kitten. He has been vaccinated and is ready for his new home. We would like to home Katrina and Kitt together, but they can be separated.
If you can offer a home to this appealing pair, please either leave a voice mail on our Helpline 01 2751665 or email catsaid@gmail.com today.
Meet Boots!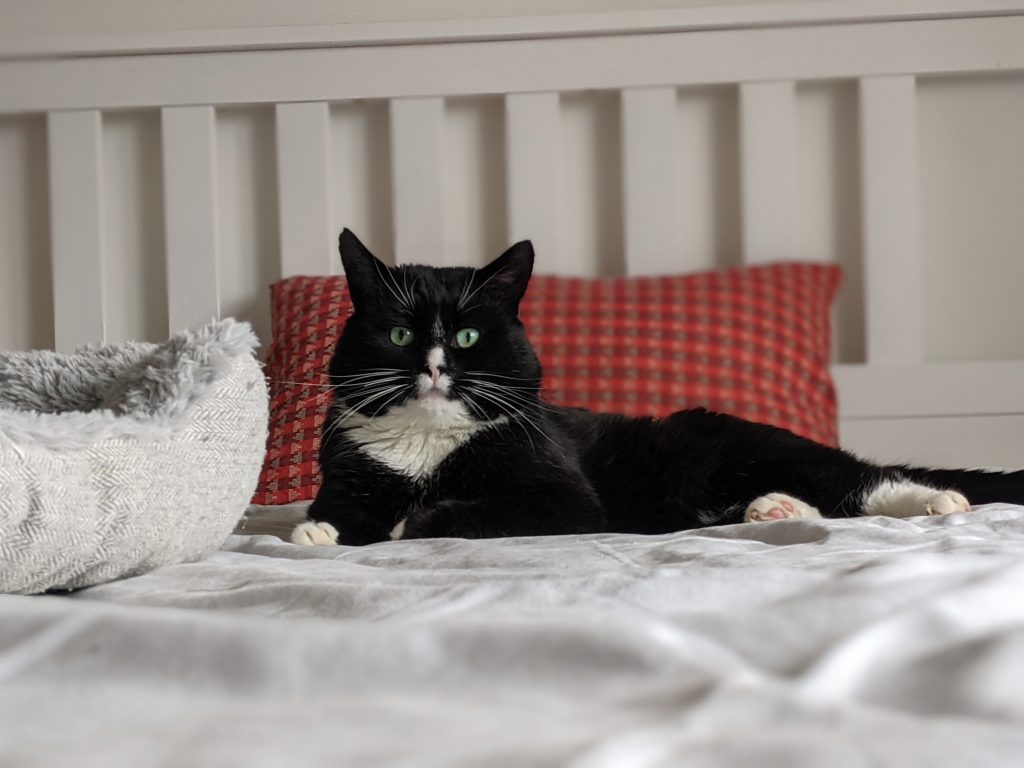 This gorgeous fellow is Boots, he is approximately five years old. He was always seen wandering around a neighborhood crying and looking for food. Earlier this year he got injured and was rescued and taken in by Cat's Aid. They brought him to the vets where he was treated for his wounds, vaccinated him and got him neutered. He was then placed in a loving foster home where he was given all the time he needed to heal, get used to his new life and the good news is that he has come around amazingly well!
Once a stray, Boots is now well used to home life. He might look intimidating but is a little softie who purrs away and has learnt to trust humans. He follows his foster parents around and would love nothing more than to sleep next to them all day. He loves food and chicken is the way to his heart.
Boots is best suited to an adult-only home with no other pets, as an indoor cat. He can be very anxious in a new environment and will need someone who has experience with stray cats.  He has never been to another home (besides his foster home) so will need a lot of patience from his new family so he can learn to trust them.
Please email Cats Aid for more information as a home check will be necessary via Whatsapp.
Meet The K-Kittens – Kevin, Kyle & Kylie!
Kevin, Kyle and Kylie are three lovely, affectionate kittens all ready for their forever homes!
They are all approximately eleven weeks old and will be fully vaccinated before they go to their new homes. They are all very friendly and get along with other cats.
Ideal home would be with adults only or adults with older kids. If they are adopted separately, they will need a lot of individual attention at the beginning as they are attached to each other and play vigorously with one another all the time.
Kevin loves eating and playing wrestling with his siblings. He has a cute little white mouth and is a little bigger than his siblings. He is very curious and will do anything for boiled pieces of chicken.
Kyle is slightly smaller than his brother but is fearless. He is very affectionate, loves playing and eats like a little horse. He purrs away like a little machine and has endless amounts of energy!
Kylie is the smallest but doesn't let that get in the way of playing with her brothers. She is very sweet and loves to purr away. She is a small, precious little kitten.
Please get in touch with CatsAid if you are interested to learn more about these gorgeous little ones.