Meet Jimmy!
Jimmy is a very handsome male cat aged about two years old. He was found straying alone and hungry in bad weather. Since coming into a Cats Aid and going to a foster home we know that he is an extremely affectionate gentle fellow who loves to sit on your lap and get petted happily all day long.
Jimmy had a problem with his eye when he was found and had to have surgery but it is all better now.  He loves company and gets on well with other cats. He has a great appetite so his new owners might have to watch his waistline a little bit. He loves to play and is a very good soccer player!
Jimmy is neutered and vaccinated and ready to give lots and lots of love to his new owners. 
Meet Micky & Mayla!
Our names are Micky & Mayla and we are a brother and sister team aged just 8 months old. We unfortunately found ourselves without a home last December so Cats Aid kindly took us and got us the care we needed.
We are a super sweet duo and we love people. We are fully vaccinated and neutered and all set to go so please make enquiries about us today.
Mayla is a black and white female, she is soft and little reserved but loves to be up on your lap while Mickey is full of energy but also loves his cuddles and down time.
It would be fabulous if this pair were homed together.
Are You Trying To Contact Cats Aid?
In the short term please note the following new numbers for contacting Cats Aid –
To enquiry about adopting a cat or kitten –
Please ring – 087 148 3032 and leave a message
For all other general inquiries –
Please ring 01 8435286 Mon-Fri from 9-6pm only
Please make sure to leave a message with your name and contact details.
A volunteer will call you back asap so please be patient.
The Cats Aid Team
Meet Minxy!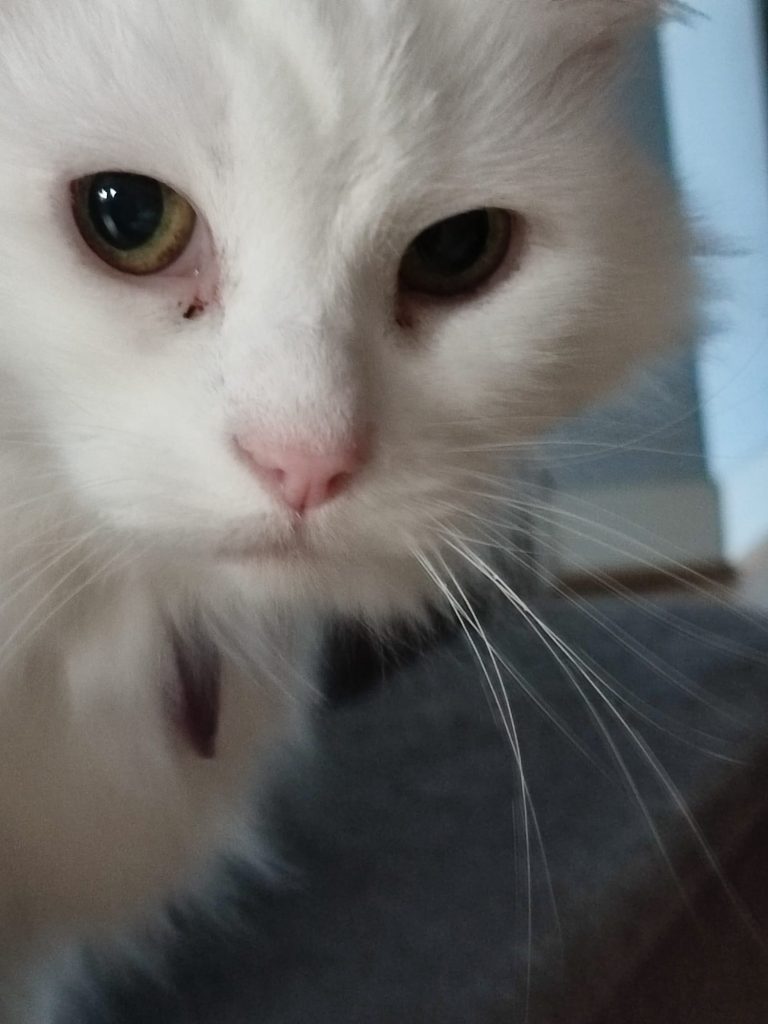 Hi I'm Minxy. For the past 12 years I was in a loving home however my home circumstances changed so the sad decision was made to find me a new home so I was surrendered to the care of the lovely people at Cats Aid.
I've been staying in a foster home now since mid January and I've been getting to know my new surroundings. I'm a curious creature and I like to explore new spaces at my own pace.

I'm a long haired white cat and I love to have my beautiful coat brushed. I like company, I'm super friendly and I love being petted.

I'm getting on in years so I move at a slower pace. I'm a very relaxed cat and I spend a good part of the day snoozing, curled up in my cat-bed or any comfy place I can find.
I am neutered, fully vaccinated and have been wormed and flea treated. So if you have a nice quiet indoor only adult home (with no other animals) to offer me please get in touch today.
Please call and leave your details on : 087 148 3032 to enquire about me, you won't regret it.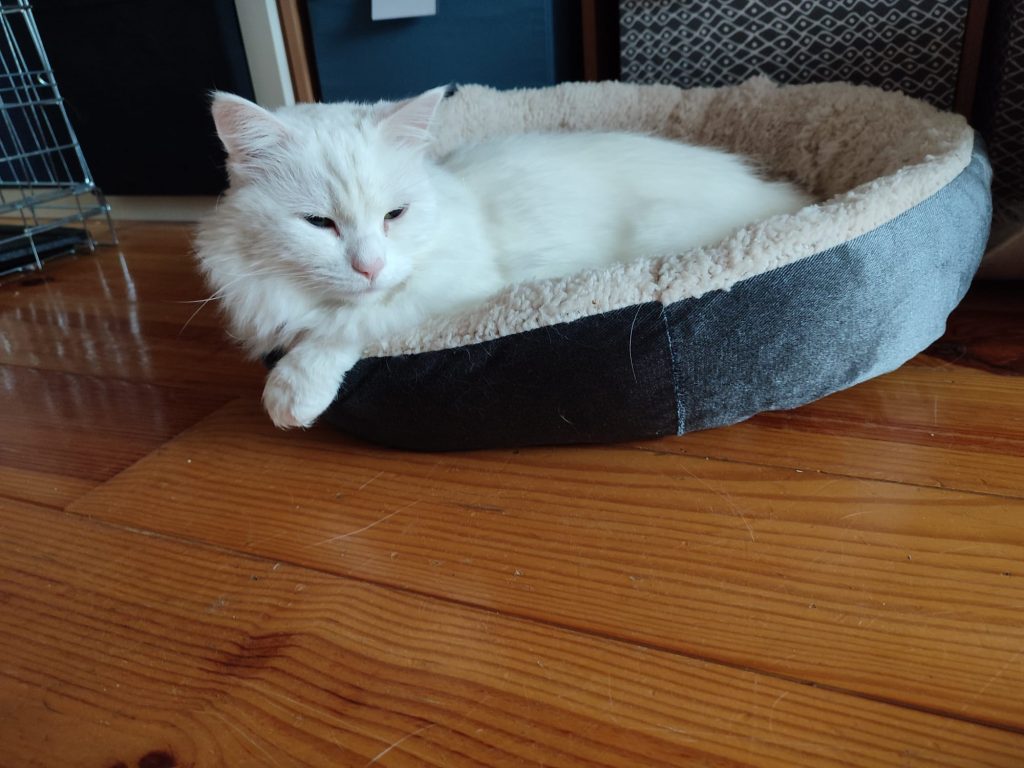 Meet Ollie! (Booked)
Hi everyone, my name is Ollie and as you can see from my pictures I am a very handsome black and white kitten. I am a little male and am already five months old.
I am on the look out for a nice quiet adult household and as I am a little bit shy around new people. In my foster home I haven't yet met any children so I'm not sure how I'd would cope with them.
I love other cats and get on well with my foster Mums cats but I haven't been introduced to doggies.
So once I am neutered and fully vaccinated by the end of January I will be all set for my new home.
Looking forward to hearing from you. Please leave your details on : 087 148 3032 to enquire about me, you won't regret it.
New Adoption Contact Phone Number From Tues 11th Jan ….
IMPORTANT
We have a new adoption number that has been activated since Tuesday 11th January.
0871483032
In the meantime if you need other help or advice please email us at –
Meet Kipper! (Booked)
My name is Kipper and I am a one year old female long haired black cat with a lovely spot of white on my chest and gorgeous green eyes.
I am a bit shy at first but soon I will be on your lap all day wanting cuddle time, sometimes I might even jump up on your shoulders. I love chasing after my toys and scratching my cardboard scratch board! I don't really like being picked up, I prefer to come to you when I'm ready.
Like most cats, I'm not a fan of belly rubs but I can't get enough of head and chin scratches. My favourite thing to do is looking out the window at the birds and chatting to them.
I have had a full health check and all my vaccines are up to date so please put in an inquiry about me in the new year when I will be all set for a new forever home. I am staying put in my fab foster home for the Christmas.
Christmas & New Year Greetings to all….
To all our supporters!
Please note that we are now closed for Christmas until Monday, 10th January. In case of emergency please contact your local vet clinic.
Merry Christmas
Cats Aid xxx
Meet Missy & Ozzie!
Missy and her brother Ozzie (born around mid- September) are the most adorable, loving, sweet and mischievous kittens looking for a warm home where they can cuddle up together to sleep and chase each other around playing together all day.
Missy is such a pretty little girl with her huge expressive eyes and her tabby and white coat. She is constantly watching out for and minding her brother. Missy can be a little shy at first until she gets to know you and she doesn't like sudden movements or loud noises. Once she gets to know you she will be climbing all over you looking for attention and will happily settle down on your knee for a snooze.
Ozzie has beautiful ginger and white markings throughout his coat. He loves cuddles and is constantly purring and talking to you. Both kittens love playing with their toys and chasing balls together. They also love climbing the cat tree, looking out the window at the birds and their scratching  poles.  They are both great cuddlers and purr loudly when happy and when eating!!
Both Missy and Ozzie love eating dried and wet sachet food and also love to play with their drinking water.  They really enjoy all sorts of treats and come running as soon as they hear the packet rustling.  They have been kept indoors in the foster home and are totally litter trained. They have had some limited experience of meeting other cats and children over 5 years. They have no experience of dogs.
Missy and Ozzie have both been health checked and wormed. They will both be fully vaccinated before they are homed.
Both kittens are totally adorable  and affectionate. They love company, and each other, and will make a really great addition to a loving home. They would be best suited to an adult home or one with older children (6 years+).  These little kittens are totally bonded and reliant on each other. If they can be homed together, they will happily play together all day which might suit adults working at, and away from, home. 
**Order Christmas Cards today** Final few packs available this week only !
The Christmas cards have been very successful and are selling out fast so don't be disappointed. You can either order them by sending us an email or visiting the vets below –
Ark Vets Foxrock, Village Vets Stillorgan & Dundrum, Highfield Vets Maynooth & Clane.
If you would like them posted to you – here are the postage and packing charges for various numbers of packs –
1 pack €6 + €3(P&P) = € 9.00
2 packs €12 + €3(P&P) = €15.00
3 packs €18 + €4(P&P) = €22.00
4 packs €24 + €4(P&P) = €28.00
Please email us if you would like to order cards to catsaid@gmail.com detailing how many you would like and we will get them posted to you asap.
Please use yellow Donate button on our website for making payments via Paypal once you have chosen your quantities – Donate | Catsaid
Thank you everybody for your support at this difficult time.