Meet Eoin!
Eoin is a very handsome and sweet young male around 9 months old. Eoin is a little shy at first but once he comes out of his shell he will give you lots of affection and head bumps. He loves chilling beside his humans on the sofa. Eoin loves playing fetch and playing with his cat wands, he is quite a chatty boy too.
Eoin likes other cats and it would be great if he was homed with another friendly cat or in a home where someone is around most of the day. Eoin is a bit of a scaredy cat and it took over 5 weeks for him to settle in his foster home and he will need someone who will be kind and patient so he can adjust in his own time.
As Eoin is quite nervous he is best suited to being an indoor cat in a quiet house with no young children. He has no experience with dogs.
Eoin is vaccinated, neutered and ready to go to his new home. 
If you would like to adopt Eoin please contact catsaid@gmail.com and a member of our adoption team will be in touch.
Meet Griff! (Booked!)
Griff is a very pretty and wonderful 6-7 months old tabby kitten with bundles of energy. She was rescued by Cats Aid last year after living on the street with her two siblings. She was semi-feral when she first arrived but has now turned into such a friendly and playful little lass who loves chasing after toys and her fosterers' toes under the duvet.
She follows her foster sibling cat around the place and loves winding her up by pouncing on her tail whenever she gets a chance so she would also do well with a little pal to keep her busy. She loves climbing up into hiding places and doing her claws on scratchers so a cat tree would be a good shout!
When Griff is not snoozing her head off she absolutely loves human company so if you are looking for a loving companion, she is the kitten for you!
Like most cats she will take a couple of days to settle into your home but will soon become your best friend, follow you around like a shadow and snuggle up to you on the sofa or under the duvet.
Griff is fully vaccinated and neutered and has her bags all packed.
Meet Taylor!
Taylor and his brothers came to Cats Aid after their wild mother was spotted in a garden in Dundrum. She has since been neutered and returned to her garden where she is looked after by a collection of neighbours.
Taylor is six months old; he has black and white short hair and is ready to find his forever home. He is in good health and has had his initial vaccines, has been neutered, and is microchipped. 
Taylor is mostly white, with just a small grey cap and tail. He enjoys rubs and affection but is also content to sit on his own and survey what's going on. He is very inquisitive, and loves being challenged, his favorite toy is the ball track. 
If you feel that you have the right home for Taylor please get in touch with Cats Aid today or email us on catsaid@gmail.com
Meet Tyson!
Tyson and his brothers came to Cats Aid after their wild mother was spotted in a garden in Dundrum. His mammy has since been neutered and returned to her garden where she is looked after by a collection of neighbours. 
Tyson is a shy boy and will need a little patience when he's settling into his new home. He has a beautiful grey topside and white belly. He likes to see his human and what's happening but will stay at a distance until he feels comfortable. Tyson enjoys climbing and racing up and down his cat tree day and the stairs. 
He is a six-month-old grey and white short hair and is ready to find his forever home. He is in good health and has had his initial vaccines, has been neutered, and is microchipped.
If you feel that you have the right home for Tyson, please get in touch with Cats Aid today or email us on catsaid@gmail.com
Meet Emily!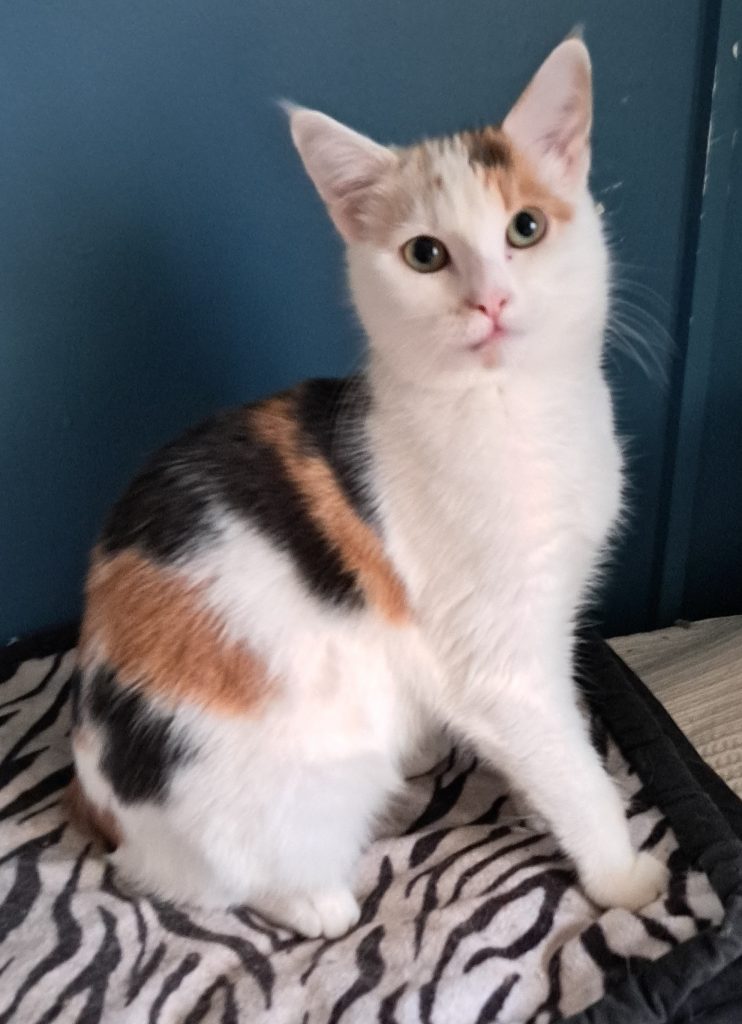 My name is Emily and I am a six month old stunning looking cat.
I am a shy cat at first and will require a little bit of patience till I get to know you. My fosterer says that I am a very sweet girl as I mix very well with my other foster family cats.
I would require a quiet home with adults only. I will be the best and most loving kitty once you get to know me.  I am litter trained and booked in for neutering before Christmas.
If you feel that you can offer me a good home please contact Cats Aid.
Meet Emzo & Eve!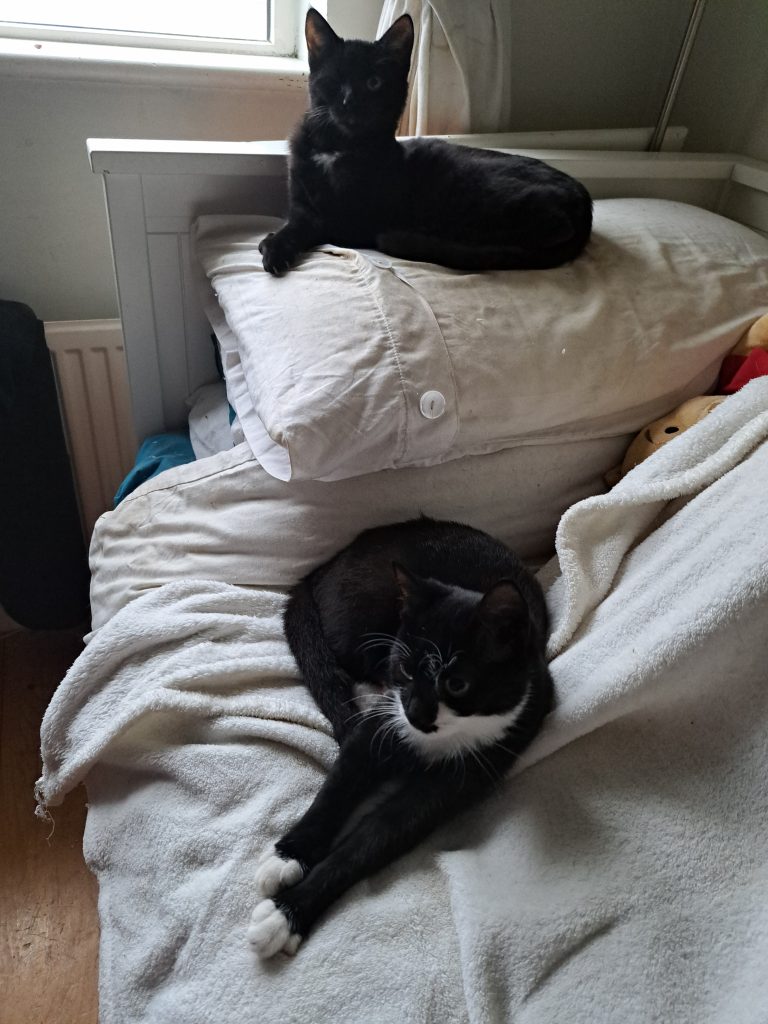 This gorgeous pair of new additions are called Emzo and Eve and they are sixteen weeks old now. They are brother and sister and would love a new home together but we would consider separating them also.
Emzo is a mostly black cuddle monster whereas Eve has a white patch under her chin. She is a little more cautious until she gets to know you.
Both cats have lots of energy and love to run and play. They also both mix well with other cats in their foster home.
Both Emzo and Eve are litter trained and in the process of having their first vaccines.
Meet Stevie & Cilla!
Stevie and Cilla ae very friendly and playful kittens. They are exploring the house from day one and are interested in anything their human does. When the doorbell rings, they are the first one at the door to check who is coming. They will greet all your guests, neighbours, kids and delivery crew with no difference. You never know what toys new guests are bringing and will they be willing to play with them.
They are full of energy and enjoy when kids are playing with them and will not scratch during play. Cilla is especially gentle and will chase balls or ask for cuddles. Stevie is a little bit more energetic during play and if you engage in a "fight" with him, he might get a little bit rough, but that is easily controlled. With kids (6+ years old) they have been awesome and chased balls or feather poles without stopping.
Cilla's favourite exercise is with her ball. She loves when you throw it at the top of the stairs and she then chases it down. If you don't have time to play with her, she will carry it upstairs and throw and chase it by herself. Smart little lady. Stevie's main occupation is to explore everything you are doing and stick his nose everywhere he menages. He learned how to open doors by jumping on door handles because he hastes being closed in rooms while you are doing something interesting, he is sure!
They are also trying to make friends with the resident cat who is not too happy with new tenants. Each day they are trying to sleep a bit closer to her and are curiously approaching her, but also taking step back when she signals that they got too close. They will make friends with other, more friendly cats without a problem.
As any other kids, they are growing fast, playing a lot, running around the house, but also listening and learning what they are not supposed to do. Not fussy about eating at all, as they need a lot of energy for runs and toy chasing. They will try to convince you to share some treats with them but are mostly on dry food.
They come fully vaccinated into their new home, litter trained and ready to cuddle and play with their very own human.
Meet Sugar!
Sugar is a gorgeous male kitten aged just over 10 months old.  He is an independent and very playful boy.  He is very curious and inquisitive and will notice anything new and explore it thoroughly.  He loves to play with the smallest objects like a frozen pea or a bit of elastoplast rolled up.  Toys are generally ignored after the first play!
Sugar will sit with his foster mammy on the sofa or directly behind her head on the very top of the sofa.  During the day he will sit out in the enclosed balcony and watch the birds. Sugar is at his most loving when he wakes up in the morning when he comes looking for rubs to his head.
Sugar enjoys both wet and dry Purina kitten food.  He absolutely loves his food, especially the wet one, he has a super appetite.
Sugar gets excited when his foster mammy has visitor's, but he has not been exposed to other animals or small children in his short life so far so please bear this in mind if you are interested in adopting him.
Sugar's vaccinations are up to date.  He is litter trained and is very clean. We are looking for a safe indoor/outdoor home for Sugar. 
We promise that he will give endless hours of enjoyment to whoever gives him his forever home.
Please get in touch today if you are keen to adopt Sugar as he has his bags all packed.
Meet Emi!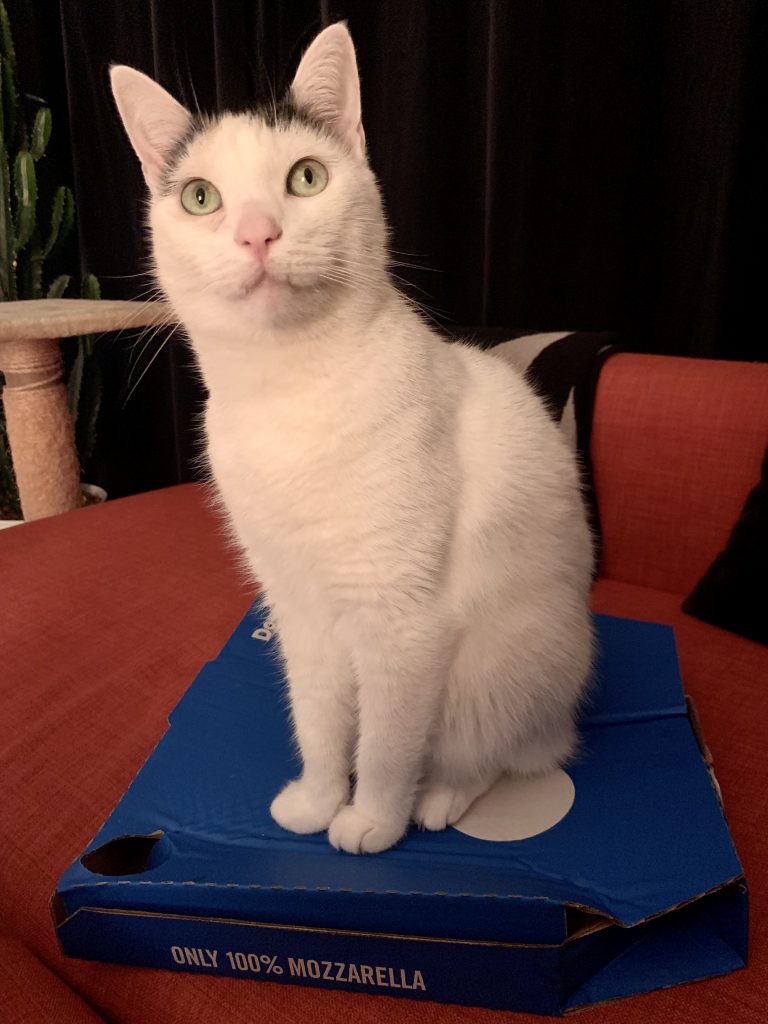 Emi is a very sweet 8 year old neutered, female calico cat. She can be a bit timid at first but with a little patience she'll quickly become your best friend!
Emi is very affectionate and will want to sit on or near you whenever you are home including when you are asleep – she has been known to crawl under the duvet covers to keep feet warm. She is very adaptive to her environment but enjoys quiet company and afternoon bird watching. Emi is assertive but not mean-spirited and will vocally let you know when she is ready for more attention.
While she has only a couple teeth, she loves devouring her kibble and wet food. She also enjoys running after treats that are thrown across the room. Toys with catnip? That'll be a yes from Emi!
Emi has feline herpes and thus experiences discharge from her eyes. To prevent the spread of feline herpes to other cats, Emi must go to an indoor, single cat household.
Meet Bessie!
Meow, my name is Bessie. I am approximately 7 years old and have been with my foster mam for a long while. Now I am ready to find my forever home.
I am very curious, some say nosey and social. I love to chase ribbons in particular and play catch. I also really love to have the chats, I'm a very expressive and talkative kitty so I do hope you like a good natter.
I love to spend lots of time with my human, and usually like to stay nearby all the time. I enjoy a good head rub and snuggles, I am not sure yet how I feel about sitting on a lap though but I am exploring it.
Oh, and I also enjoy watching TV, anything with dogs and goats in particular fascinates me!
It will take me time to build trust and settle in but I do promise you lots of love in exchange for your patience. I give excellent head buds, kisses and cuddles.
Bessie will need a quiet, adult only home; she does not get on with other cats.
Bessie's new family will need to have previous experience with cats. It took Bessie well over 8 months to settle into her foster home. Her new family will need to be really patient with her and not put any social pressure on her. Bessie did not have a great start in life and has unfortunately moved a lot of times. While she is very affectionate from the get go (rubbing against legs, looking for head rubs) even with strangers, she is very conflicted and building up trust will take her a while. She used to bite and hiss which over time decreased and has now ceased with her foster mam but she can still display that behaviour with people she is not familiar with.
Bessie's vaccinations are up to date and she is neutered.