Meet Dash & Dory!
New additions Dash and Dory are a gorgeous friendly pair of siblings. They are now 12 weeks old and all set for their forever home. Dash is a beautiful black and white male and Dory is a lovely black female.
Be warned they are full of mischief and a bundle of joy and would be a great addition to the right home.
They are so playful but we would not recommend them to be around dogs or small children as they have not been exposed to either in their short lives so far.
Both are fully vaccinated and have their bags all packed. Please call us if you are interested in adopting this gorgeous duo.
Meet Dot & Delilah!
Dot and Delilah have come on in leaps and bounds (quite literally). From two very scared kitties rescued from under a shed to two happy little purrballs. These two gorgeous gals spend their days playing, chasing and wrestling. They keep themselves entertained for hours on end, in between cat naps of course.
Delilah is small but mighty, she's was the smallest of the litter. She was already purring the day after being rescued and is a very brave and confident little kitty who has no problems making sure she's heard. She adapts quickly to new people and is used to children over 6 years of age in her foster home.
Dottie is a bit more shy and wary, it takes her a while to come around to new people but once she comes out of her shell, she is a lovely, gentle girl who loves to play. Dottie has also been around children over 6. She has a beautiful thick black coat with a little white dot.
Dot and Delilah have been with their foster mammy for about 6 weeks and are now ready to find their furever home. Ideally these girlies would be homed together in their new family as they are still very young kittens (around 3 months) and love to play together. If they are homed separately they will need a lot of dedicated playtime several times a day in a home where someone will be home with them. They are interested in other cats, they have no experience of dogs.
They have both had their vaccines and have been regularly dewormed. They will need to be spayed when they are the appropriate age.
If you feel that you have the right home for this gorgeous duo please get in touch with Cats Aid today.
Meet Barry!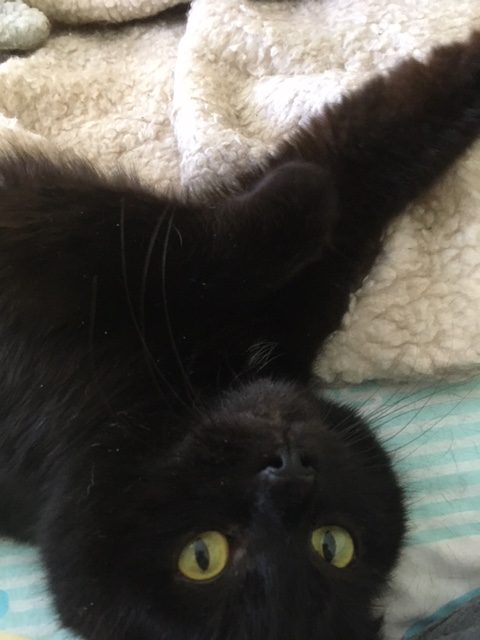 Meet Barry, he is a sweet little two-year-old neutered male who came to us as a stray. He is very quiet and very affectionate; he loves being petted and having his fur brushed and could purr on your lap all day.
Barry is used to friendly dogs and cats in his current foster home so we are trying to find a suitable indoor-only home for him. He can be a little bit skittish at times and will need someone with cat experience who is used to nervous cats.
Barry has been vaccinated and micro-chipped and has his bags all set so he is ready to go.
Please get in touch with us today if you think you have the right home for our Barry.
Meet Annabel!
This gorgeous grey and white gal is all set to go to her new home. She is from a litter we called the Famous Five from earlier this year. All of her siblings left for their new homes last month. Anabelle got a bit delayed due to a sore back leg which has thankfully healed. She is now 7 months old and is fully vaccinated and neutered.
Her foster mammy has confirmed that she is super sweet and a good eater. She likes Royal Canin dry food and Whiskas or Sheeba wet food.
Annabel is a gorgeous cat and loves the other cats in her foster home. She has a small experience with dogs, enough to confirm that she is not fond of them. So if you have a dog free home please get in touch today.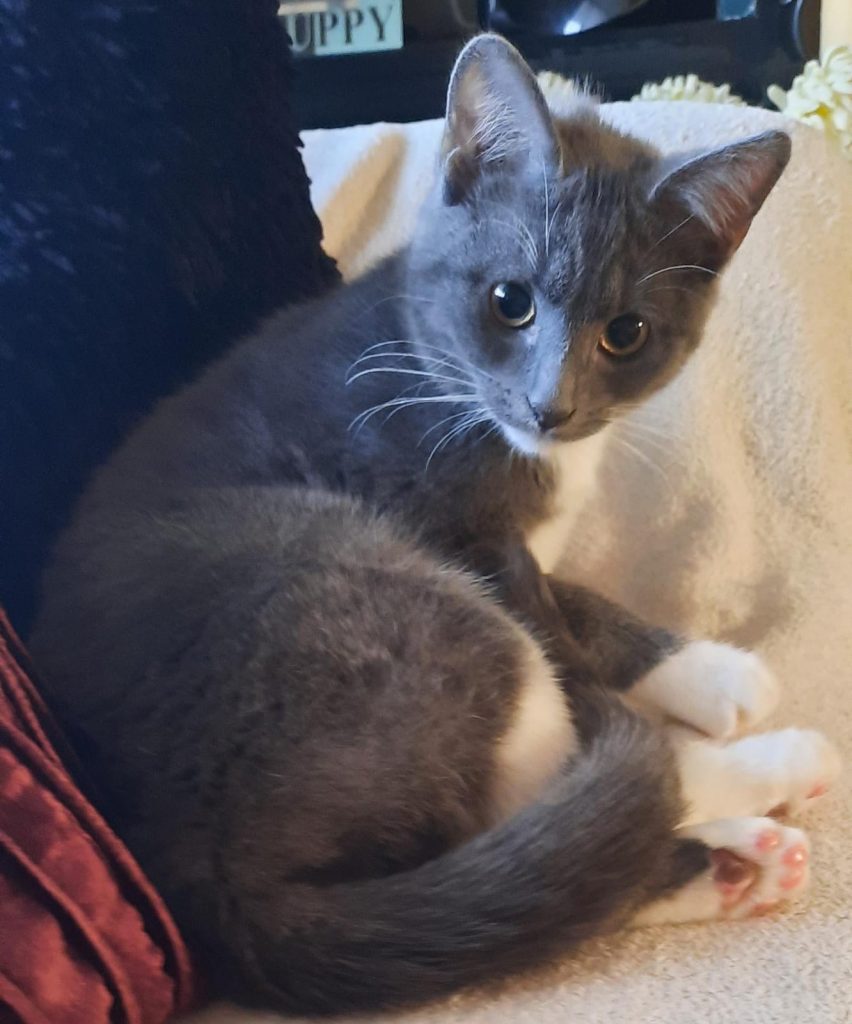 Meet Hugo!
Hugo is an older cat, aged around nine years old. He has been in Cats Aid's care since he was found with a severely injured back leg which had to be amputated. He also has to eat a special diet because of bladder stones.
Although not an especially active cat, he can jump and climb and does like to sit up high on his cat tree. He is an inquisitive chap and will look at you intently with big knowing eyes. He is not much of a lap cat although he will climb on your lap to eat his food, and he will let you pet him. Once he gets to know you better, he will sit closer to you and occasionally will even sleep in the bed with you at night if you let him!
Hugo needs a quiet and secure indoor home with an experienced cat owner who will give him the special care that he deserves and needs.
Hugo is neutered and vaccinated and already to go.
Hugo is also up under Sponsor a Cat and you can see that post here – Hugo's Story! | Catsaid
Meet The Toy Story Boys!
Meet Buzz, Woody & Andy, three brothers who were born to a stray cat who was living in a shed. Cats Aid got the call and took her in as she was pregnant and about to give birth. This man was very ill and since died, poor soul, so luckily we got her all sorted in time and into foster to give birth safely.
They are very playful and adore each other. They have great personalities and are used to being around older children, ie 8-12 years and seeing dogs but not up close, so a dog free house would be best match.
If you think you can give these gorgeous boys a home please contact us.
They are all vaccinated, chipped, and neutered and their bags are packed. They are going on 7 months old.
Please call message minder to leave your details: 087 148 3032 & we will get back to you.
Meet Ailish!
Ailish is approximately 3 years old. She is a beautiful light/dark brown tabby with a white flashing which extends from under her chin to her feet.
Ailish has had a full health check. She has been neutered; and has all vaccinations and is wormed. She is in excellent health.
Ailish came from a feral colony in September 2020, and was identified as being suited to be socialised into a home environment. She has spent some months in her foster home, where she has settled in well. Is learning how to play and interact as a normal cat. She is quite independent and dislikes a lot of activity or noise going on around her.
Ailish likes chasing after sisal ball toys and playing with fish on a string. She likes sometimes to play alone and has a favourite ball game. She has enjoyed access to an enclosed outside space and in the future may be suitable for being an outdoors cat. She loves to keep an eye on the birds and passing activites through the window. Ailish will hop up beside you on the sofa for a few rubs after which she will settle down on her own chair or bed to chill out.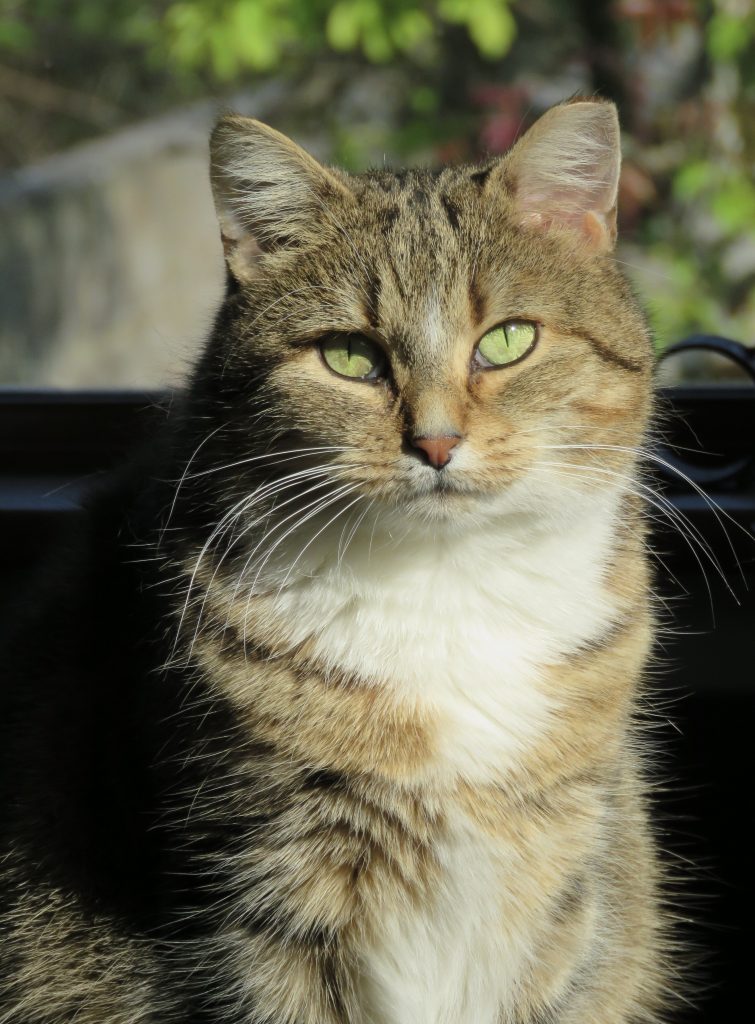 She likes her food, and eats both dry and wet food. She particularly likes any food with fishy flavour and Dreamies treats which she takes from your hand.
Ailish enjoys a little head and back rub when she is relaxing, and doesn't mind a run over with a soft brush or hedgehog slicker!  She can be picked up and held which she enjoys for short periods.  She is very gentle in her ways and gets on well with other cats once they are fairly chilled, and allow her space. Ailish will require an adult home that is not too busy, with an experienced cat owner who will be patient while she settles in. THIS HOME MUST BE AN INDOOR ONLY HOME.
Please get in touch with Cats Aid if you can offer this gorgeous gal a good home. Please call message minder to leave your details: 087 148 3032 & we will get back to you.
Meet Fab Fia!
Fabulous Fia came into the care of Cats' Aid after giving birth to several kittens, who have now all been rehomed. Fia was living outside and wasn't used to any human company. In her foster home she lives with two other cats and they all get along well. She is a very gentle, young and playful cat of approximately 2 years old. 
Fia would love to join a quiet household with some social cats she could make friends with. Fia's favourite past-times include stalking the feather-on-a-stick, playing chase with her foster cat brothers, watching bird videos on YouTube and snoozing in her favourite box or the bedroom during the day.  
Fia is in great health and isn't 'treat' motivated, so no need to add a pack of Dreamies to your shopping list, but she does like to sample the different cat foods on offer in her foster home. As such, she is carrying a little extra weight around the middle so her future carer will need to keep an eye on her snacking tendencies.
Fia is shy with humans, and while initially quite nervous about being petted when she moved into her new foster home in October, she is more comfortable now with gentle head and chin scratches, as well as the occasional belly tickle. Her current foster family gave her lots of space to settle in as well as regular daily playtime, which has helped her grow more used to being near people, though she does startle easily with sudden noises or movements. Hoovering day is not Fia's favourite day of the week!
She would thrive in the right forever indoor home with a patient and experienced cat owner – and preferably a household with great wifi for all those high definition bird videos!
If you think Fia would be a good fit for your home please call us today and we will do a home-check via WhatsApp . Please call and leave your details on : 0871483032, a volunteer will phone you back.
Meet Larry G!
Hi there, my name is Larry G and I am a male adult cat who was rescued by Cats Aid in July 2016 as a three month old kitten. I am now almost 5 years old.
When I was rescued I was living in a colony and as my mother was feral I had to learn to trust humans. I went to a foster home with my sister. She got a home as she trusted humans and was very friendly but I was still afraid and traumatized from living rough and all that entailed. As a result I lived in the Cats Aid cattery for a few years.
In March 2021 Cats Aid secured me a loving foster home and I am now doing really well. I am beginning to trust humans and understand what being loved means. My foster parents are working from home and I am really enjoying all the teams calls and daytime laptop naps plus the food here is amazing!
When I come out of my shell, I am very playful, fun and funny. I love my Felix treats! I thoroughly enjoy couch and window naps, playing in my tunnel, hiding my toy mice then trying to find them. I am very clever and love my target training, I would love if my loving home would continue this with me. I think with time, patience I can build enough trust to become a lap cat!
I am looking for a very special home, someone experienced with cats who will spend the time with me, continue the training I am doing and have patience for my quirks. I will also require a home that is indoors only.
I am neutered and all vaccines up to date.
Please call Cats Aid today and we will endeavor to do a home check via WhatsApp. Please call to leave your details on : 0871483032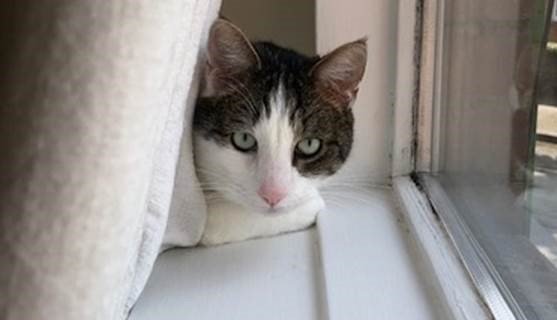 Meet Beau!
Beau is a beautiful mostly black tuxedo female cat aged about 1.5 years. She is quite a small cat. She is neutered, has all her vaccines and her bags are all packed.
She came into the care of Cats Aid having been found outside abandoned along with her brother in awful weather. She has been in foster a long time and has come on leaps and bounds in the past few months. She is a bit scared until she gets to know you however she loves games and has loads of energy, her firm favorite toys are a feather duster and laser dot.
Beau really doesn't like being picked up but she will get over that in time with a patient owner as she does enjoy being petted.
Beau likes both wet and dry food, her good appetite is reflected in her fabulous coat. In her foster home she is great friends with two nice quiet dogs and her brother Buster. Beau has never been around children. She is very used to living indoors and would suit an indoor home provided someone played lots of games with her and allowed her time to flourish. She could perhaps be given some access to the outdoors once it is completely safe.
We are looking for a nice quiet home for Beau with someone who has plenty of cat ownership experience and understands that she will gain your trust at her own pace. Beau is crate trained and this has helped her build confidence and have her own HQ. So initially a new owner will need a crate set-up temporarily to help her get used to her new surroundings.
If you think you are the right person to adopt little Beau please get in touch today. We will endeavor to do a virtual home check via Whats app.
Please call to leave your details on : 0871483032