Meet Alice & Sheila!
These two gorgeous female sibling kittens are a recent addition to the Cats Aid family. They are about 10 weeks old now and are very sweet and friendly.
They are doing great in their foster home and have recently had their first vaccine plus they have been wormed and d-fleaed. They have seen a nice quiet dog and young children and were okay with them.
Sheila is a bit smaller than Alice and is very curious and playful. While Alice is the bigger kitten of the pair she is a little bit shyer. Both can be picked up and they play all day together.
Please get in touch with Cats Aid if you are interested in adopting this gorgeous pair, they will be homed together as they depend on each other.
Meet Ali, Taylor & Tyson!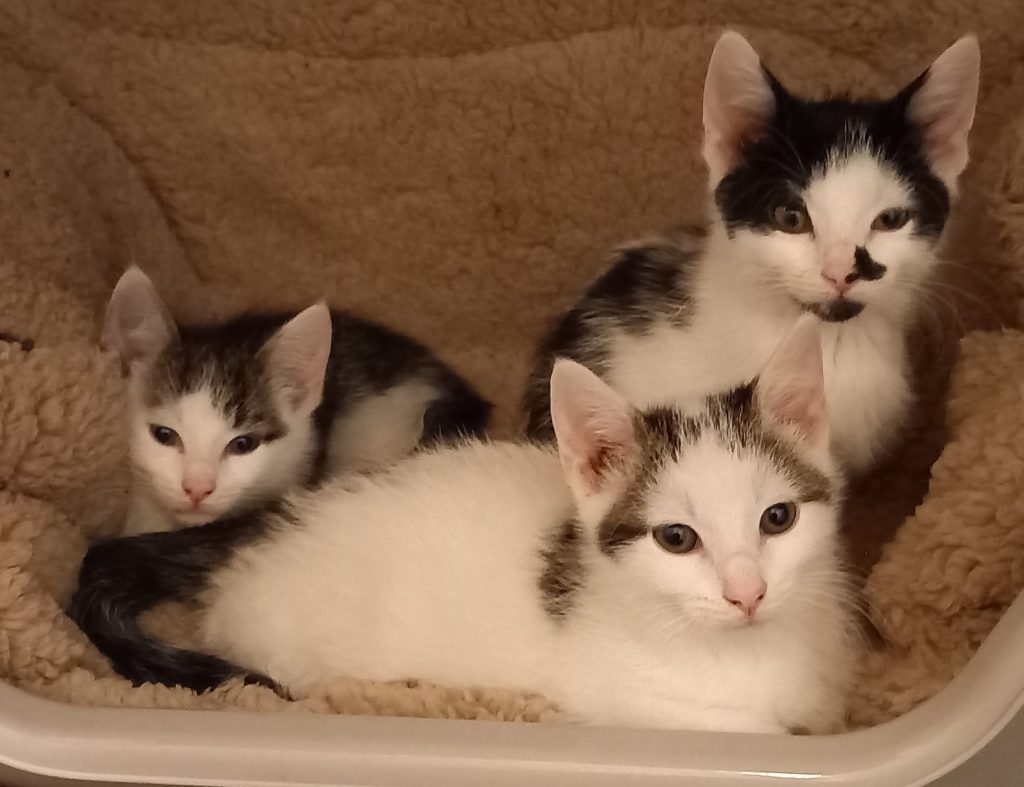 These three handsome boys came to Cats Aid after their feral mother was spotted in a garden in Dundrum. She has since been neutered and returned to her garden where she is looked after by a collection of neighbours.
All three kittens are 10 week old, black and white short hair. They have just come from their first visit to the vet, have had their first shots, and are all in very good health.
Ali may be the smallest of the trio but he has a big personality! He also has a distinctive black mark on the left side of his very cute nose.
Ali is really playful, he enjoys interacting with humans and playing with cat teasers. He is very affectionate and loves rubs and being around his human. Ali is a brave boy who will settle well into anyones home.
Taylor is almost entirely white, with just a small grey cap and tail. He can be a little reserved with his affection but likes to keep a watchful eye on his human and likes to always be nearby. Taylor is very inquisitive and loves being challenged. His favorite toy is the ball track, which he gets endless fun from. He also really enjoys the rough and tumble of wrestling with his brothers.
Finally Tyson is the shyest of the gang and would benefit most from remaining with at least one of his brothers. He has a beautiful grey topside and white belly. He likes to follow his human around and see what's happening, but will take a little time to warm up to rubs and hugs. Tyson enjoys climbing and races up and down his cat tree day and the staairs, he also likes a good wrestling match with his brothers.
All three of the boys have fine, big appetites. They enjoy any and all wet kitten foods and love treats of chicken or turkey (I almost lost my finger to their enthusiasm for chicken, so be warned!). If you can offer any or two of these little fellas a forever home please get in touch with Cats Aid today.
Meet Sugar!
Sugar is a gorgeous male kitten aged just over 10 months old.  He is an independent and very playful boy.  He is very curious and inquisitive and will notice anything new and explore it thoroughly.  He loves to play with the smallest objects like a frozen pea or a bit of elastoplast rolled up.  Toys are generally ignored after the first play!
Sugar will sit with his foster mammy on the sofa or directly behind her head on the very top of the sofa.  During the day he will sit out in the enclosed balcony and watch the birds. Sugar is at his most loving when he wakes up in the morning when he comes looking for rubs to his head.
Sugar enjoys both wet and dry Purina kitten food.  He absolutely loves his food, especially the wet one, he has a super appetite.
Sugar gets excited when his foster mammy has visitor's, but he has not been exposed to other animals or small children in his short life so far so please bear this in mind if you are interested in adopting him.
Sugar's vaccinations are up to date.  He is litter trained and is very clean. We are looking for a safe indoor/outdoor home for Sugar. 
We promise that he will give endless hours of enjoyment to whoever gives him his forever home.
Please get in touch today if you are keen to adopt Sugar as he has his bags all packed.
Meet Fog, Freddie & Frank!
We are three brothers who were rescued from the wild in early August. Our mum was also rescued, neutered and released back and is being looked after. We are about 12 weeks old. We were very scared when we first came to our foster home. Every time we saw a human we ran back into our kitten carrier but bit by bit we started to become more and more friendly. Now we have completely settled into our foster home and have learned to trust humans. We love to be cuddled and to be petted. We have had our first vaccination at the vets (where we were very calm and well behaved!) and are due to get our second one later in September. We've had our first round of worming and will get a flea treatment from the vet at the same time as our 2nd vaccination. There are no other pets in our foster home so we don't know how we'd get on with other animals. We eat mostly Whiskas Kitten wet food in jelly at the moment but recently have started to eat some Whiskas Kitten dry food as well. We absolutely adore cooked chicken for a little treat and hand feeding us this is how our foster family won our trust initially. We appreciate the careful handling and petting we get from the older children (10 & 12) in our foster home.
Hello I'm Freddie and I am the biggest of the bunch. I sometimes take a little while to warm up to humans but once I get that first pet you'll hear my purr in the next county! I love to have my fur massaged on the back of my neck and all down my back. I have a voracious appetite and I like to burn off my energy by playing chasing with my brothers. Like all kittens I love to chase toys and practice my hunting skills with teddy mice. I often snooze away the afternoons lying down with my two brothers but I particularly love to snuggle up with my brother Fog. We look alike because we're both black and white. I would happily go to a new home with my brother Fog or by myself.
Hi I am fog and don't you love my long whiskers? I'm the 2nd biggest of the three of us brothers. I am the bravest of the three of us and I was the first one to overcome my fear of humans. I love being snuggled. I have a gentle personality but also love to have fun with toys and to chase my brothers around the place. I get very excited when it's food time and am very impatient to get eating! I often snuggle up with my brother Freddie but also love to sleep with both brothers together. I have just found my voice and it's very cute to hear me miaow for food when it's dinner time!
Hi, I am Frank and I'm the smallest of us three brothers and unlike my brothers am almost all black. I also really enjoy being cuddled and petted and will start to purr once you touch me. Sometimes I like to sleep alone and sometimes I snuggle up with my two brothers Fog and Freddie. I don't eat as quickly as my two brothers so my foster family feed me separately to give me plenty of time to finish and so that my brothers don't come and steal my food!  I love to play chasing with cat toys and with my brothers and am very good at leaping up to great heights!  I would be happy to go to a new home by myself. 
If you can offer a home to any of us either separately or together in a pair please get in touch with Cats Aid today, we have our bags all packed and ready to go xxx
Meet Elsa! (Booked)
Elsa is a young female kitten aged about 12 weeks with a fun personality according to her lucky foster mammy!
She's sweet and affectionate and very brave. She has no problem exploring her surroundings and isn't afraid of meeting new people.
She purrs 24/7, even while busy playing and she loves her food.
Elsa is very playful and enjoys running and skidding on the wooden floor.
She's is used to being in the company of older kids (6 and up) in her current foster home but has not been exposed to other cats or dogs in her short life so far.
If you want to join the queue to adopt her please get in touch with us today.
Meet Dash & Dots! (Booked)
Dash & Dots are two gorgeous brothers aged approximately three years old. We are on the hunt for a suitable and loving home together.
Dots is black and white and pictured above. While Dash is mostly black and pictured below.
They have been together every day since they were born and have never been apart so they totally rely in each other.
They ideally would like a home were in time they could go outside to play. They will be a little shy at first but as soon as they settle you see how adorable they are. They love being petted and enjoy a cuddle. They are super sweet boys that love to run and chase each other.
They are currently feeding on Royal Canin dry and whiskers in jelly wet food
They are both vaccinated and neutered and ready to go. If you would like to give us our forever home together we be grateful.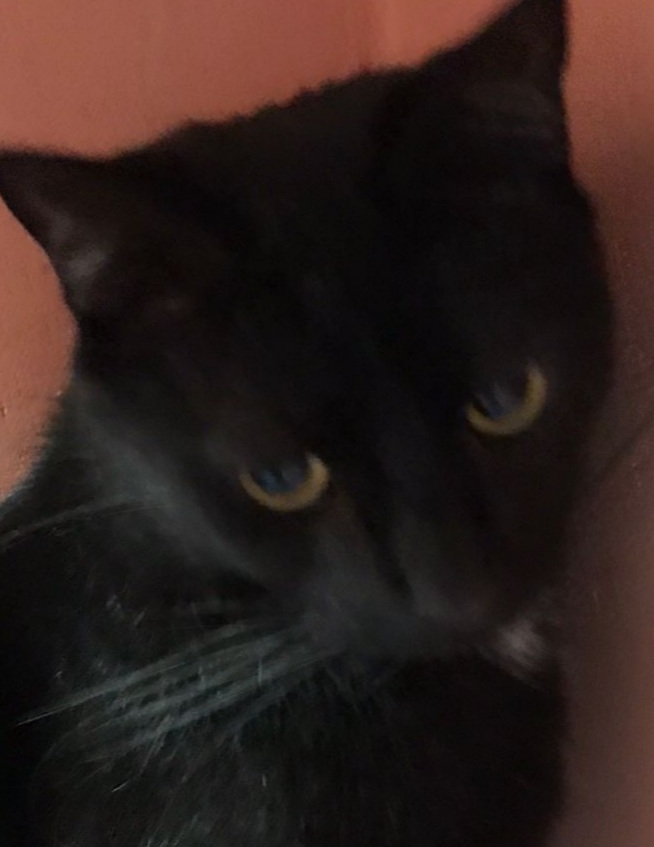 Meet Emi!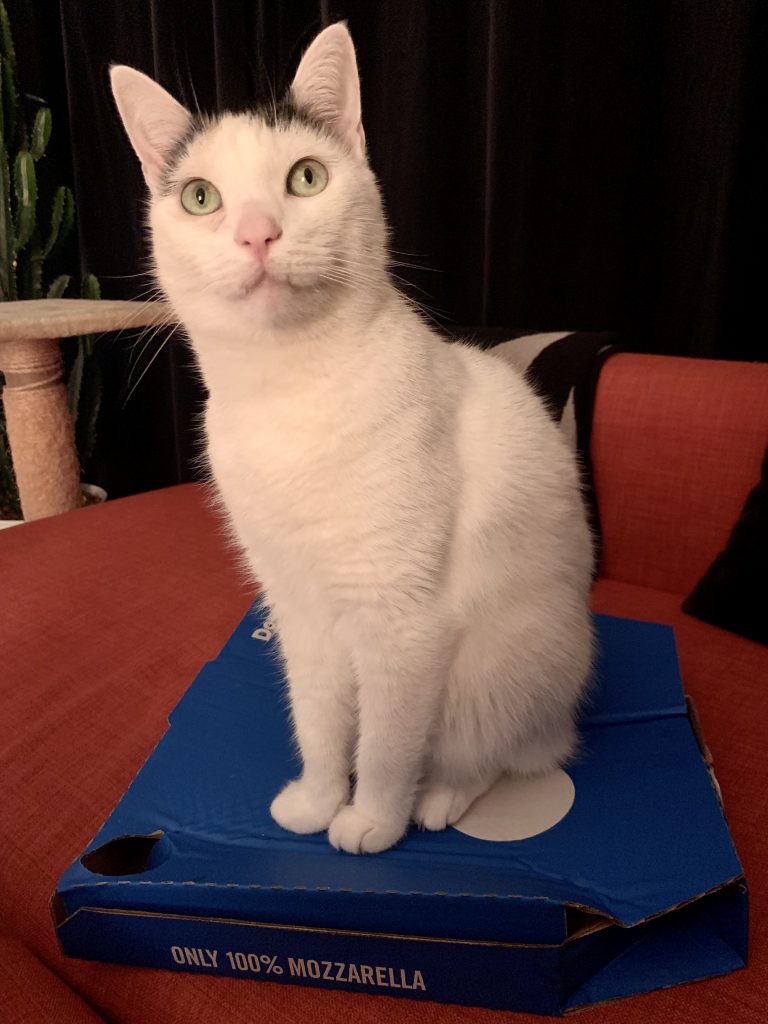 Emi is a very sweet 8 year old neutered, female calico cat. She can be a bit timid at first but with a little patience she'll quickly become your best friend!
Emi is very affectionate and will want to sit on or near you whenever you are home including when you are asleep – she has been known to crawl under the duvet covers to keep feet warm. She is very adaptive to her environment but enjoys quiet company and afternoon bird watching. Emi is assertive but not mean-spirited and will vocally let you know when she is ready for more attention.
While she has only a couple teeth, she loves devouring her kibble and wet food. She also enjoys running after treats that are thrown across the room. Toys with catnip? That'll be a yes from Emi!
Emi has feline herpes and thus experiences discharge from her eyes. To prevent the spread of feline herpes to other cats, Emi must go to an indoor, single cat household.
Meet Bessie!
Meow, my name is Bessie. I am approximately 7 years old and have been with my foster mam for a long while. Now I am ready to find my forever home.
I am very curious, some say nosey and social. I love to chase ribbons in particular and play catch. I also really love to have the chats, I'm a very expressive and talkative kitty so I do hope you like a good natter.
I love to spend lots of time with my human, and usually like to stay nearby all the time. I enjoy a good head rub and snuggles, I am not sure yet how I feel about sitting on a lap though but I am exploring it.
Oh, and I also enjoy watching TV, anything with dogs and goats in particular fascinates me!
It will take me time to build trust and settle in but I do promise you lots of love in exchange for your patience. I give excellent head buds, kisses and cuddles.
Bessie will need a quiet, adult only home; she does not get on with other cats.
Bessie's new family will need to have previous experience with cats. It took Bessie well over 8 months to settle into her foster home. Her new family will need to be really patient with her and not put any social pressure on her. Bessie did not have a great start in life and has unfortunately moved a lot of times. While she is very affectionate from the get go (rubbing against legs, looking for head rubs) even with strangers, she is very conflicted and building up trust will take her a while. She used to bite and hiss which over time decreased and has now ceased with her foster mam but she can still display that behaviour with people she is not familiar with.
Bessie's vaccinations are up to date and she is neutered.
Meet Hugo!
Hugo is an older cat, aged around nine years old. He has been in Cats Aid's care since he was found with a severely injured back leg which had to be amputated. He also has to eat a special diet because of bladder stones.
Although not an especially active cat, he can jump and climb and does like to sit up high on his cat tree. He is an inquisitive chap and will look at you intently with big knowing eyes. He is not much of a lap cat although he will climb on your lap to eat his food, and he will let you pet him. Once he gets to know you better, he will sit closer to you and occasionally will even sleep in the bed with you at night if you let him!
Hugo needs a quiet and secure indoor home with an experienced cat owner who will give him the special care that he deserves and needs.
Hugo is neutered and vaccinated and already to go.
Hugo is also up under Sponsor a Cat and you can see that post here – Hugo's Story! | Catsaid
Meet The Toy Story Boys!
Meet Buzz, Woody & Andy, three brothers who were born to a stray cat who was living in a shed. Cats Aid got the call and took her in as she was pregnant and about to give birth. This man was very ill and since died, poor soul, so luckily we got her all sorted in time and into foster to give birth safely.
They are very playful and adore each other. They have great personalities and are used to being around older children, ie 8-12 years and seeing dogs but not up close, so a dog free house would be best match.
If you think you can give these gorgeous boys a home please contact us.
They are all vaccinated, chipped, and neutered and their bags are packed. They are going on 7 months old.
Please call message minder to leave your details: 087 148 3032 & we will get back to you.