Meet Jimmy!
Jimmy is a very handsome male cat aged about two years old. He was found straying alone and hungry in bad weather. Since coming into a Cats Aid and going to a foster home we know that he is an extremely affectionate gentle fellow who loves to sit on your lap and get petted happily all day long.
Jimmy had a problem with his eye when he was found and had to have surgery but it is all better now.  He loves company and gets on well with other cats. He has a great appetite so his new owners might have to watch his waistline a little bit. He loves to play and is a very good soccer player!
Jimmy is neutered and vaccinated and ready to give lots and lots of love to his new owners. 
Meet Micky & Mayla!
Our names are Micky & Mayla and we are a brother and sister team aged just 8 months old. We unfortunately found ourselves without a home last December so Cats Aid kindly took us and got us the care we needed.
We are a super sweet duo and we love people. We are fully vaccinated and neutered and all set to go so please make enquiries about us today.
Mayla is a black and white female, she is soft and little reserved but loves to be up on your lap while Mickey is full of energy but also loves his cuddles and down time.
It would be fabulous if this pair were homed together.
Meet Minxy!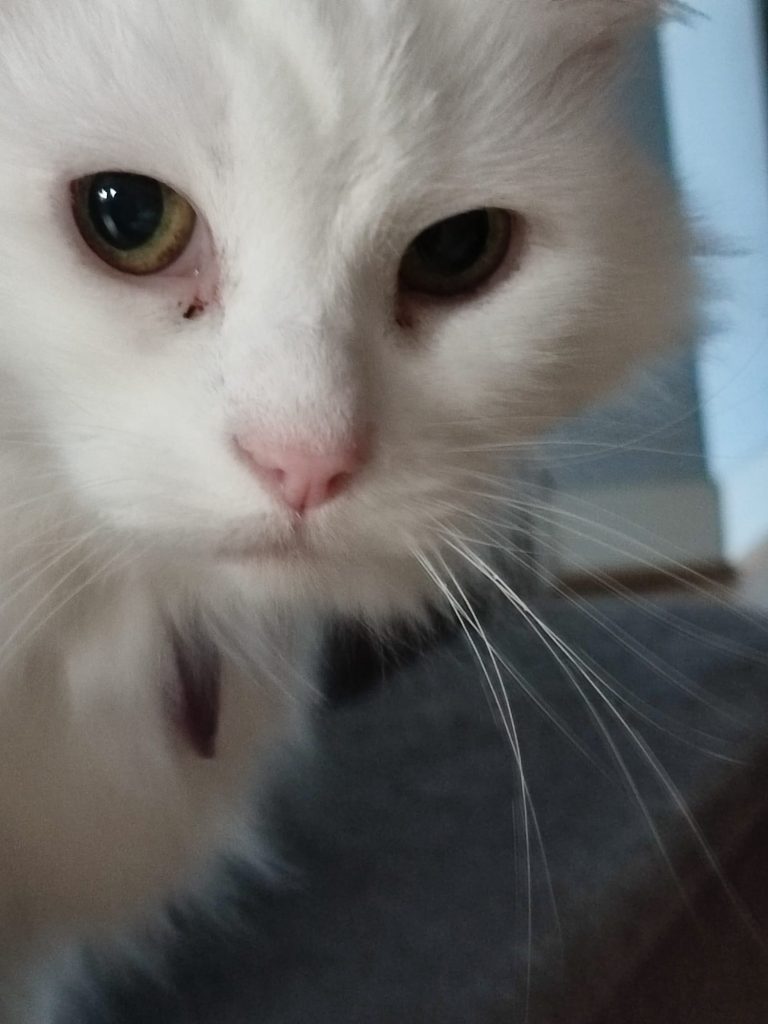 Hi I'm Minxy. For the past 12 years I was in a loving home however my home circumstances changed so the sad decision was made to find me a new home so I was surrendered to the care of the lovely people at Cats Aid.
I've been staying in a foster home now since mid January and I've been getting to know my new surroundings. I'm a curious creature and I like to explore new spaces at my own pace.

I'm a long haired white cat and I love to have my beautiful coat brushed. I like company, I'm super friendly and I love being petted.

I'm getting on in years so I move at a slower pace. I'm a very relaxed cat and I spend a good part of the day snoozing, curled up in my cat-bed or any comfy place I can find.
I am neutered, fully vaccinated and have been wormed and flea treated. So if you have a nice quiet indoor only adult home (with no other animals) to offer me please get in touch today.
Please call and leave your details on : 087 148 3032 to enquire about me, you won't regret it.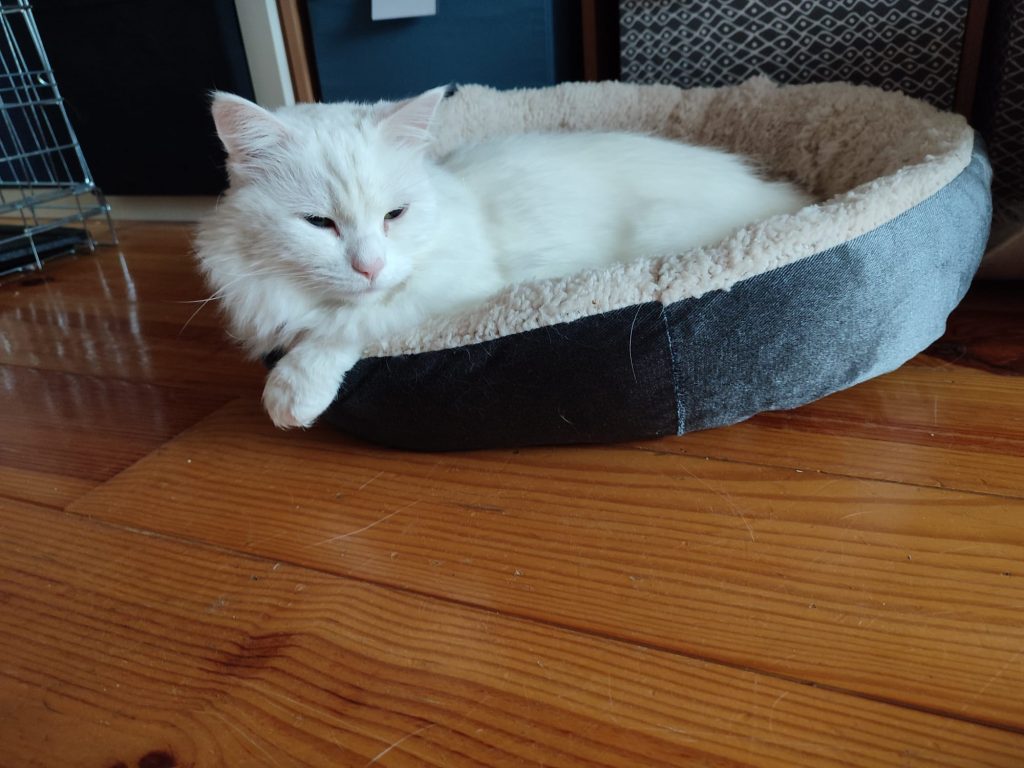 Meet Ollie! (Booked)
Hi everyone, my name is Ollie and as you can see from my pictures I am a very handsome black and white kitten. I am a little male and am already five months old.
I am on the look out for a nice quiet adult household and as I am a little bit shy around new people. In my foster home I haven't yet met any children so I'm not sure how I'd would cope with them.
I love other cats and get on well with my foster Mums cats but I haven't been introduced to doggies.
So once I am neutered and fully vaccinated by the end of January I will be all set for my new home.
Looking forward to hearing from you. Please leave your details on : 087 148 3032 to enquire about me, you won't regret it.
Meet Fab Fia!
Fabulous Fia came into the care of Cats' Aid after giving birth to several kittens, who have all been rehomed. She was living outside and wasn't used to human company. In her foster home she lives with two other cats and they all get along well. She is a very gentle, young cat of approximately 2 years old.
Fia would love to join a quiet household with some social cats she could make friends with. Fia's favourite past-times include stalking the feather-on-a-stick, playing chase with her foster cat brothers, and snoozing in her favourite box during the day.
Fia is in great health and isn't 'treat' motivated, so no need to add a pack of Dreamies to your shopping list, but she does like to sample the different cat foods on offer in her foster home. As such, she is carrying a little extra weight around the middle so her future carer will need to keep an eye on her snacking tendencies.
Fia is shy with humans and doesn't like to be touched or petted and if you get close to her she will move away. She would thrive in the right forever indoor home with an experienced cat owner.
If you think Fia would be a good fit for your home please call us today and we will do a home-check via WhatsApp . Please call to leave your details on : 0871483032
Meet Sofi!
Sofi is a very good looking mostly black female kitty. She was born and left in a bad situation outside of an apartment block. Poor gal was scared of humans so she stayed away from the kind people who were feeding a neutered colony nearby.
As she herself wasn't neutered she gave birth to two beautiful kittens who we rescued also and have now found their forever homes. It took a while to coax her to come for the food and eventually her carer/feeder managed to trap her to give her a better life after being spayed.
Now Sofi is all ready for her new forever home. We are looking for an adult only home with no other pets as she is very reserved. She will take time to get to know you, but she will reward you with love when she knows she is safe and cared for, off the cold streets.
Sofi is now about 18 months old, has had a full health check, she is also spayed, vaccinated and micro-chipped.
If you are that special person:
Please call and leave a message on 0871483032 with your details of, phone number, location and a best time to call you and we will arrange to do a home check via WhatsApp.
Meet Gino!
Gino is now ready for his new home. He is about 6 months old and is fully vaccinated and neutered.
Gino is still a little bit shy with new people but has come around lovely in the past while. He is always looking for attention. His foster mammy says that he loves his grub.
Gino is still young so he's fairly active and into everything. He loves jumping and running around so Gino would need someone who is experienced with kitty cats maybe a household where there are just adults or older kids.
Please get in touch today if you can offer Gino a home. We will en-devour to carry out a home-check via WhatsApp.
Please call & leave your details on : 0871483032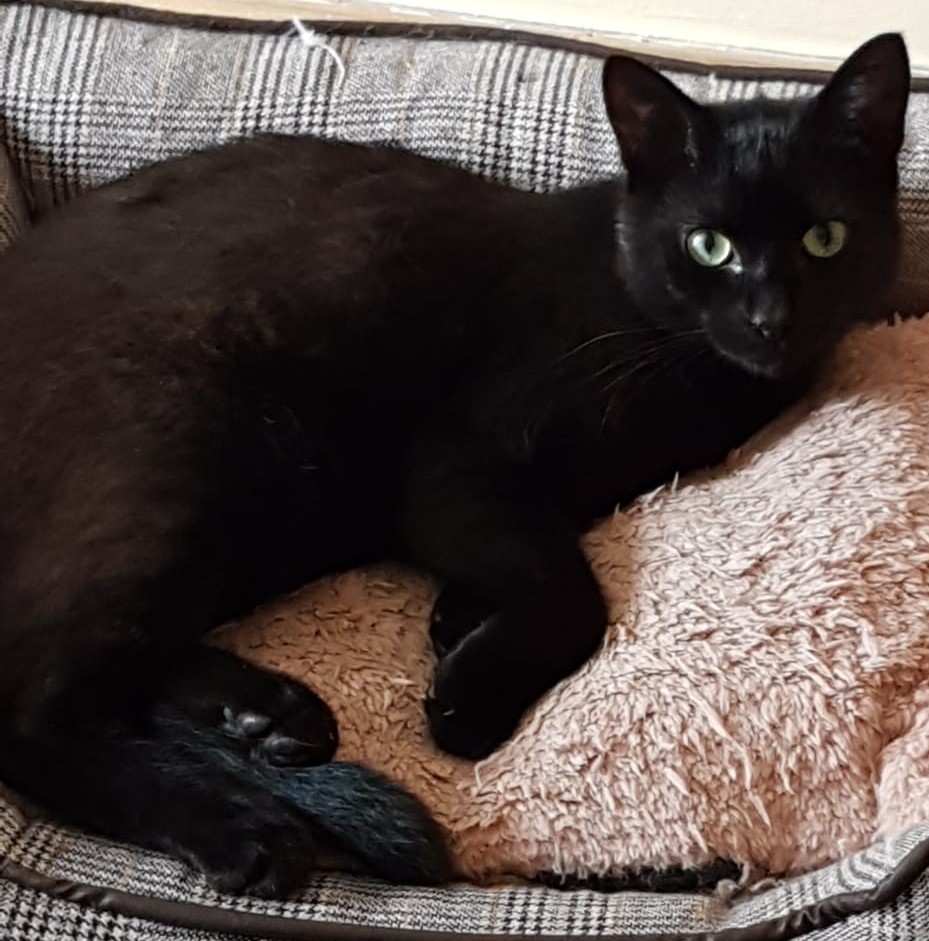 Meet Larry G!
Hi there, my name is Larry G and I am a male adult cat who was rescued by Cats Aid in July 2016 as a three month old kitten. I am now almost 5 years old.
When I was rescued I was living in a colony and as my mother was feral I had to learn to trust humans. I went to a foster home with my sister. She got a home as she trusted humans and was very friendly but I was still afraid and traumatized from living rough and all that entailed. As a result I lived in the Cats Aid cattery for a few years.
In March 2021 Cats Aid secured me a loving foster home and I am now doing really well. I am beginning to trust humans and understand what being loved means. My foster parents are working from home and I am really enjoying all the teams calls and daytime laptop naps plus the food here is amazing!
When I come out of my shell, I am very playful, fun and funny. I love my Felix treats! I thoroughly enjoy couch and window naps, playing in my tunnel, hiding my toy mice then trying to find them. I am very clever and love my target training, I would love if my loving home would continue this with me. I think with time, patience I can build enough trust to become a lap cat!
I am looking for a very special home, someone experienced with cats who will spend the time with me, continue the training I am doing and have patience for my quirks. I will also require a home that is indoors only.
I am neutered and all vaccines up to date.
Please call Cats Aid today and we will endeavor to do a home check via WhatsApp. Please call to leave your details on : 0871483032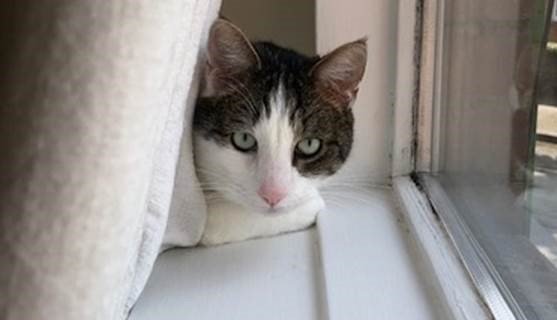 Meet Luka!
This little fella is a recent rescue. He has been in foster just a few short weeks and already he is described as super friendly, he loves humans and his cuddles. He has a lovely personality and is an all round good natured cat.
The vet reckoned his age is around six years. Cats Aid have had him fully vaccinated, neutered and wormed so he is all set for his forever home. He would make an ideal indoor & lap cat.
Initially he may be a bit scared in a new home till he adjusts so we will need an experienced person to be able to allow him the time to settle in with perhaps the use of a crate for a week or two.
If you feel you are the right home for Luka please do get in touch and we will endeavor to do a home-check via Whats App.
Meet Beau!
Beau is a beautiful mostly black tuxedo female kitten aged about 8.5 months. Beau is neutered, has all her vaccines and her bags are all packed.
She came into the care of Cats Aid having been found outside abandoned along with her brother in awful weather. She has been in foster since last November and has come on leaps and bounds in the past few months. She is a bit scared until she gets to know you however she loves games and has loads of energy, her firm favorite toys are a feather duster and laser dot.
Beau is not mad about being picked up but she will get over that in time with a patient owner as she does enjoy being petted.
Beau likes both wet and dry food, her good appetite is reflected in her fabulous coat. In her foster home she is great friends with the nice quiet dog and her brother. Beau has never been around children. She is very used to living indoors and would suit an indoor home provided someone played lots of games with her and allowed her time to flourish.
We are looking for a nice quiet indoor home for Beau with someone who has plenty of cat ownership experience and understands that she will gain your trust at her own pace. Beau is crate trained and this has helped her build confidence and have her own HQ. So initially a new owner will need a crate set-up temporarily to help her get used to her new surroundings.
If you think you are the right person to adopt little Beau please get in touch today. We will endeavor to do a virtual home check via Whats app.
Please call to leave your details on : 0871483032