Meet Boots!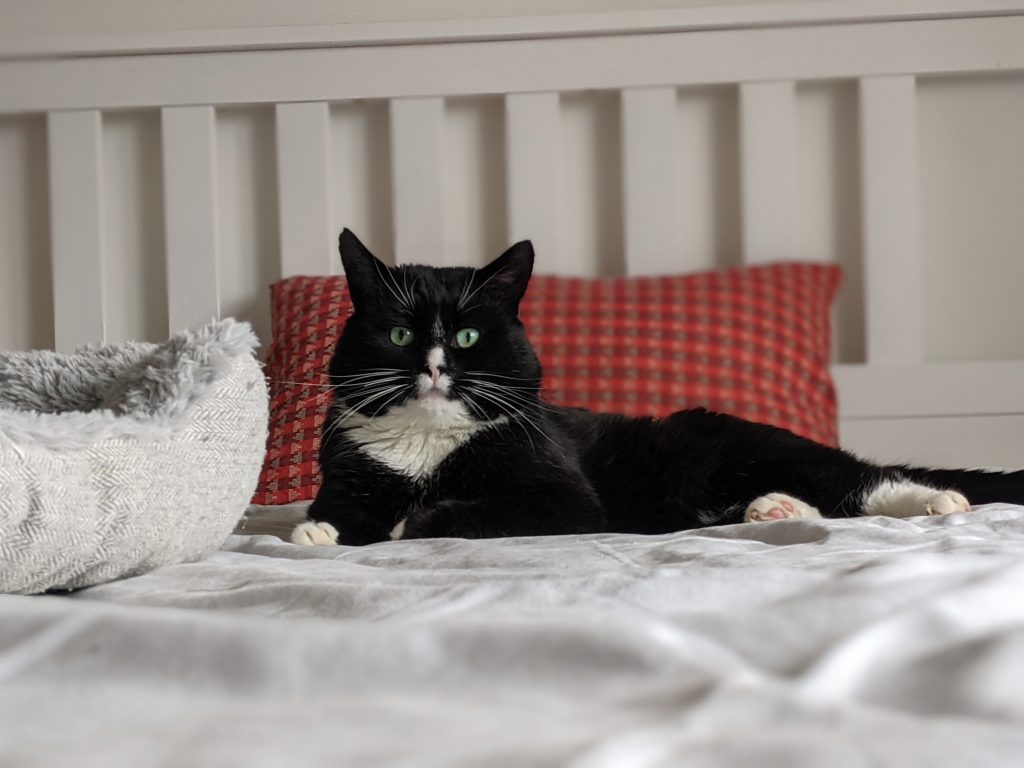 This gorgeous fellow is Boots, he is approximately five years old. He was always seen wandering around a neighborhood crying and looking for food. Earlier this year he got injured and was rescued and taken in by Cat's Aid. They brought him to the vets where he was treated for his wounds, vaccinated him and got him neutered. He was then placed in a loving foster home where he was given all the time he needed to heal, get used to his new life and the good news is that he has come around amazingly well!
Once a stray, Boots is now well used to home life. He might look intimidating but is a little softie who purrs away and has learnt to trust humans. He follows his foster parents around and would love nothing more than to sleep next to them all day. He loves food and chicken is the way to his heart.
Boots is best suited to an adult-only home with no other pets, as an indoor cat. He can be very anxious in a new environment and will need someone who has experience with stray cats.  He has never been to another home (besides his foster home) so will need a lot of patience from his new family so he can learn to trust them.
Please email Cats Aid for more information as a home check will be necessary via Whatsapp.
Meet The K-Kittens – Kevin, Kyle & Kylie!
Kevin, Kyle and Kylie are three lovely, affectionate kittens all ready for their forever homes!
They are all approximately eleven weeks old and will be fully vaccinated before they go to their new homes. They are all very friendly and get along with other cats.
Ideal home would be with adults only or adults with older kids. If they are adopted separately, they will need a lot of individual attention at the beginning as they are attached to each other and play vigorously with one another all the time.
Kevin loves eating and playing wrestling with his siblings. He has a cute little white mouth and is a little bigger than his siblings. He is very curious and will do anything for boiled pieces of chicken.
Kyle is slightly smaller than his brother but is fearless. He is very affectionate, loves playing and eats like a little horse. He purrs away like a little machine and has endless amounts of energy!
Kylie is the smallest but doesn't let that get in the way of playing with her brothers. She is very sweet and loves to purr away. She is a small, precious little kitten.
Please get in touch with CatsAid if you are interested to learn more about these gorgeous little ones.
Meet Lori!
Hi Folks, my name is Lori and I am an eight week old gorgeous female tabby kitten. I was found in June 2021 alone and hungry and brought to Cats Aid who secured me a lovely foster home. I have been to the vets and they said that I am in good health.
I personally think that I am super intelligent and my foster mom thinks so too. I have tons of energy and I love to play cat games on an iPad and I also like to play ball. Please note that I need to be kept busy so you will need lots of time for me.
I will have my 1st vaccine and flea and worming treatments before going to my forever home. I am currently eating Royal Canin kitten dry food and whiskas wet food.
If you feel that I am the kitten for you please contact Cats Aid today and ask for a home check via WhatsApp. I think you may have to join a queue!
Meet Tiny!
Hi! My name is Tiny and I am a sweet older boy looking for a home to call my own. I was living very rough on the streets and struggled to get by before Cat's Aid came to my rescue. I am a changed kitty now!
The vets told me I am a senior – possibly 8 -10 years – but that doesn't mean anything to me. I am super friendly, I am missing a few teeth but I love food so much I could eat all day. I am energetic and playful, and I love to be in my foster human's company; I won't be a handful at all, I am happy to just sleep beside you and purr up a storm. I love to be petted, brushed and cuddled, especially if I can sit in your lap. My coat is a little rough and patchy from the difficult times I left behind, but I will grow new fluffy fur in no time!  
I would like a quiet home and a caring owner who I can give all my affection to. I would prefer a home without other cats but I won't mind older kitties like me that would give me space.
As my bones are not what they used to be, I will need my human to be gentle when handling me and give me a little extra care. Here are some notes from my foster:
-Front claws need to be trimmed regularly as they often get stuck on things and Tiny struggles to let go
-He will need eye drops occasionally
-Must be kept strictly indoor
Tiny is neutered and vaccinated and has his bags all packed!
So please contact Cats Aid if you would like to be home-checked on Whats App to adopt Tiny.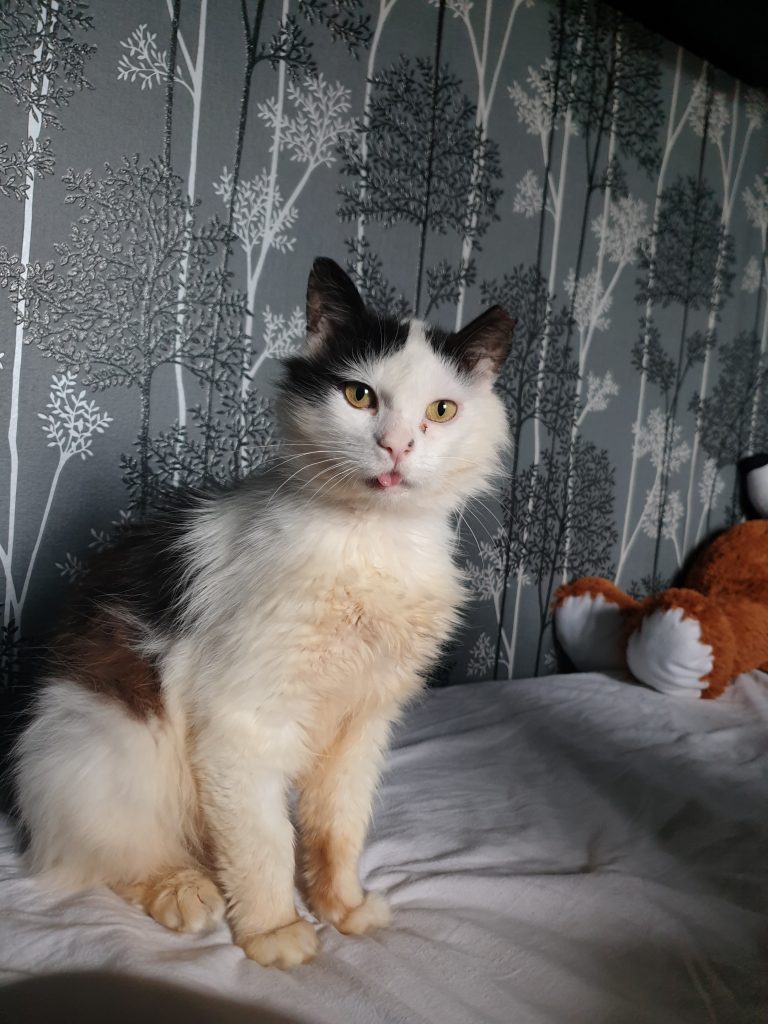 Meet Noah!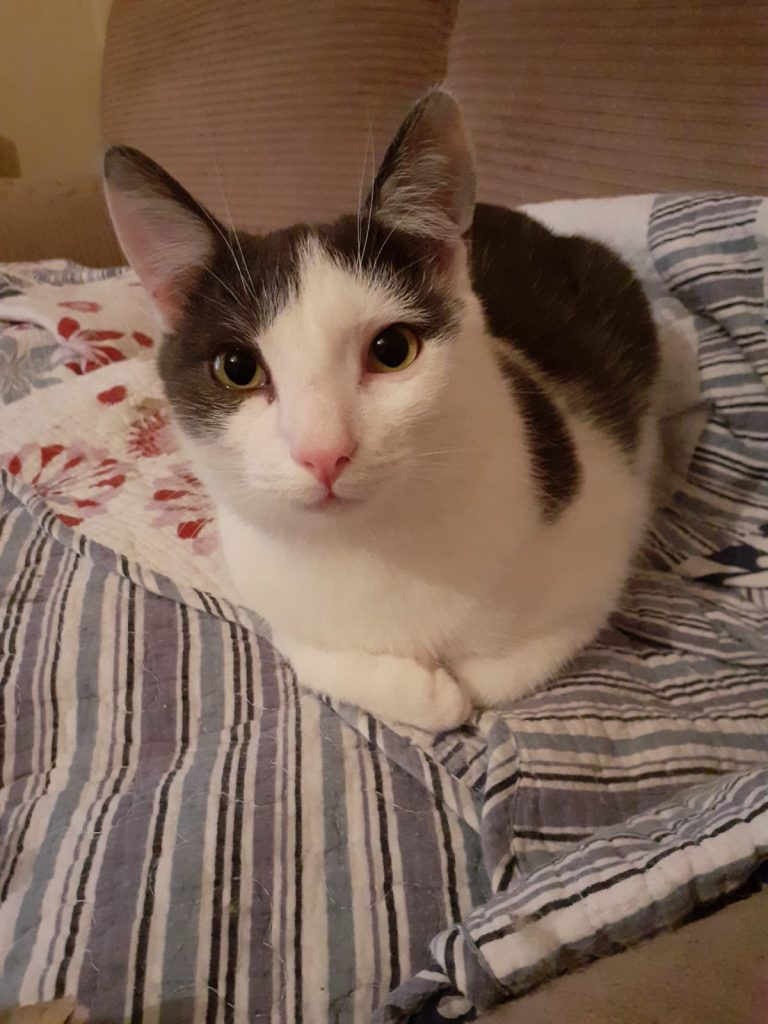 Cute little Noah is all of nine months old. He was rescued when he was just a three month old kitten. He has been living in his foster home ever since. During that time he has learned to trust people and to play games.
His favorite toys are his mice as he just loves to chase them around the room, hide them and find them again. He has loads of energy and really is a bundle of fun. He also loves his treats; Dreamies are his favorite!
Noah can be a little shy when he first meets new people, but once he gets to know you he likes nothing better then to sit beside you on the couch watching television.
Noah is looking for an indoor home as he has never been outside. He would also prefer an adult only home.
Noah is fully vaccinated and neutered.
If you would like to give Noah a loving home please contact us so we can arrange a home-check via WhatsApp.
Meet Gino!
Gino is now ready for his new home. He is about 6 months old and is fully vaccinated and neutered.
Gino is still a little bit shy with new people but has come around lovely in the past while. He is always looking for attention. His foster mammy says that he loves his grub.
Gino is still young so he's fairly active and into everything. He loves jumping and running around so Gino would need someone who is experienced with kitty cats maybe a household where there are just adults or older kids.
Please get in touch today if you can offer Gino a home. We will en-devour to carry out a home-check via WhatsApp.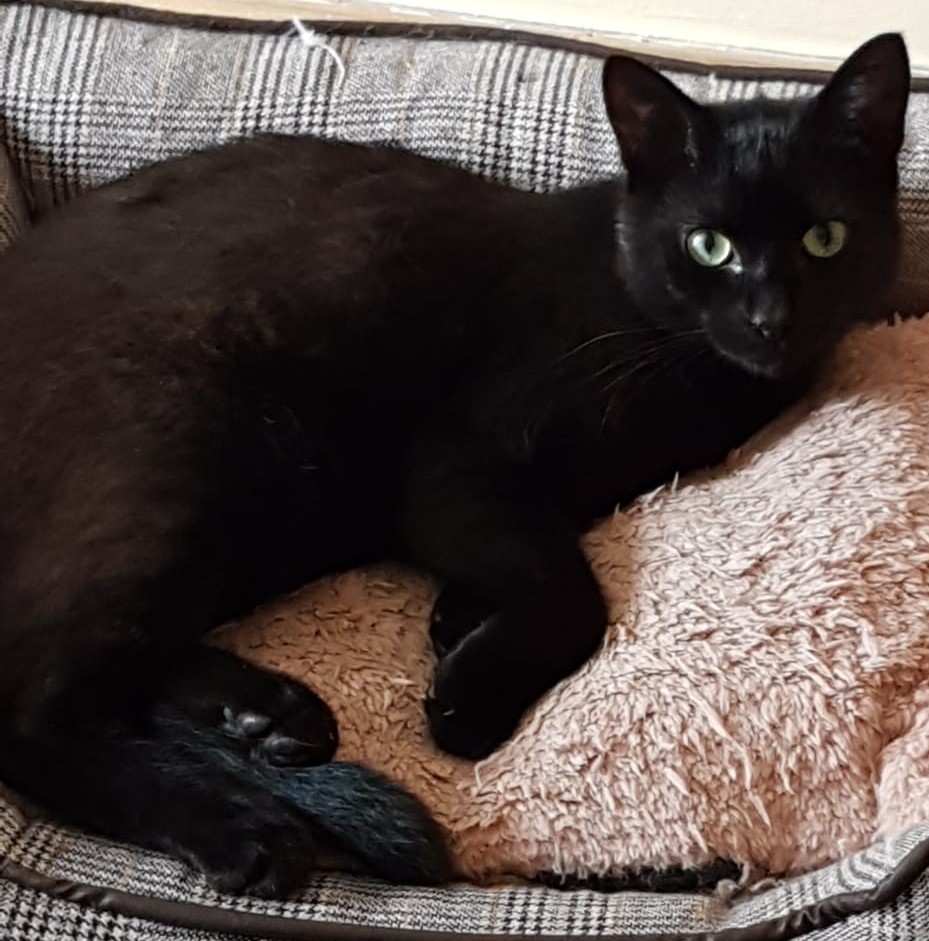 Meet Larry G!
Hi there, my name is Larry G and I am a male adult cat who was rescued by Cats Aid in July 2016 as a three month old kitten. I am now almost 5 years old.
When I was rescued I was living in a colony and as my mother was feral I had to learn to trust humans. I went to a foster home with my sister. She got a home as she trusted humans and was very friendly but I was still afraid and traumatized from living rough and all that entailed. As a result I lived in the Cats Aid cattery for a few years.
In March 2021 Cats Aid secured me a loving foster home and I am now doing really well. I am beginning to trust humans and understand what being loved means. My foster parents are working from home and I am really enjoying all the teams calls and daytime laptop naps plus the food here is amazing!
When I come out of my shell, I am very playful, fun and funny. I love my Felix treats! I thoroughly enjoy couch and window naps, playing in my tunnel, hiding my toy mice then trying to find them. I am very clever and love my target training, I would love if my loving home would continue this with me. I think with time, patience I can build enough trust to become a lap cat!
I am looking for a very special home, someone experienced with cats who will spend the time with me, continue the training I am doing and have patience for my quirks.
I am neutered and all vaccines up to date.
Please call Cats Aid today and we will endeavor to do a home check via WhatsApp.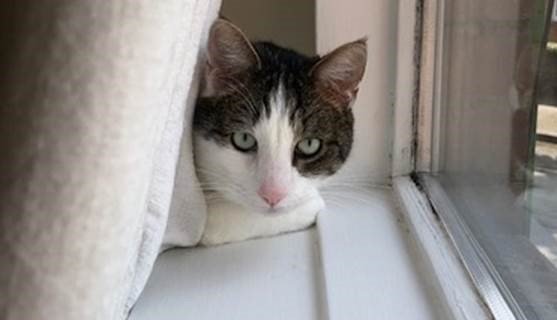 Meet Luka!
This little fella is a recent rescue. He has been in foster just a few short weeks and already he is described as super friendly, he loves humans and his cuddles. He has a lovely personality and is an all round good natured cat.
The vet reckoned his age is around six years. Cats Aid have had him fully vaccinated, neutered and wormed so he is all set for his forever home. He would make an ideal indoor & lap cat.
Initially he may be a bit scared in a new home till he adjusts so we will need an experienced person to be able to allow him the time to settle in with perhaps the use of a crate for a week or two.
If you feel you are the right home for Luka please do get in touch and we will endeavor to do a home-check via Whats App.
Meet Beau!
Beau is a beautiful mostly black tuxedo female kitten aged about 8.5 months. Beau is neutered, has all her vaccines and her bags are all packed.
She came into the care of Cats Aid having been found outside abandoned along with her brother in awful weather. She has been in foster since last November and has come on leaps and bounds in the past few months. She is a bit scared until she gets to know you however she loves games and has loads of energy, her firm favorite toys are a feather duster and laser dot.
Beau is not mad about being picked up but she will get over that in time with a patient owner as she does enjoy being petted.
Beau likes both wet and dry food, her good appetite is reflected in her fabulous coat. In her foster home she is great friends with the nice quiet dog and her brother. Beau has never been around children. She is very used to living indoors and would suit an indoor home provided someone played lots of games with her and allowed her time to flourish.
We are looking for a nice quiet indoor home for Beau with someone who has plenty of cat ownership experience and understands that she will gain your trust at her own pace. Beau is crate trained and this has helped her build confidence and have her own HQ. So initially a new owner will need a crate set-up temporarily to help her get used to her new surroundings.
If you think you are the right person to adopt little Beau please get in touch today. We will endeavor to do a virtual home check via Whats app.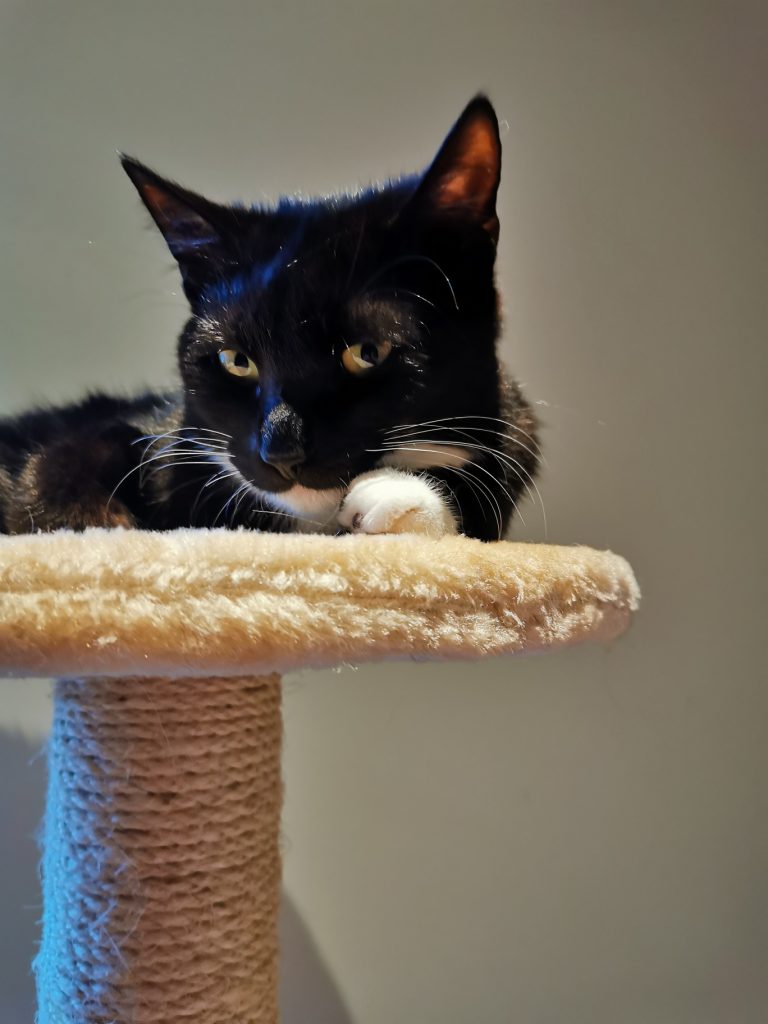 Meet Felix!
Felix is an independent, 8 year old neutered male cat who really enjoys his food. A little too much though so he's on a diet to help drop the lock-down weight. His interest in food makes for the perfect trick-teaching environment and he has nearly mastered the 'sit' command!
Felix is quite a vocal cat and he becomes very chatty while his wet food is being dished out at mealtimes. Felix likes routine, particularly a mid day brushing at his fosterers desk while she is trying to work!
While he does like a good brushing, he also appreciates his space and will move to a different room if he needs alone time.
Before coming to Cats Aid Felix was previously an indoor/outdoor cat and tends to get bored in a completely indoor environment so a home with a safe outdoor environment is preferable.
Felix has spondylosis (bone spurs) in his mid spine and takes daily inflammation and pain relief to keep him happy and jumping!
If you are interested in offering Felix a good home please get in touch today.