Meet Kipper! (Booked)
My name is Kipper and I am a one year old female long haired black cat with a lovely spot of white on my chest and gorgeous green eyes.
I am a bit shy at first but soon I will be on your lap all day wanting cuddle time, sometimes I might even jump up on your shoulders. I love chasing after my toys and scratching my cardboard scratch board! I don't really like being picked up, I prefer to come to you when I'm ready.
Like most cats, I'm not a fan of belly rubs but I can't get enough of head and chin scratches. My favourite thing to do is looking out the window at the birds and chatting to them.
I have had a full health check and all my vaccines are up to date so please put in an inquiry about me in the new year when I will be all set for a new forever home. I am staying put in my fab foster home for the Christmas.
Meet Otis! (Booked)
Hi there, my name is Otis and I am a four month old very good looking tabby kitten even if I do say so myself! I am fully vaccinated and litter trained. Currently I am in foster with two other cats and we all get along very well, I haven't met any dogs in my short life so far.
My foster family say that I am a very lively kitten that likes to play and run around like any normal kitten. I also love to get pets from my foster parents.
If you would like to give me forever home please contact Cats Aid as follows –
Tel: 01 2751665 | Email: catsaid@gmail.com
Meet Jonesy! (Booked)
Who couldn't love this gorgeous little face. Jonesy is a little ginger male cat, he is a very energetic, confident and playful little kitten. He loves chasing balls and playing with his toy mouse.
Jonesy was found trapped in a derelict site where his mother had been feeding him. He was about 12 weeks old when he was rescued and took to humans right away.
Jonesy will get on well in any house where he'll get plenty of attention and play. He is used to children over the aged of five years old and is not scared of new people so he'll settle into his new home with ease.
Jonesy doesn't like being on his own and definitely likes the company of people or other cats. He likes to have daily naps on his foster parents' desks while they work. Jonesy loves to play first thing in the morning when he wakes up and has several playtimes during the day. As he's still a young kitten he will need dedicated play from his new family.
Jonesy has had his vaccinations and he will need to be neutered at 6 months of age.
Jonesy will make a really great addition to your family. If you feel that you are the right family please get in touch with Cats Aid today.
Meet Jess & Tyler! (Booked)
Jess is a stunningly beautiful female cat aged 7 months old. She is very loving and exuberant and loves to give kisses all day long. She wants to be the belle of the ball and doesn't mind showing it. She loves to play and finds joy in the simplest things. She loves her brother Tyler and playing tag before finding a cosy spot to cuddle and snooze wrapped around each other. If Tyler is out of sight she will seek him out and would love never to be separated from him.
Tyler is a very handsome male cat aged 7 months old. He is very playful and full of the joys of life. He adores being petted and having his tummy tickled. He is a teeny bit in awe of his sister Jess but adores her and is completely bonded with her. He would love to have his own home for Christmas and dreams of being safe and warm with Jess by his side forever.
Both siblings are fully vaccinated, microchipped and neutered now.
In their foster home they have not been exposed to dogs or small children so we are unsure of how they would react to either.
They have the bags packed. Do you think you are the special person or family to make their dream come true?
Please call our message minder 01 2751665 and leave your details, phone number, location and a suggested time that is best to call. Please check your voicemail in case we don't get an answer.
Meet Basho!
Bashō is a jet-black, short haired, neutered male, aged about one year old. He is very friendly, playful and extremely affectionate. He is neutered and fully vaccinated. He was found starving in the garden of an amazing community member who has been caring for him but unfortunately cannot keep him.
Basho is very affectionate, loves humans, would be great with children and anyone who loves a good cuddle.
His temporary saviour has named him Bashō, after the famous Japanese haiku poet Matsuo Bashō, who travelled all over Japan on foot – it seemed appropriate as Bashō just wandered into her world by chance and had travelled a lot looking for someone to feed him.
If you could be Bashō's forever home, please call Cats Aid helpline on (01) 2751665 and leave your name, address and phone number
Meet Ned & Nugget! (Booked)
Ned and Nugget are about 5 months of age. They are brothers and are very affectionate, gentle and playful cats. They absolutely love their food, and chasing after each other.
In their foster home they are not one bit afraid of a little dog and are starting to play with the resident adult cat, so with careful, slow introductions they would suit a household with existing pets.
Nugget (as seen below) is the real life Garfield. Very laid back ginger fellow, who loves chilling on the bed and having his tummy rubbed.
Ned in the picture below is the black panther. He's a big guy. A bit shy at first, but once he starts playing, he won't stop.
It would be great if they could go to their forever homes together. Especially as they love playing together and grooming each other.
They are both fully vaccinated and ready for their new homes. They will be neutered soon too. Please get in touch with Cats Aid today if you can offer this gorgeous pair a good home. Home checks are carried out via WhatsApp.
Meet Neko! (homed)
Hi there, my name is Neko and I'm a shy little female. I'm only a kitten still (6 months old), so I have a lot to learn about the world.
I'm a very curious, loving and playful little lady, but I need someone who will be patient with me so I can explore at my own pace and get comfortable.
I am looking for a quiet home without children, as I can be skittish and easily startled. I absolutely love other feline friends, and get along great with my foster brothers who try their best to keep up with my nimble feet and playfulness. Once I open up to you, I'll be making biscuits in your lap and purring up a storm in no time!
I am spayed and fully vaccinated, ready for my own forever home which will need to be indoors only.
Please get in touch with Cats Aid if you think you can offer to me a good home.
Meet Charlie!
A Cats Aid supporter recently found a little kitten he is about roughly 9-10 weeks old. We have named him Charlie. He is full of fun..very lively..likes to play, is very friendly and loves being petted.
If you feel that you can offer Charlie a home please get in touch with Cats Aid today.
Please mention that Charlie is from the Outreach Section.
Ref – O Hayes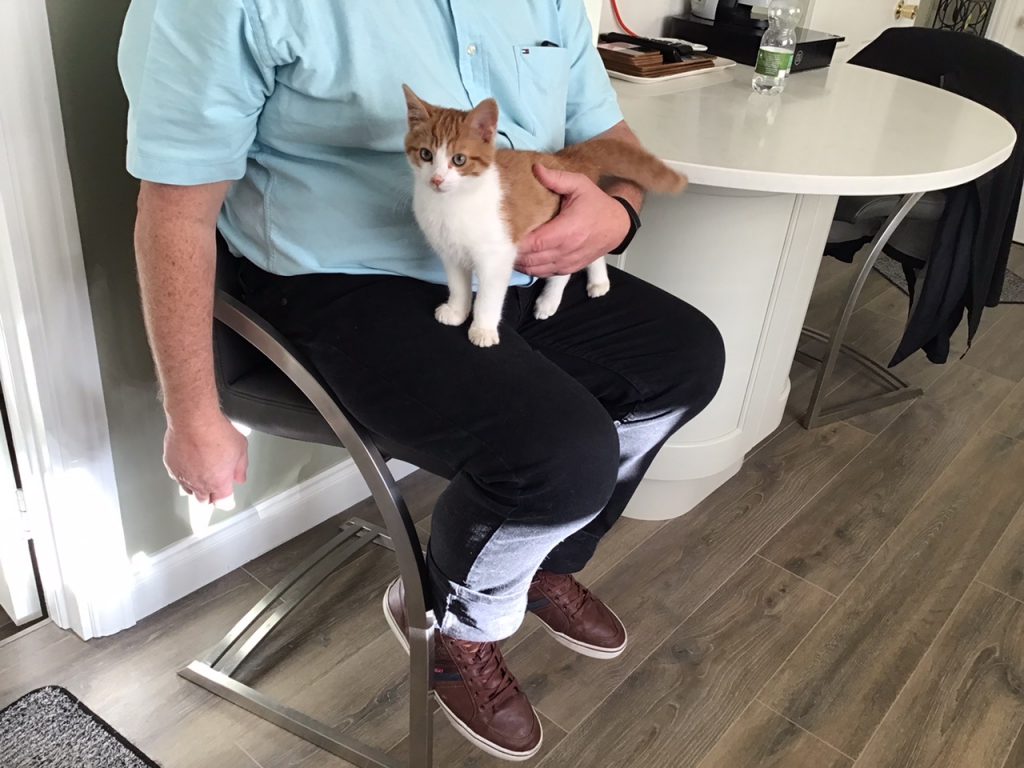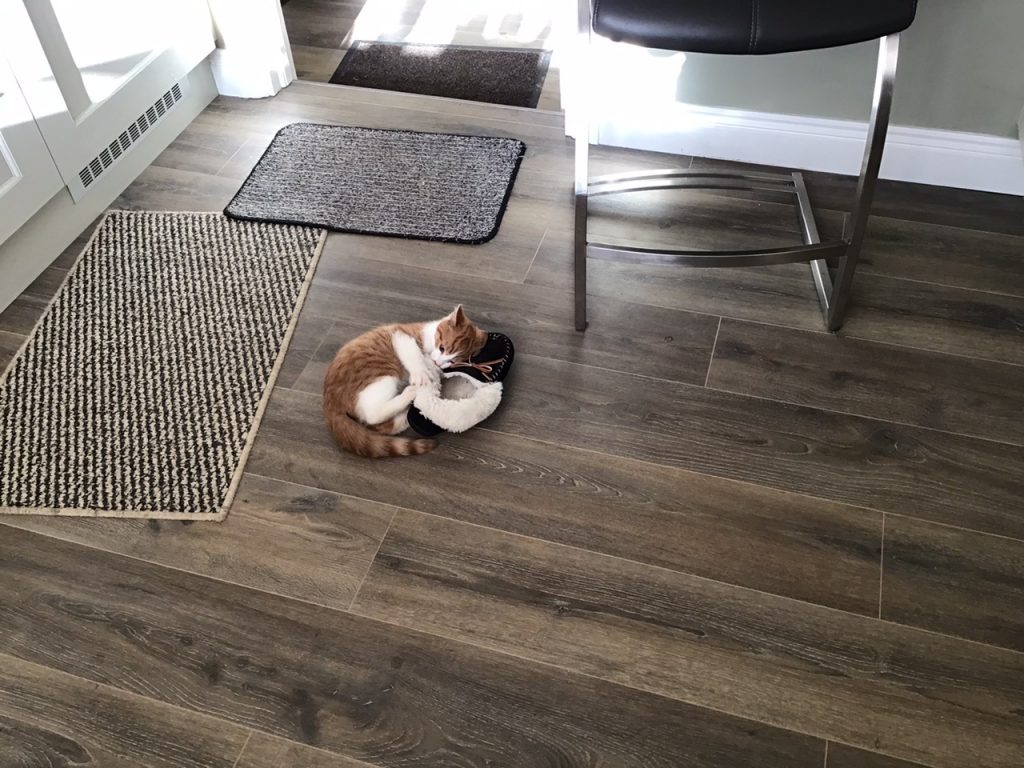 Meet Grey Tabby Kitten!
In September a supporter of Cats Aid found a cute grey tabby kitten.
She is about 5 months old now and she doesn't like other cats so will need to be an only pet.
Please get in touch with Cats Aid if you feel that you can offer this cat a good home. Please mention that this cat is from our Outreach Section.
Ref – E. Callaghan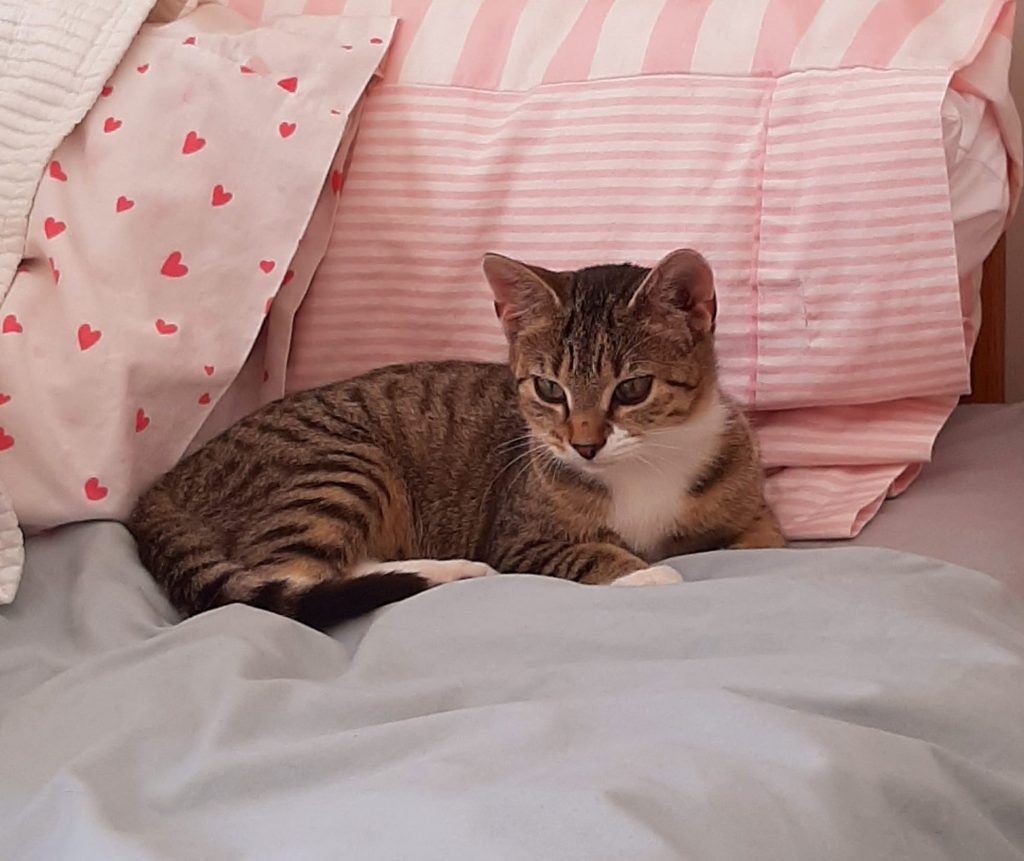 Meet Nicco! (Booked)
Nicco was born during June 2021. He is a distinguished boy with white Tuxedo markings on his chest and white boots on his hind legs. He loves nothing more than tummy rubs and food – lots of it and frequently!  He loves playing with his toys and chasing balls. Nicco also loves climbing, looking out the window at the birds and using his scratching  poles. 
Nicco enjoys eating dried and wet sachet food and also loves to play with his drinking water. He is used to having dried food being available all the time and water to drink. He also enjoys all sorts of treats and comes running as soon as he hears the packet rustling. Nicco has been kept indoors in the fosterer's house and is totally litter trained. To date he has had no experience of meeting other cats or dogs or children.
Nicco is a confident and happy little boy but he does not like sudden movements or loud noises. He  can be  a little shy with new people but gets over that quickly. Nicco loves attention and just  wants someone to play with and cuddle up with. 
Nicco has been health checked, wormed, vaccinated and recently neutered.
Nicco would be best suited to an adult home or one with older children (6 years +) . If you feel that you can offer this gorgeous little fella a loving home please get in touch with Cats Aid today.
Enjoy the clip below of Nicco playing in his foster home.