Meet Bru & Bo! (Booked)
Look at us, aren't we just fab, we are called Bru and Bó – and we are the latest addition ready for homing and we make a wonderful dynamic duo! We were taken in by Cats Aid about six months ago and are both 7 months young, having lived with one foster family during that time. We are neutered and vaccinated and ready to find our furever home!

Bru: I'm ginger and white (think Irn-Bru, in fact I'm often described as a sugar rush on paws by my foster mam), and smaller than my brother, but I make up for my size by being more mischievous and adventurous. I enjoy playing, snuggling, sleeping, cackling at birds and attacking toes under blankets. I'm also the more likely of us to be heard talking and will appear out of no-where when the treats come out. I love chasing whatever makeshift toy I can find around the floor and distracting my foster mam by climbing around exploring new places and heights. But I also love to spend my afternoons sleeping in the sun, or on a pillow on the desk next to my foster mam while she works.

Bó: I'm black and white (think cow), and the slightly chunkier member of this duo. I'm slightly (only very slightly) more timid, but will only be one step behind Bru during expeditions. I've got a much quieter and croaky voice – it's quite endearing. I'm a bit clumsier, not always the best at spatial awareness and think my tail is the best thing to chase around. I also share many of Bru's interests – playing, snuggling, sleeping (big fan of sleeping actually!) and showing those pesky toes who is boss – but one thing I do better is forcing my love onto my foster sister, Penny, by climbing into bed with her. My favourite toys are two purple and orange fuzzy balls that I love to carry around in my mouth and chase under the sofa so my foster mam has to get on her hands and knees to retrieve them.
Here is an adorable picture of us having the craic….!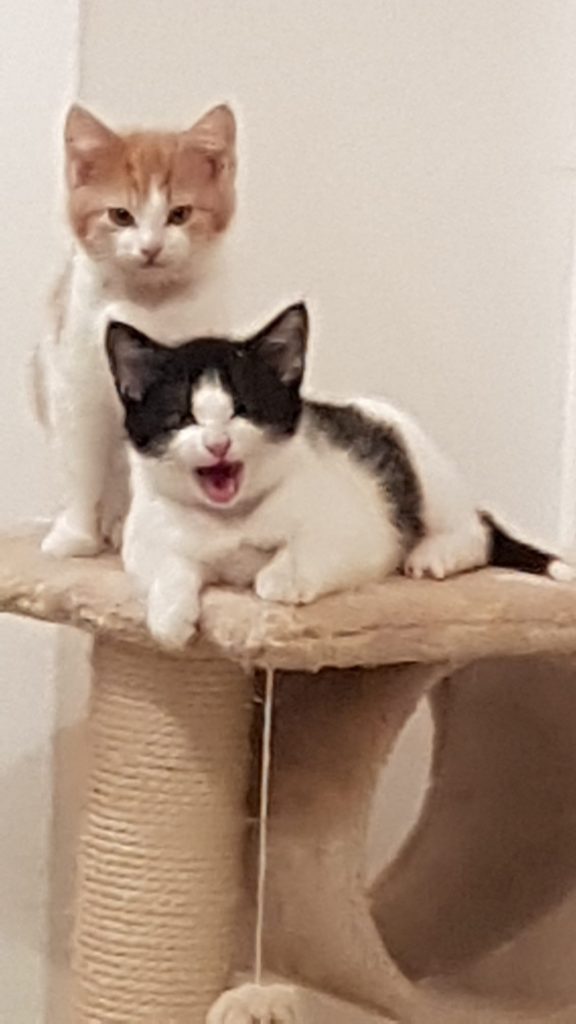 We may have different purrsonalities, but one thing we definitely share in common is our ability to shake the foundations with our purring! Usually one or two scratches in the right place and you'll fire us up. We are still young and will keep you laughing with our antics and melt your heart when we snuggle together in bed. We're brothers and best friends and we hope you might be our new furever family.
Please consider adopting us as a pair as we are very close and very much depend on each other. Bó and Bru xx
Meet Luna! (Booked)
My name is Luna and I am a gorgeous five year old tabby male cat. I am neutered and fully vaccinated and all set for a new home. I am such a sweet boy and I love humans and will give cuddles all day if you have the time!
I also like to mix with other cats in the cattery where I am being fostered. Sometimes I do really cute things like carrying my water bowl around with me.
If you like to give me a forever home contact Cats Aid today. I have a feeling that I will be snapped up!
Meet Cadbury! (Booked)
Cadbury is a very sweet 5-year-old boy who was straying for about 5 months before he came to Cat's Aid. He is neutered, microchipped, and fully vaccinated.
Cadbury is very quiet and doesn't play much. He is very friendly but a bit nervous at times so would be best suited to a quiet home. He does like to be around people and to sit on laps but seems to prefer to sit near a window.
Cadbury loves treats and will come running when he hears the treat bag being opened. He can be a bit chatty when he's looking for food and water and is very good at letting people know when his dishes need to be filled.
Cadbury is all set for a new home so please get in touch today and ask about him.
Meet Oti!
Oti is a gorgeous six month old black and white female kitten. She has a super personality. Oti loves her toys and other cats in her foster home however in a new home there is a chance that she will be afraid of resident cats.
Oti is not too sure about dogs and small children so we are on the look out for a quiet home preferably with experienced cat owners who will give her time and space to get over being shy with new people.
Oti is fully neutered and vaccinated and is also up to date with flea and worming treatments.
If you feel that you have the right home for Oti please get in touch with Cats Aid today on 087 148 3032. Please remember to leave a detailed message and a member of the team will phone you back.
Meet Beethoven & Bowie! (Booked)
These cuddle bunnies Bowie and Beethoven are brothers, aged around five months are now all set for their new homes.
Bowie (all black) is an exceptionally friendly kitten who loves to cuddle and sleep on your lap. He will let you pick him up and carry him and rub his belly, and he will eat anything! Here is a picture of him…
Beethoven (tuxedo) as seen below is smaller and shyer, but is gradually learning to trust humans and allow you to pet him.
The two boys are always playing with each other and both get along great with the other cats in their foster home. They can be adopted together or separately, but if separated, Beethoven will want to have other cats to cuddle with.
This gorgeous duo are both neutered and vaccinated and ready for their forever home. Please phone today if you are interested in adopting one or both of them. The number is 087 148 3032.
Meet Jackie! (Homed)
Look at this fabulous new addition……….
Jackie is a beautiful grey tabby cat aged by the vet at about 3 years old. She is a very chatty girl and loves playing and having her chin scratched. She also enjoys being brushed.
She was found as a stray and nursed back to health by a kind supporter of Cats Aid. We now really need to find her a home of her own where she is the only cat in the household. On this basis please only apply if you can offer her such a home.
Jackie is neutered and all ready to go.
Meet Button & Rua! (Homed)
Button came into our direct care as a result of a personal connection and was an emergency case as can be seen in this photo on day 1. He was almost blind, starving, half the weight he should have been and mother could not care for him as he did not keep up as she moved from garden to garden scrounging food. He was lying there dying in the baking sun.
Rua the ginger, is his handsome gentle brother and was perfect and double the weight of Button. When this rescuer saw him, she was not leaving without Rua as he could have ended up the same and Button needed him.
It took many months of treatment and care to bring Button on & Rua was by his side as soon as he was clear of infection and gaining weight. Button is still a little shy due to having eye medication frequently, but that is all finished now & life is all about fun.
The boys are totally bonded and full of fun and play constantly and even if separated by a door are looking for each other. They zoom about the house like crazy enjoying being young and carefree. Strangely enough, Button is the one who loves to groom Rua whether he likes it or not.
Rua has an endearing habit of getting food on his nose and doesn't notice for ages and it dries. Button washes it for him with the help of a little butter.
The home best suited for them both together is probably a mature couple or single person preferably home a lot. But, they have no experience of children or dogs.
They are all vaccinated, chipped, and neutered and their bags are packed. They are just 9 months old.
Please call message minder to leave your details: 087 148 3032 & we will get back to you.
Meet Brothers Dewey & Louis!(HOMED)
These gorgeous brothers are cousins of the Toy Story Boys and were born in a shed belonging to an old man who has since passed away. They were rescued as tiny babies suffering with flu and infected eyes. With Cats Aid help they were given loving care and are all perfect now. Their mother & sister are in foster care too.
They are very playful and adore each other. They have great personalities and are used to being around older children, ie 8-12 years. They have seen dogs but only at a distance, so a dog free house would be ideal.
If you think you can give these gorgeous boys a home please contact us.
They are fully vaccinated, chipped, and neutered and their bags are packed. They are going on 9 months old.
Please call message minder to leave your details: 087 148 3032 & we will get back to you.
Meet Poppy! (Homed)
Poppy is a beautiful female Tortie, she is roughly one year old and is a very sweet and chatty girl. 
She loves company and will follow her foster mammy around the house all day looking for pets and cuddles. 
She's also very playful, and makes anything into a game. She particularly enjoys grabbing feet under the covers and back pedaling and also chasing.
She's brilliant with kids, especially if they're willing to play with her and share their toys.
She would be better off as the sole feline of the household, where she would receive all the attention.
Poppy is neutering and vaccinated and ready to go!
Meet Layla! (Sister of Leo) BOOKED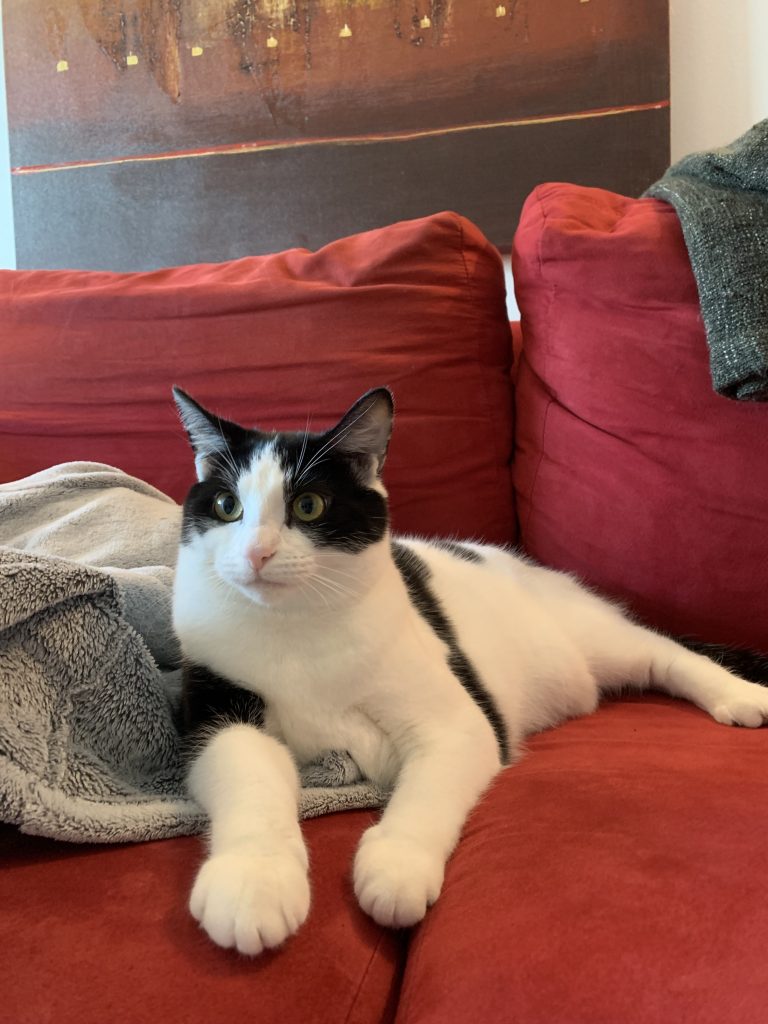 Layla is the sister of Leo so she is also 10 months old. She is mostly white with a few black patches
Layla is a queen and she knows it. She also knows that she had a hard start to life and deserves a life of luxury and relaxation. She loves to lie down on a soft carpet or sofa, but she really loves to play with a toy by herself whilst lying down. Layla is a mix between active and lazy. She does like to zoom around the house with her brother or investigate new places, but she loves a nap more than anything. She loves toys, especially toys that are left lying around that she can pick up by herself later. She loves to bird watch from the wind and watch TV. Layla is really coming around to humans and interacting with them. She loves scratches on the top of the head and lots of pats on her back, but she is still getting used to the humans always touching her. Little treats are a great way to get her comfortable with human touch as she responds very positively to food.
Layla will let you know when she doesn't like something, but she is very polite in letting you know when she's not comfortable. She is still a little apprehensive of humans who want to touch her too much. She does like to be patted but a few times is enough because she doesn't like her perfectly groomed fur to get messed up. She will politely let you know if she has finished with your pats and cuddles by meowing or moving her paw on your hand and signalling she's had enough. She also doesn't love to be picked up yet. She will politely meow and say no to being picked up, but we think over time, she will get used to it as she tolerates us picking her up all the time.
Layla has grown up with her brother Leo, so she is used to another cat. However, she is great on her own, she is very self-sufficient and can play by herself and sometimes Leo can be too much for her. She is however quite resilient, so if she was introduced into a multi-pet household, she would get used to it but still demand to be the queen.
Layla likes to eat a mix of dry adult biscuits with half a packet of wet food (she shares the packet with her brother). She has that twice a day, but she also loves to have a few chicken flavour Dreamies every day.
Layla has only been an indoor cat so far, but we think she would like to be introduced to the outdoors slowly, as she does love watching the birds and the squirrels climb trees.
Her foster family describe her as – Sweet, quiet, easy going, very self-sufficient, resilient and initially shy with people.
Layla is all set for her new home, she has had a full health check, all of her vaccinations, she is also neutered and wormed. She eats a very basic adult cat diet – mix of dry food and wet food pouches. If you feel that you can offer Layla a good home please get in touch with Cats Aid today.
Please call message minder to leave your details: 087 148 3032 & we will get back to you.