Meet Nicco & Nuri! (Nuri is homed)
Nicco Tux and his brother Nuri Black are two shorthaired incredibly loving sweet kittens looking for a quiet, warm home where they can relax and sleep, play and have lots of cuddles. They were rescued from a bad situation having been born in June. Being typical Gemini babies, they are totally bonded and reliant on each other to feel safe and secure. It would be best therefore if they can be homed together.
Nicco is a distinguished boy with white Tuxedo markings on his chest and white boots on his hind legs. He loves nothing more than tummy rubs and food – lots of it and frequently! Nuri on the other hand looks like a miniature black panther being totally black, silent, and always on the alert watching out for and minding his brother. He is so graceful. Both kittens love playing with their toys and chasing balls together. They also love climbing, looking out the window at the birds and their scratching poles. They are great cuddlers and Nuri gives the best headbutts! They purr loudly like engines when happy and when eating!!
Both Nicco and Nuri love eating dried and wet sachet food and also love to play with the drinking water. They are used to having dried food being available all the time and water to drink. They really enjoy all sorts of treats and come running as soon as they hear the packet rustling. They have been kept indoors in the fosterer's house and are totally litter trained. They have had no experience of meeting other cats or dogs or children.
They need a quiet home where they will be given time to blossom further and become more confident. They do not like sudden movements or loud noises. They are a little shy at first and need a little time to get to know you. When that happens, Nicco just wants cuddles all the time and Nuri will settle in your arms for a sleep. While Nuri also loves his tummy rubs, he is only now getting used to being picked up and his fosterer is confident he will be less shy over time once he feels secure and loved.
Nicco Tux and Nuri Black have both been health checked and have been wormed and vaccinated.
Both little boys are totally adorable and affectionate and love company and will make a really great addition to a loving home. They would be best suited to an adult home or one with older children (10years +) . If you feel that you can offer this gorgeous duo a loving home please get in touch with Cats Aid today.
Meet Maddie! (Booked)
This is Maddie and she is a five month old female kitten. She's very playful, very active and very affectionate.
She loves playing hide and seek and chasing feet, she also loves playing with other cats. There was a six year old child in her foster home and she was good with this age group and older.
She loves cuddling up in a warm blanket or on a lap and purrs constantly. She's a quarantine kitten, so she loves having people around.
Maddie can be a bit nervous of new people and places, but with a bit of patience, play time and whiskas she'll be fine.
If you are interested in adopting Maddie please get in touch with Cats Aid today.
Meet Mango & Milo! (Homed)
Mango (brown tabby) and Milo (black and white) tuxedo are happy, confident and outgoing kittens. They are approximately 12 weeks old and are more than ready to move on to their forever home from being fostered.
Their foster household had an adult cat and a small dog. Milo and Mango both wanted to play with the adult cat, but also politely left her alone when she'd had enough of kitten shenanigans. Mango also wanted to play with the dog while Milo preferred to have many friendly sniffs.
Mango wants to be friends with everyone and isn't shy about it. He's a vocal little cat, especially at meal times, and will grow up to be an absolutely stunning cat.
Milo has a gentler approach to new friends and like his brother purrs up a storm when petted. He will become an affectionate, sleek and dapper gentleman cat.
These two will do best when adopted together, and will happily keep each other entertained while people are out. They'll slot right into most households, including those with existing cats and/or dogs – careful introductions provided, of course. Their absolute favourite things to do are to chase each other around the house like mad things, and have wild wrestling matches.
Mango and Milo are fully vaccinated and vet checked.
If you are interested in adopting this gorgeous duo please get in touch with Cats Aid today. Their bags are packed and they are ready to go!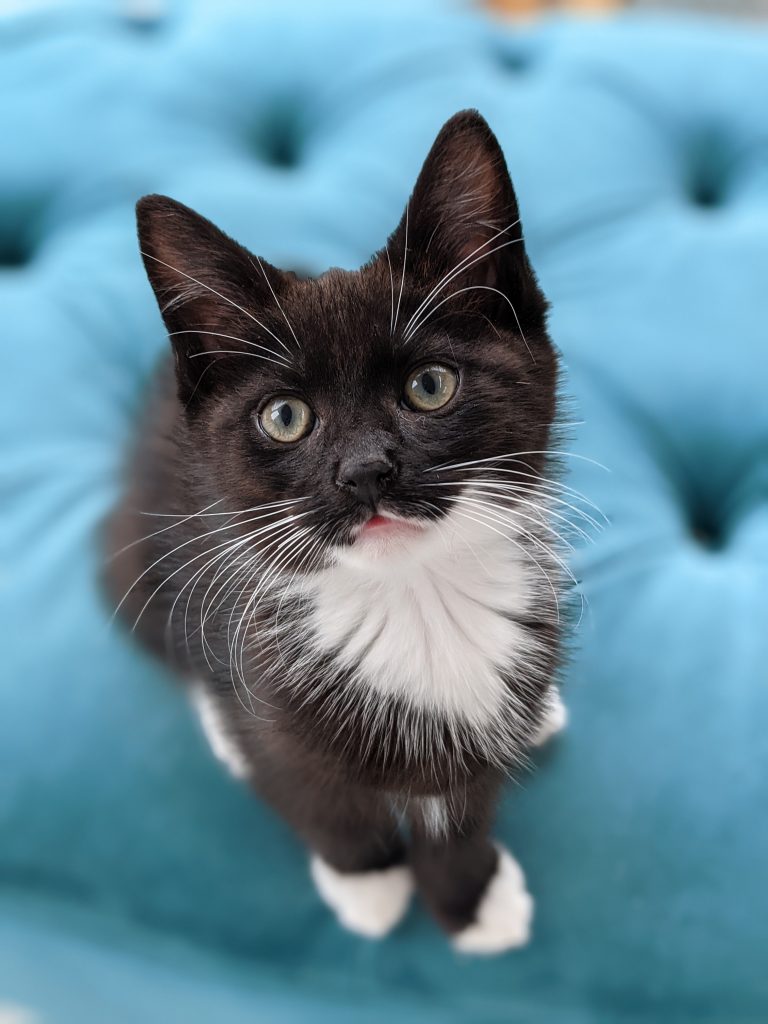 Meet Katrina & Little Kitt! (Booked)
You may remember Katrina from our appeal a few months ago well she is now aged approximately one and a half years old and is doing great. Her foster mother said that she is a very sweet little cat; a great mom to her kittens and patient while recovering from the serious injury she sustained.
Katrina is now fully recovered and is ready to go to a new home. She will be vaccinated and spayed beforehand.
Kitt is Katrina's son. He is 11 weeks old; lively and playful; a typical kitten. He has been vaccinated and is ready for his new home. We would like to home Katrina and Kitt together, but they can be separated.
If you can offer a home to this appealing pair, please either leave a voice mail on our Helpline 01 2751665 or email catsaid@gmail.com today.
Meet Lori! (Booked)
Hi Folks, my name is Lori and I am an eight week old gorgeous female tabby kitten. I was found in June 2021 alone and hungry and brought to Cats Aid who secured me a lovely foster home. I have been to the vets and they said that I am in good health.
I personally think that I am super intelligent and my foster mom thinks so too. I have tons of energy and I love to play cat games on an iPad and I also like to play ball. Please note that I need to be kept busy so you will need lots of time for me.
I will have my 1st vaccine and flea and worming treatments before going to my forever home. I am currently eating Royal Canin kitten dry food and whiskas wet food.
If you feel that I am the kitten for you please contact Cats Aid today and ask for a home check via WhatsApp. I think you may have to join a queue!
Meet Tiny! (Homed)
Hi! My name is Tiny and I am a sweet older boy looking for a home to call my own. I was living very rough on the streets and struggled to get by before Cat's Aid came to my rescue. I am a changed kitty now!
The vets told me I am a senior – possibly 8 -10 years – but that doesn't mean anything to me. I am super friendly, I am missing a few teeth but I love food so much I could eat all day. I am energetic and playful, and I love to be in my foster human's company; I won't be a handful at all, I am happy to just sleep beside you and purr up a storm. I love to be petted, brushed and cuddled, especially if I can sit in your lap. My coat is a little rough and patchy from the difficult times I left behind, but I will grow new fluffy fur in no time!
I would like a quiet home and a caring owner who I can give all my affection to. I would prefer a home without other cats but I won't mind older kitties like me that would give me space.
As my bones are not what they used to be, I will need my human to be gentle when handling me and give me a little extra care. Here are some notes from my foster:
-Front claws need to be trimmed regularly as they often get stuck on things and Tiny struggles to let go
-He will need eye drops occasionally
-Must be kept strictly indoor
Tiny is neutered and vaccinated and has his bags all packed!
So please contact Cats Aid if you would like to be home-checked on Whats App to adopt Tiny.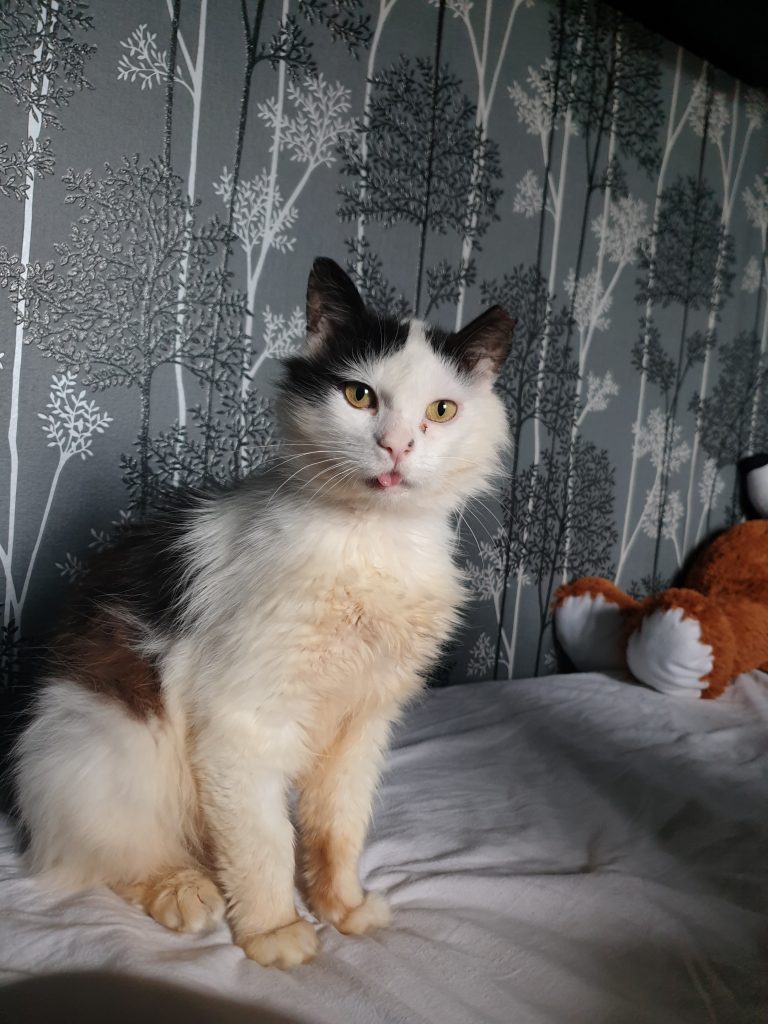 Meet Gucci! (Booked)
I am gorgeous 18 week old black & white kitten who was rescued along with my brother. He went off to a home a while back but I needed some time to get used to humans and home life so I am currently in a loving foster home.
My foster mum thinks I am a great boy as I love to play and be held. I also love her cuddles and if I am not too busy I also enjoy carrying my toy mouse around. Please note that I am a little bit nervous of new people and changes so my new forever family will have to be in a position to give me a little time to show them I am the best boy that my foster mom sees. So a nice quiet home with an experienced cat owner would be ideal.
I am a good eater and am currently eating Royal Canin sensitive 33 dry food and whiskas or felix in jelly.
I am fully vaccinated and neutered and have my bags all packed.
If you think you could give me my forever home and a chance to shine contact us.
Meet Bradley! (Booked)
Hi there, I'm Bradley. For a while I fell on hard times times until a friend of Cat's Aid found me living in the wild. On my first trip to the vet I had to be shaved from my neck to my paws as my coat had become matted. After readjusting to being indoors and part of a family I am feeling and looking much better. My appetites is back, I'm getting regular exercise through play and catching up on lots of sleep stretched out near sunny windows.

I went back to the vets recently and he says I'm in great shape. While my hair is a little patchy my long sleek black hair is well on its way back!.

I'm ready to find my new home. I don't like dogs. I like a back and neck rub but don't like to be picked up. I do like to be with humans and spend a lot of my day following around my foster mom or watching my foster Dad work.
An adult home or experienced cat owners would suit me where I can be in the middle of the action or left alone when I'm ready for quiet time.

I'm 2/3 years old and have been neutered. Could I join your family?
Please get in touch with Cats Aid if you can offer me a good home and the people there will try to do a homecheck via Whats App.
Meet Dobby! (Homed)
My name is Dobby and I'm a charming little gran with a big heart and winning personality. The vet says I'm about 10 years old and have a lot of love and affection left to give. I enjoy spending my days gazing through the window or snoozing in my favorite spot on the couch. I also love to sunbathe and you'll find me snoozing wherever those sunbeams are warmest.
I'm a little shy at first even though I appear very comfortable so it's best to take it slow when getting to know me. I will quickly warm up to you and show you my preferences, which include gentle petting, scratches on my head and lounging in very close proximity to you.
Some signs that I am enjoying myself include purring, vibrating the base of my tail, and rubbing my face against your hand. When I have become comfortable with my home, I will seek you out to spend time with you, which I might need some help with if your beds or couches are far from the ground. This also applies to window sills for me to perch on.
My mobility is limited when it comes to reaching higher surfaces so pet steps or a ramp to assist me are important to my quality of life as I don't enjoy being picked up. My balance is also not great and you may catch me stumbling from time to time, especially on uneven surfaces like duvets or blankets. You should also know that I like to watch what I eat because my tummy is a little sensitive so please read the preferences my foster mam provides below.
If you are keen to adopt me please make contact today with Cats Aid and we will endeavor to do a home-check via Whats App.
| | |
| --- | --- |
| Basic info | Female 10+ years old, jet black short hair with a sneaky white patch on her belly. |
| Vets visits | Neutering plus full health check, few teeth removed. they mentioned a possible liver issue, but it wasn't bothering her + it would need more investigation. She also has some issue with her back/back legs, it causes her to stumble and tumble from time to time – but vet couldn't see an obvious cause. |
| Dobby likes | Being brushed on her terms, playing with feathers and sleeping. |
| Dobby dislikes | Being picked up front on, over stimulation. |
| What was the cat exposed to in foster | Other cats through glass, a toddler, 24/7 work schedules as Dobby and I share my office |
| Met other cats? | Through glass she met some neighbor cats but not keen. |
| Indoor or outdoor | Indoor only please |
| Diet | Dobby has some tummy issues, currently on wet whiskas gravy pouches + dry royal canin indoor 7+; fed 1 pouch + 40g dry, split morning and evening |
| Grooming | She enjoys a brushing and sheds quite a bit – but again on her own terms. |
| Personality description | Shes a confident kitty – no fear, rarely shy's away. Doesn't meow often, when she does she wants something. |
| Info on how the cat came to cats aid | Dobby was picked up from May park with an injury on her head, she was in a bad way. Original plan was to let her recoup and release her but she's just not suited to outdoor living. |
| | |
Meet Quince! (Homed)
Quince is looking for a new home, due to a change in home circumstances. He is vaccinated and neutered. He has been an indoor cat since his owners got him, he is three and they have had him for three years.
Quince has never been around other cats or outside so maybe an indoor house would suit him but if someone wanted to take him outdoors with training I'm sure that would be possible. It just wasn't possible for his owners in an apartment.
He is a really playful and energetic cat, he loves playing. He is very fluffy and loves cuddling as well as playing! Children don't live in our house but he has been around children several times and he really liked them.
DISCLAIMER: Cats Aid does not accept any responsibility for this cat.