**NEW** Looking for a quirky gift idea? Cats Aid are offering this fun zodiac poster (via email) for €10!
Email catsaid@gmail.com with your details and then make a payment via @ http://catsaid.ie/donate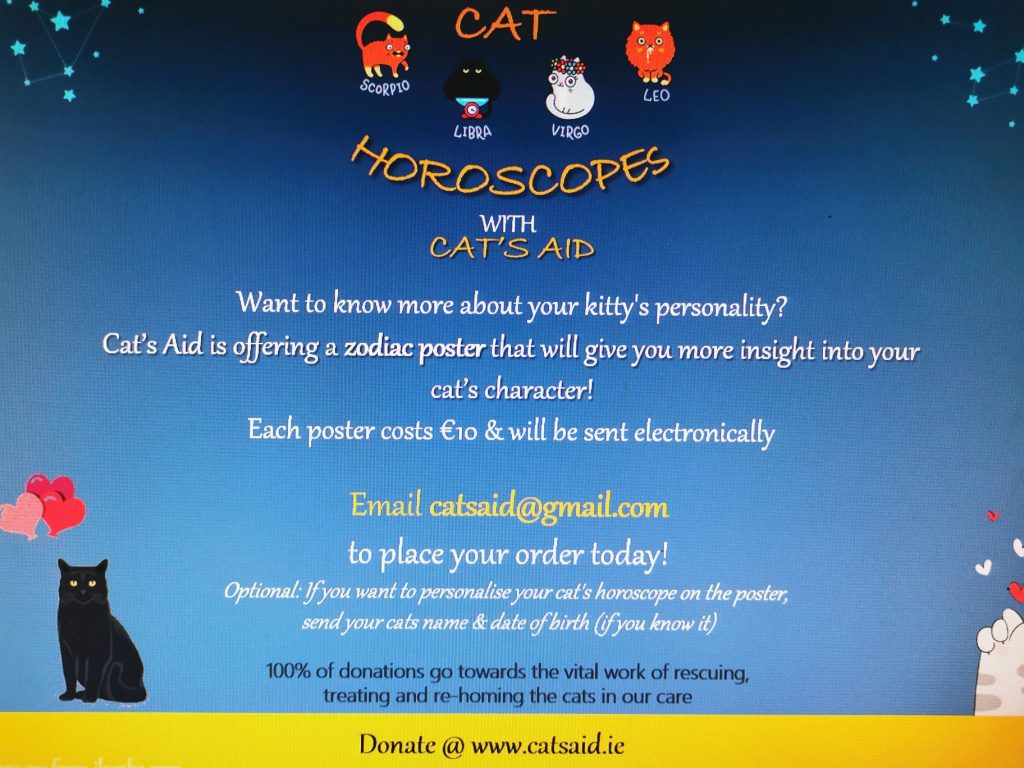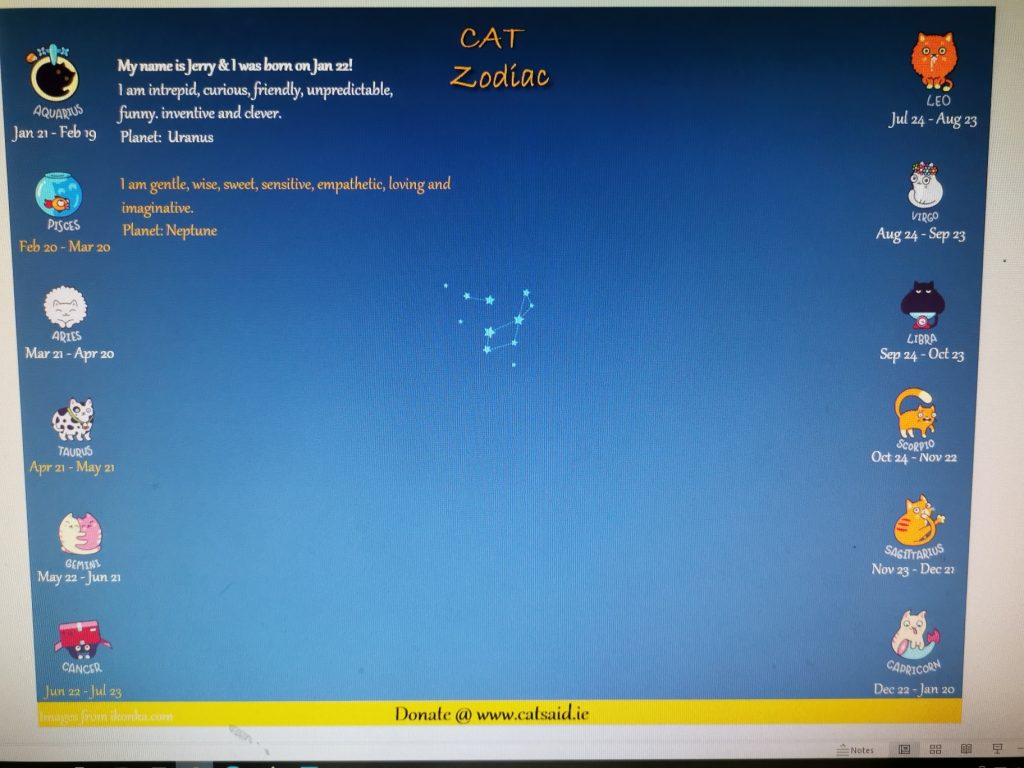 Wonderful Gift Suggestion for any occasion…Sponsor a Cat As A Gift for a friend and help the Cats too!
Fancy Sponsoring a cat from Cats Aid for 30 euros as a gift for that someone special in your life and help us raise funding for our cattery cats? If so please read on………….
Here's how you do it –
1.Have a read of all the profiles in our Sponsor A Cat Section.
2.Choose a cat that appeals to you based on their story and photo.
3.Email us at catsaid@gmail.com with your details and the cat you have chosen to sponsor.
4.Make a payment via Pay pal to us for 30 euros using our Donate Button above.
5.We will email you back your personalized certificate that you can print out and gift to your loved one.
This is a fabulous way to enable us to help more cats in need.
Your support is greatly appreciated by the cats!
**Gift Idea for your cat loving friend ** The Cats Aid Sponsorship Pack is an abundant pressie full of cat themed items for just 49 euros!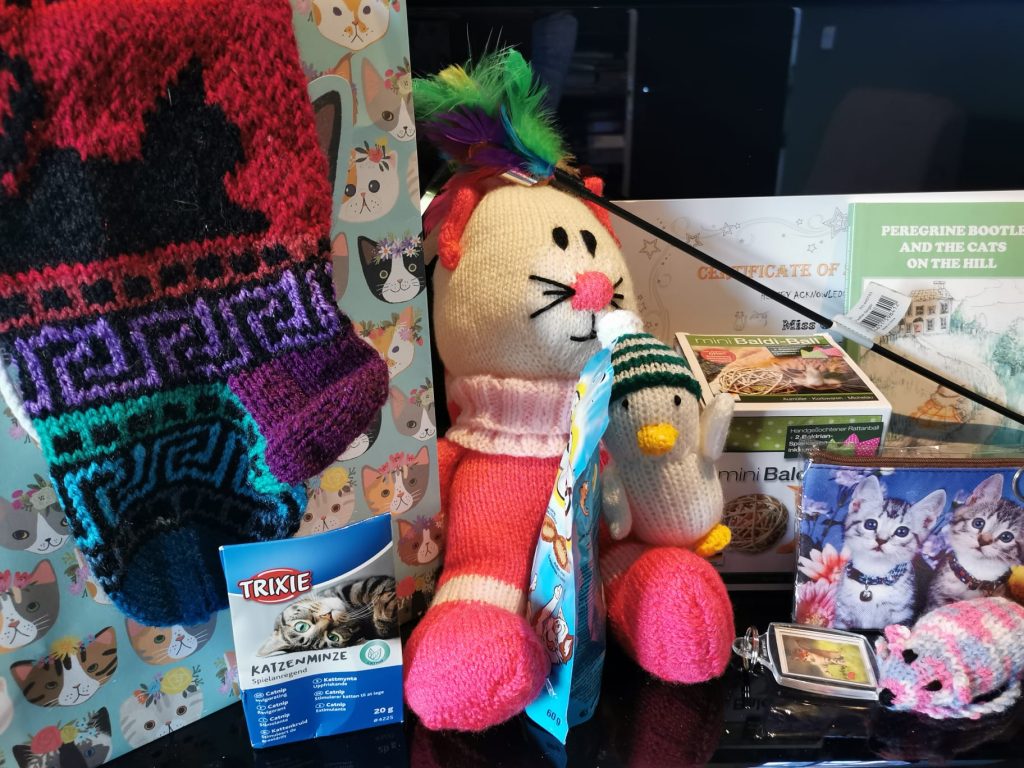 *** A FABULOUS GIFT SUGGESTION FOR YOUR CAT LOVING FRIEND ***
Why not treat yourself or a Cat loving friend to a beautiful Cat themed goodie sponsorship pack as a gift.
By making this purchase you will be helping Cats Aid with some much needed funds to enable us continue the vital work of rescuing, rehabilitating and re-homing sick and needy cats and kittens.
Each pack contains the following –

*2 hand knitted items – a big cat and 2 knitted mice
*A personalized certification of sponsorship
*A beautiful re-usable cat gift bag
*Feather wand toy
*Cat treats
*Cat nip
*Kitten toys
*1 x Knitted festive sock
(Some of the contents may vary from the photograph)


Cost is just €49 per pack for all orders if hand delivery in the greater Dublin area is possible. We can try to meet you half way so you can avail of free delivery.
However if you pay an extra 9 euros it is now possible for us to send the pack via An Post, see the picture below.
Payment is easy via Paypal using a credit card. Please email catsaid@gmail.com for details.
Thanking everyone for their ongoing support.
From All The Kitties!
Foster Homes Urgently Required!!!!
We urgently require foster carers for a large number of cats and kittens in our care at present.

A loving foster home works wonders for cats and kittens who have experienced abandonment and hard times and it prepares them for their new home. – All animals are health checked and Cats' Aid takes responsibility for all medical expenses. – Advice and backup is always on hand.
Phone (01) 668 3529, please leave your number and location.
Thank you.
Happy Ever After Intro Box
Happy Ever After
Meet some of the many gorgeous cats and kittens rehomed by Cats Aid over the last few years! If you have adopted a cat from us and would like to see them appear in this gallery, please email a photo and description to catsaid@gmail.com
Rehomed Cats Intro Box
Rehomed Cats
These cats are former Cats' Aid cats and kittens who have been lucky enough to find forever homes.  If you want to adopt a cat or kitten please visit the current kitties waiting for you to adopt them. 
Outreach Cats Intro Box
Outreach Cats
The cats on this page are not in the care of Cats' Aid; they haven't been vetted by us and we cannot accept responsibility for the information given or for the cats. We are facilitating their owners by advertising their cats. If you are interested in adopting one of these cats, please do not phone Cats' Aid; call the numbers given, to speak directly to the owners of the cats. If a homing does not work out Cats' Aid cannot take the cat. 
CatsAid Cats Intro Box
Cats' Aid Cats
We don't have a shelter or sanctuary; our cats are looked after mostly in the homes of our fostering volunteers until they are adopted. These cats have been vet checked by Cats' Aid. 
Please leave your name, address & evening phone number (preferably land line) on our mobile number which is 087 148 3032.  Please telephone us instead of emailing us as phone messages go directly to the Homing Coordinator.
We confirm that Cats' Aid has registered with the Dept of Agriculture as a supplier of pet animals, in accordance with the Animal Health (Sale or Supply of Pet Animals) Regulations 2019. Our Registration number is FPT200002C .
Adopt a cat Intro Box
Adopt a Cat
We do not have a shelter or sanctuary; our cats are looked after in the homes of our fostering volunteers until they are adopted. These cats have been vet checked by Cats' Aid. Please get in touch with us on 087 148 3032 if you are interested in any specific one. Please note that there may also be other cats available that do not have web profiles here.