Bengal Cat Found in Sutton in early April!
Message copied from Facebook Post – We've found a Bengal in Sutton area of Dublin.
We suspect he's been stolen as he's a young male, entire, and probably escaped his captors. He's been hanging around our house a fair few number of weeks, is always starving, and is showing signs of fight wounds and other damage. Today myself and Hazel took him to be boarded, he doesn't appear to be chipped.
These cats are worth quite a lot of money, hence my suspicion that's he's been stolen. Please share around. I have contacted my local Fingal cat rescue people as well, and we've sent out notifications around the area to see if anyone knows who owns him. So far nothing.
Not sure who is minding him but possibly a vets in Sutton.
Black Cat Found in Bray during Lockdown!
Female cat found on the Killarney Road area of Bray, Co. Wicklow during lockdown.
Contact No. : 087 055 9701
Friendly Cat Found, Finglas, 28th Aug.
Lovely tame cat, quite young.
Found in Prospect Hill apartments in Finglas, Dublin 11
Friday morning 28th August.
Contact 087-2235187 if this is your cat or you know who owns her.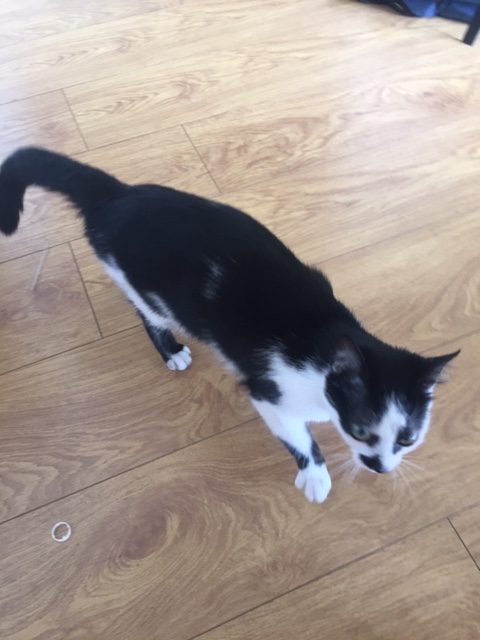 Tortie Found in Lusk, Sep 2020
Do you know or recognize this cat found in the Lusk area of North County Dublin? If so please get in touch with Cats Aid ASAP.
Black & White Female Cat Found in Bray, July 22nd
I found a cat on the side of the road in Bray, Wicklow. She was hit by a car and brought her to the emergency vets She is home with me now and is all okay. She is not micro chipped and has no collar. She is black and white . She is super friendly and looking for her owners .
My phone number is 087 754 7885
Black Male Cat Found In June in Balrothery Estate Tallaght June 20th
Male cat found in Balrothery  Estate Tallaght  Contact number 085 749 1293.
Found Tri-Coloured Cat Near Cabinteely on 20th June
Cat found near Brennanstown Stud, Cabinteely on 20/06/20.
She is a friendly, neutered, five year old. Not chipped.
Please contact Ark Vet, Foxrock (01 2895335).
Kitten Found Enfield at the end of May 20
Kitten found in Ballinderrin, Enfield, Co.Meath. 
Playful kitten meowing constantly for its family.
If you know anything please email catsaid@gmail.com
Cat Found In Inchicore, Dublin in May.

This little cat has been hanging around our garden in Jamestown Avenue Inchicore for a few days. Seems to be very friendly but he's meowing in at the window at us and seems to be lost.  Phone 085 115 1430  
Tabby Found In Tallaght, April 30th.
We found this guy (gender unknown) hungry and looking for attention and somewhere indoors in the Ballycullen / Oldcourt part of Tallaght. The cat has been around for a few days and we and some neighbours have seen the cat on walks.

The cat is social and vocal at times with the occasional love nibble. Very very fond of food.

Seems in great health, good coat and no really distinguishing marks except a nick out of the right ear.

If this is your cat or you know where he lives please contact me on the phone number below.

With thanks
083-4393783