Update : For Lost & Found Cats – Please See Our Instagam & Facebook Pages.
Cleo is Missing from Citywest Ave since 12th Aug
Cleo is a 3 year old female lost in Citywest Avenue area. She is microchipped. Must loved family pet.
If you find her, please call 086 8287346 or 087 9819232.
Young Tortie Missing from Oakpark Road in Tralee since 23rd Aug
Young adult female tortoiseshell cat strayed from Oakpark Road, Tralee, Co. Kerry on Sunday 23/8/2020. Four white legs and bushy tail. Usually quite friendly but could be scared and panicked. Her name is Gen.
Please contact me on 087 2171228, if you see a cat in and around the Oakpark Area matching her description, I have no photo of her.
Ivo Is Missing from Norseman Court, Dublin for Two Weeks – Aug 20
It's exactly 2 weeks since Ivo disappeared from the Norseman Court/Place area. We've seen posts about owners being reunited with their beloved cats even after as long as 18 days so we're trying to stay positive and hopeful. Please keep an eye out and check your back gardens, flowers pots, sheds etc.
Ivo could be hiding somewhere especially with the current weather conditions. He is all black, no other marks, could be skinny now and is missing his 4 big teeth so if you lure him in with food you'll be able to notice while he's eating.
We'll be so grateful for messages or calls on 0877824326 if you think you may have seen Ivo. Thank you from the bottom of our hearts.
Missing Female Maine Coon

Maine Coon (cat) called Dante
Black with white patches on the belly and butt cheek
1 year and 4 months old
She is neutered
Missing from Temple Place, Grenville Street, Dublin 1
Missing since 22/8 (Saturday night)
My contact number is 0838425551
Luna Is Missing from Ballyfermot Since Aug 4th
Our car Luna went missing on the 4th of August from Kylemore Road Ballyfermot. She is neutered and microchipped and was wearing a striped collar. She is grey and tan with a two tone face. Her paws and belly are white.
If anyone spots her please let us know on 085 2730 712
Female Cat Missing from Lucan Since Aug 16th (found)
My two year old neutered female cat Stormi went missing last Sunday from Beech Grove in Lucan.
She is white cat with black spot on her back and long black tail. She has a old cut beside her eye which has healed but the fur is still growing back, she is normally a friendly cat but she may be bit angry and scared. She also looks small for her age.
She normal does wear a collar which we take off when she comes in at night but the morning she left the house she left without her collar.
Please contact me if you see her, my mobile number is 087 270 3576.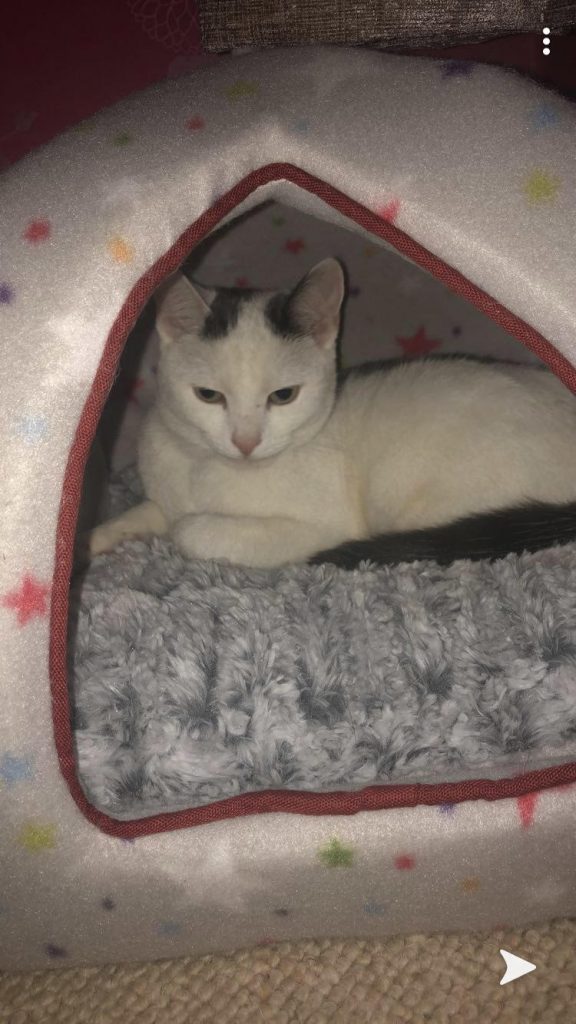 Black Female Cat Missing from Lucan Since July 12th
Lost cat: A fully grown, neutered, female Bombay. Usually quite friendly but could be scared and panicked. She could be intrigued by offered food. Her name is (Russian) "Уголёк" and may respond to that call. 
Lost in: County Dublin. Ran away in Foxborough, Lucan while I was visiting a friend. Could be making her way back to Balbriggan (actual home). 
Description of cat: All black with a white oval underneath her neck with big green eyes. Has a cut left ear, a sign of her being neutered. 
Weight: 5-6kg. 
Last seen: 12th of July.
If you see her please contact: me on either of the numbers below
Phone number: 0873309509 or 0877022815
Reward given if found, please help me find my cat! 
Chester Is Missing From Tallaght Since Aug 4th
Chester has been missing since Tuesday 4/08/2020. He is 2yrs old….called Chester. He was wearing a blue collar. He is used to going outside but never goes away far or for long. Please see all the details below –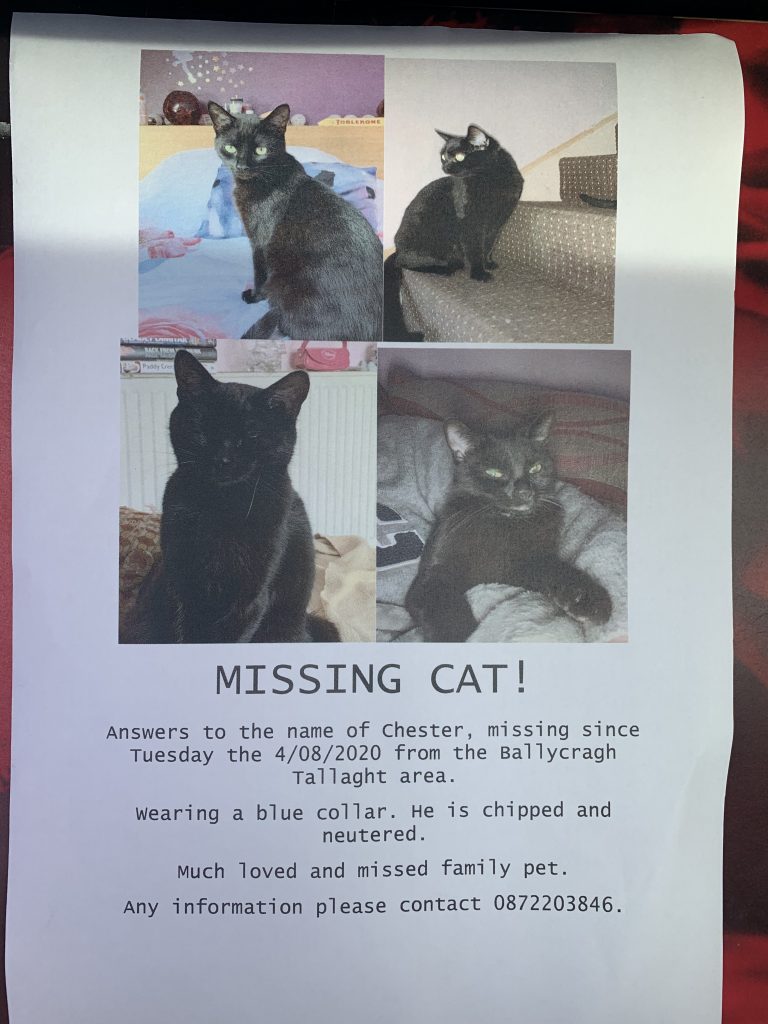 Soju is missing from Drimnagh Since Aug 1st

Soju has been missing since the 1st August. She's a fluffy tabby with a white bib and tummy and white paws. She's sweet natured and affectionate and has been micro-chipped.
Soju was wearing a blue collar when I last saw her (although she may have lost that). I'm in Galtymore Park, in Drimnagh and she usually stays within a few gardens of my house, so it's really not like her to be gone for a couple of nights.
Please call me on 087 439 1927 if you find her/spot her.