**NEW** Looking for a quirky gift idea? Cats Aid are offering this fun zodiac poster (via email) for €10!
Email catsaid@gmail.com with your details and then make a payment via @ http://catsaid.ie/donate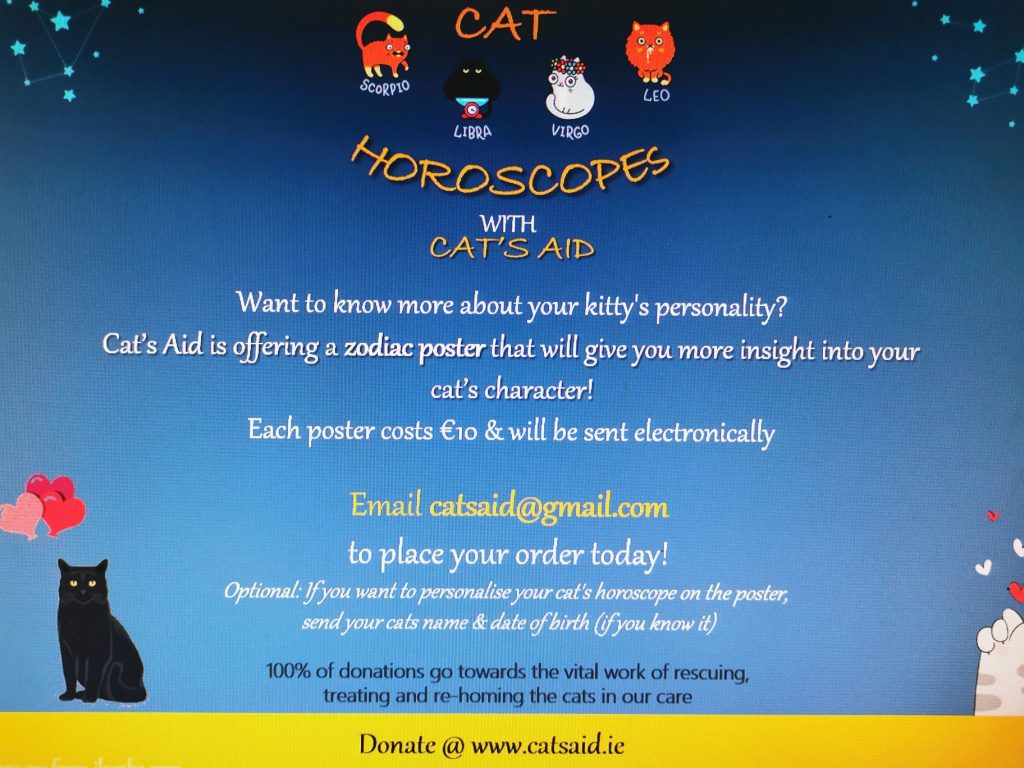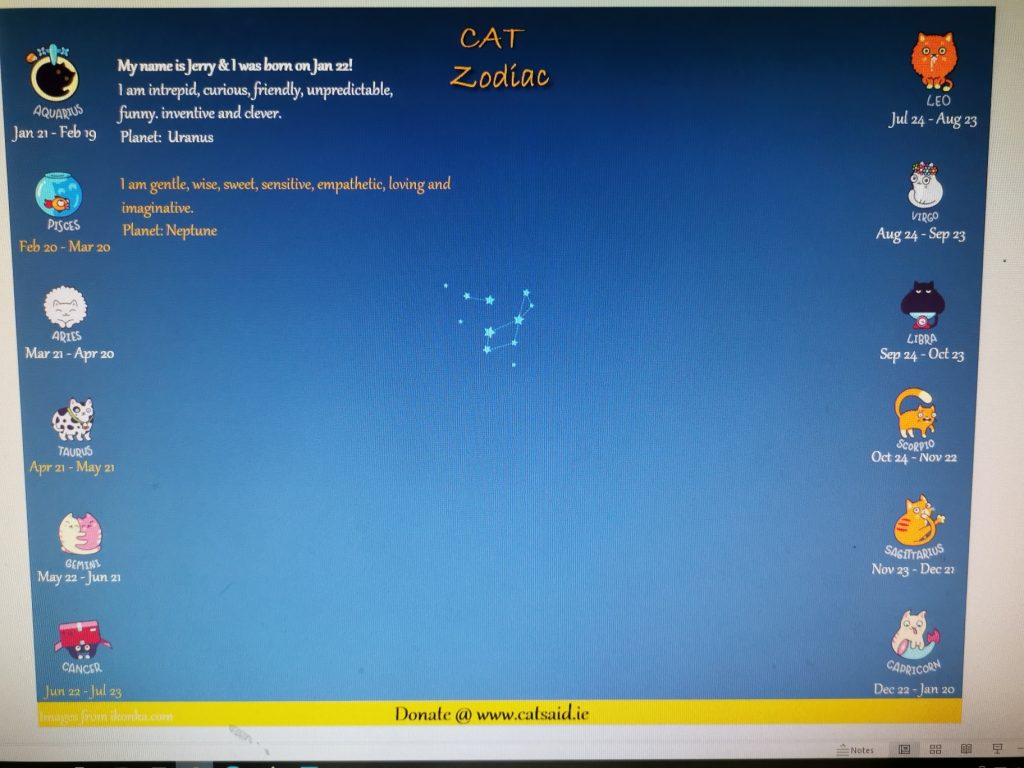 Wonderful Gift Suggestion**New Way to Help** Sponsor a Cat As A Gift for a friend and help the Cats too!
Fancy Sponsoring a cat from Cats Aid for 30 euros as a gift for that someone special in your life and help us raise funding for our cattery cats? If so please read on………….
Here's how you do it –
1.Have a read of all the profiles in our Sponsor A Cat Section.
2.Choose a cat that appeals to you based on their story and photo.
3.Email us at catsaid@gmail.com with your details and the cat you have chosen to sponsor.
4.Make a payment via Pay pal to us for 30 euros using our Donate Button above.
5.We will email you back your personalized certificate that you can print out and gift to your loved one.
This is a fabulous way to enable us to help more cats in need.
Your support is greatly appreciated by the cats!
**Fab Sponsorship / Gift Suggestion for any occasion** Limited availability. The Cats Aid Sponsorship Pack is an excellent pressie for your cat loving friend!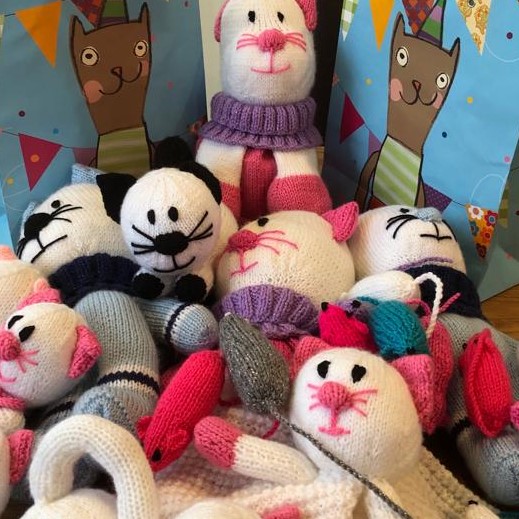 *** A FABULOUS GIFT SUGGESTION FOR YOUR CAT LOVING FRIEND ***
Why not treat yourself or a Cat loving friend to a beautiful Cat themed goodie sponsorship pack as a gift.
By making this purchase you will be helping Cats Aid with some much needed funds to enable us continue the vital work of rescuing, rehabilitating and re-homing sick and needy cats and kittens.
Each pack contains the following –
*2 hand knitted items – a big cat and a mouse
*Personalized certification of sponsorship
*A lovely re-usable cat gift bag
*Feather wand
*Handmade cat greeting card
*Cat bookmark
*Key-ring
*Cat treats
*Cat nip
*Kitten toys


Cost is €45 per pack and orders are only accepted for hand delivery in the greater Dublin area.
Please email catsaid@gmail.com giving your details including address and phone number so we can arrange delivery to you as soon as possible. We will ask you to arrange a payment then via bank transfer or via Paypal.
Thanking everyone for their ongoing support.
From All The Kitties!
DOREEN GRANT – A REFLECTION
Cats' Aid sadly lost one of our longest-serving members, Doreen Grant, last February. This tribute is written by Ann Woulfe, another of our Core Group members. Cats' Aid extends our sincere sympathy to Doreen's daughter, Lesley. Ed.
A smiling face and twinkling eyes are what I vividly remember about meeting Doreen for the first time. That was in March 2004 at Pat Keating's vet practice in Raheny. We clicked immediately and thus began a great friendship. One year later I was handing the proceeds of a fundraiser over to Doreen when she said, "Do you fancy doing one or two nights on the Helpline?"
Doreen was our "go to" person within Cats' Aid for many years and her home became an indoor haven for rescued cats. When I first met her she had up to thirty cats dependent on her. She was for many a "last gasp saloon!" She loved each and every cat that came into her care and she tried to give each of them individual attention every day. Her shopping list/bill was all about wet food, dry food, cold meats etc. all for the cats. She mourned the passing of each cat she lost. She was a private person re: grieving but did appreciate support when she received it.
Doreen had many other interests which had been sacrificed along the way for the sake of the cats. However, she did enjoy the company of other people and she would smile when I would say "You scrub up well," when we went out for lunch.
She was an acute observer of human nature and was very shrewd in her dealings with others. Although she was no fool, she was instantly sympathetic if someone shared with her a loss or difficulty they were encountering in their daily lives. She would spend hours on the phone every day, starting with the Helpline. She provided an informal counselling service (for us.)
Doreen didn't drive and giving her a lift to or from meetings proved to be a mixed blessing. She would have the agenda in front of her (in the car) and would proceed to air her thoughts on the various items. By the time we would get to the Hall she would have herself completely wound up and would walk into the Hall saying "I'm going to have to go; I have thirty odd cats to feed." We would try to appease her by saying "Ah, stay a while; you're just here." I never knew whether to burst out laughing or to say a silent prayer .
After the very sad passing of Doreen's son, Hugh, a few years ago, Doreen's health started to bother her more. She tried valiantly not to complain, and she became a true warrior in terms of keeping going for everybody's sake. Life had become very difficult. She was able to continue living at home and passed away suddenly but peacefully in February of this year . . .
We still remember all the cats and kittens she took into her home and heart.
GONE, BUT NOT FORGOTTEN.
Special Foster Homes Needed!
Thank you to everyone who responded to our recent appeal for fosterers. Unfortunately some of these offers weren't suitable. At the moment we are looking for special people for our special cats. Do you have a quiet home (no young children or 'house-shares')? Do you have a spare bedroom or quiet space? Are you an experienced 'cat person' who is willing to work with timid cats that need gentle socialization? Having transport is helpful. If you fit this 'profile' please get in touch. We have several shy cats urgently needing a temporary home and fostering can be SO rewarding 
🙂 Please leave a message on our Helpline the new number is 01 2751665 or email catsaid@gmail.com. In either case give your address and an evening phone number so that we can talk to you. Thank you.
Can you help Cat's Aid, Please?
Cats' Aid urgently needs new volunteers to assist in our work.
We have reached a crisis situation and if we don't get some help we may have to cease operations, which would be a shame after thirty years of helping countless hundreds of cats and kittens.
We need help mainly in the following areas: –
Our telephone Helpline.    This involves dealing with requests for help with TNR etc. and enquries about homing cats. We need people to take over 1 or 2 days per week to start with.  A good telephone manner, patience and tact are needed.
House visits.    We always like to visit prospective adopters in their homes, to meet them and to see where the cat would be living. Help with this is needed especially in the inner city and north side.
Emails.             This involves responding to email inquiries, passing on queries, etc.
Foster Carers    Temporary homes are urgently needed for our kittens and cats.
Transport          Bringing cats to and from vets and homes. Delivering traps, etc.
Fundraising      People to organize fund-raisers and new ideas for fund raising needed.
If you can help us in any way, please either add your name and contact details to this page and hand it to one of our Core Group, or leave a message on our Helpline on 01 2751665 or email catsaid@gmail.com. Please spread the word; we can't continue without your help.
Thank you for taking the time to read this appeal.
Click here for the very latest Cats Aid Newsletter!
Cats Aid Newsletter Winter 2018
Christmas Gift Suggestion!
CHRISTMAS GIFT SUGGESTION
Are you looking for a Christmas gift for someone who loves cats? You can sponsor a cat or make a donation to us as a Christmas gift. We can design a personalised Certificate for the recipient. Suggested minimum donation €20. Email catsaid@gmail.com for further details.
Christmas Fair
CHRISTMAS FAIR
SATURDAY 1ST DEC., 2018
IRIS CHARLES CENTRE,
NEWBRIDGE AVE, SANDYMOUNT
  12 NOON—2PM   ADMISSION €2
CHILDREN FREE AND WELCOME
We will have  Christmas cards, cakes 'n bakes, Cats' Aid merchandise, good as new, jewellery, plants, wheel of fortune and raffle.  Refreshments available.
We welcome donations of saleable goods, especially cakes and Christmas items. Could you bake for us or do you know someone who could? Items for sale can be left into the Centre on Fri. 30th Nov.. between 6.30pm and 7.30pm. Collection may be possible in some cases (depending on  location).    Please phone our Helpline  (01) 6683529 by Mon. 26th Nov. to enquire about collection . (No CDs, DVDs, books, electrics, or clothes please.)
Donations to our Give a Cat a Dinner campaign are always welcome. Please bring along some dry or wet food to help us feed the many cats in our care and the colonies that are monitored on a regular basis by our dedicated volunteers.
Our Christmas Fair is our main annual fundraiser, so we really need to make this a success. We appeal for your support. Some of our regular team aren't available, so we need people to help on the day and to clear up afterwards. Could you distribute Flyers in the Sandymount area?  If you are one of our regular volunteers or a newcomer who would like to help, please contact us by phone or email to confirm your availability.
    PLEASE SPREAD THE WORD;  HELP US TO HELP THE CATS.
Remember CAT — Contribute, Attend, Tell.
Foster families always needed!
Foster families are always needed for scared and lonely cats and kittens to bring them on so they can have a happy life instead of living in fear under a hedge or shed scrounging for food and being chased away terrified. You may be just one person with a kind heart or a busy family willing to spare some time, depending on the kitty's needs, but it makes a huge difference to them to send them on their way, well fed and confident into their new life. Can you help them for a relatively short time? If so please call 016683529 and leave a message or email: catsaid@gmail.com with your phone number also.