A BIG Thank-You!
To everyone who kindly donated to our recent Easter Roof Appeal we would like to say a massive THANK-YOU for helping making this happen.
The job was completed over a period of five days and the finished job looks really terrific and well beyond our expectations.
Not only was the roof completely redone but the ground area was also extended slightly.
The cats are absolutely chuffed too.
Cats Aid Team
NEW : Easter Roof Appeal 2022!
We are appealing to all of our amazing Cats Aid supporters to help us to literally raise the roof!
Our current cattery has seen better days and is lacking in TLC and structural maintenance for many years now. Basically the roof needs to be completely replaced along with all the joists, it will also involve re-plastering and repainting.
This is a big job which will take over ten days to complete however it will result in us being able to fit in a few more cats in dire need and also keep the current ones warmer and happier. The cats in the cattery are in temporary accommodation until the work is complete.
The best quote we got for this work is €4,200 so if you would like to contribute in any small way we would be very grateful.
Here are some of the ways you can help us –
Donate any amount via our Donate button on the website as follows – https://www.catsaid.ie/donate/
Order a sponsor cert for €30 for someone special in your life, all the details are here https://www.catsaid.ie/shop/sponsor-a-cat/
Order an Easter sponsor pack for €49 Here are the details **Gift Idea for your cat loving friend ** The Cats Aid Sponsorship Pack is an abundant pressies full of cat themed items for just 49 euros! https://www.catsaid.ie/2019/11/cats-aid-christmas-fair-2019/
Text donate LOVE to 50300 to donate €4
Happy Easter
The Cats Aid Team
April 2022
NEW: Contacting Cats Aid By Phone.
Please note the following two numbers for contacting Cats Aid depending on the nature of your call….
To enquire about adopting a cat or
kitten from our website
087 148 3032
Mon-Fri 9-6pm only




For all other general inquiries including –
TNR, information on injured strays or cat surrendering.

01 843 5286
Mon-Fri 9-6pm only
Please make sure to leave a message with your name and contact details.
A volunteer will call you back asap so please be patient.
The Cats Aid Team
Help! Would you consider fostering for Cats Aid in 2022? Please read on…….
Cats Aid are always on the look-out for new fosterers especially now with the new year just around the corner. If you think that this is something you would like to get involved in (even short-term using a spare bedroom) please send us an inquiry to catsaid@gmail.com and we can then have a chat with you about this very rewarding aspect of our work and what it involves.
So if you live in Dublin or the out-skirts and decide that you would like to go ahead please note that this may involve a quick home-check via Whats App. If you are renting you will need a letter from your land-lord.
We currently have a super team of fosterers from all walks of life who do great work. Below are some of their very recent comments …….
'I love fostering for Cats Aid as when a newbie arrives at my house for fostering on day one they may be very young & scared, unwell or just needing TLC. The transformation I have witnessed over a period of time to when these cats go to their new homes can be hugely rewarding and heart-warming. I highly recommend it'.
~~~~~~~~~~~~~~~~~~~~~~~~~~~~~~~~~~~~~~~~~~~
'Fostering gives me purpose that I can make a difference'
~~~~~~~~~~~~~~~~~~~~~~~~~~~~~~~~~~~~~~~~~~~
'I love fostering for Cats Aid as every cat that comes through my home enriches my life, and I know I've done something to enrich theirs'
~~~~~~~~~~~~~~~~~~~~~~~~~~~~~~~~~~~~~~~~~~~~
'I love fostering for Cats Aid as it's so rewarding. Watching our cats grow in confidence and gain homes who help them thrive is one of the most rewarding things I have ever been part of'
~~~~~~~~~~~~~~~~~~~~~~~~~~~~~~~~~~~~~~~~~~~~~
'In the four years that I have fostered for Cats Aid, I have come to love this group as my friends and support system. Not only do they give the best care possible to every cat they take in but are also very thoughtful, mindful about every foster family and their needs as well'
~~~~~~~~~~~~~~~~~~~~~~~~~~~~~~~~~~~~~~~~~~~~~
'I love fostering for Cats Aid because it is so rewarding to see a cat who perhaps has been neglected or abandoned, coming around to its true loving nature and ultimately finding a forever home'
~~~~~~~~~~~~~~~~~~~~~~
'We look at our'resident' cats, who were all fostered by Cats' Aid, and are so grateful that someone had opened up their home (or spare room!) to care for them until they found their way to us. Fostering for us means helping create more forever homes for cats'
~~~~~~~~~~~~~~~~~~~~~~~~~~~~~~~~~~~~~~~~~~~~~~~
'I love fostering for Cats' Aid because it's so satisfying seeing scared cats and kittens respond to my care and head off confidently to their forever homes'
~~~~~~~~~~~~~~~~~~~~~~~~~~~
'I'm delighted to be fostering cats for Cats Aid. I love cats but as I travel a lot I can't really own one. Cats Aid allows me to have a furry friend on a temporary basis. I help a friend gain confidence and the cat gives me companionship. Cats Aid is also a lovely group of dedicated, kind people who all help one another with advice and practical assistance'
~~~~~~~~~~~~~~~~~~~~~~~~~~~
'I love fostering for cats aid because it is so fulfilling and a joy to be able to help all the vulnerable cats and kittens'
~~~~~~~~~~~~~~~~~~~~~~~~~
'I enjoy fostering for Cats Aid because it's fun to get to know all the different cats and their personalities. It's great to see the positive results of your care and attention as they get ready for their new home'
~~~~~~~~~~~~~~~~~~~~~~~~~~~~~~~~~~~~~
'I love fostering for cat's aid because it is so fulfilling and a joy to be able to help all the vulnerable cats and kittens'
~~~~~~~~~~~~~~~~~~~~~~~~~~~~~~~~~~~~~~~
'I love to foster for Cats Aid because of the rewards I get to see an unwanted cat become socialized and develop a super sweet personality already for their forever home'
~~~~~~~~~~~~~~~~~~~~~~~~~~~~~~~~~~~~~~~
'Fostering especially during Covid has been so great for me as I'm not working at the moment and knowing there is a little kitten waiting to be fed and watered helps me get up in the morning. I love doing what I do and hope I will be able to continue as long as possible'
~~~~~~~~~~~~~~~~~~~~~~~~~~~~~~~~~~~~~~~~~~~
We look forward to hearing from you! The Cats Aid Team
**Gift Idea for your cat loving friend ** The Cats Aid Sponsorship Pack is an abundant pressie full of cat themed items for just 49 euros!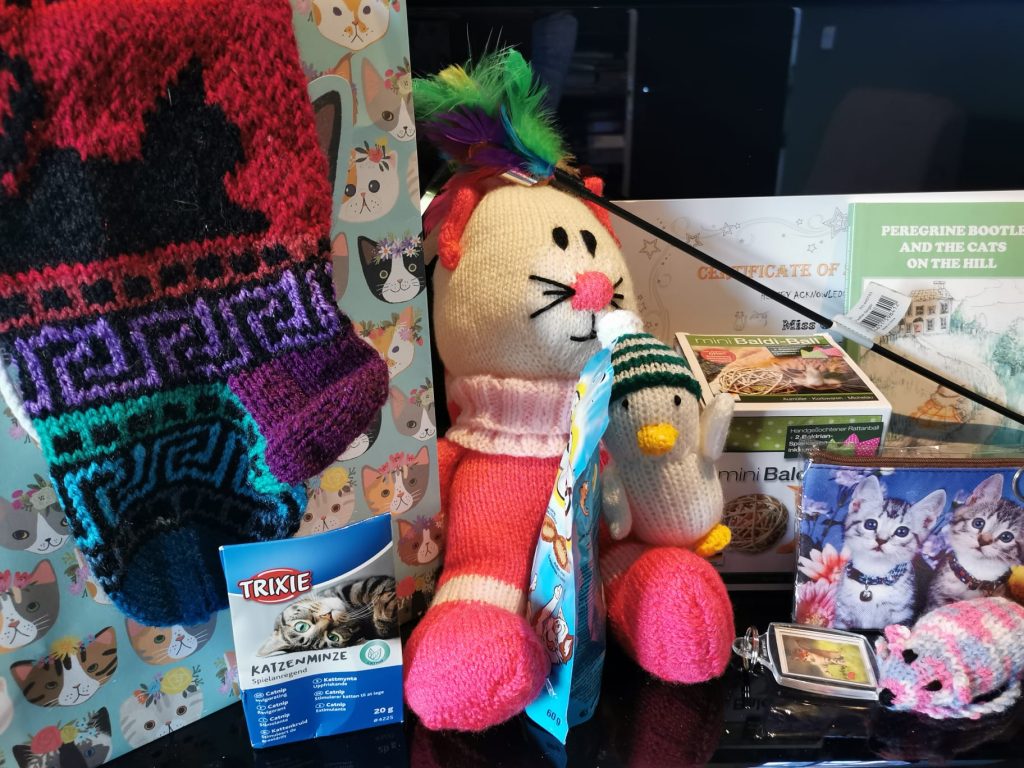 *** A FABULOUS GIFT SUGGESTION FOR YOUR CAT LOVING FRIEND ***
Why not treat yourself or a Cat loving friend to a beautiful Cat themed goodie sponsorship pack as a gift.
By making this purchase you will be helping Cats Aid with some much needed funds to enable us continue the vital work of rescuing, rehabilitating and re-homing sick and needy cats and kittens.
Each pack contains the following –

*2 hand knitted items – a big cat and a mouse
*Personalized certification of sponsorship
*A beautiful re-usable cat gift bag
*Feather wand toy
*Cat book
*Key-ring
*Cat treats
*Cat nip
*Kitten toys
* 1 x Knitted festive sock
(Some of the contents may vary from the photograph)


Cost is just €49 per pack for all orders if hand delivery in the greater Dublin area is possible. We can try to meet you half way so you can avail of free delivery.
However if you pay an extra 9 euros it is now possible for us to send the pack via An Post.
Payment is easy via Paypal. Please email catsaid@gmail.com for details.
Thanking everyone for their ongoing support.
From All The Kitties!
Can you help Cat's Aid, Please?
Cats' Aid urgently needs new volunteers to assist in our work.
We have reached a crisis situation and if we don't get some help we may have to cease operations, which would be a shame after thirty years of helping countless hundreds of cats and kittens.
We need help mainly in the following areas: –
Our telephone Helpline.    This involves dealing with requests for help with TNR etc. and enquries about homing cats. We need people to take over 1 or 2 days per week to start with.  A good telephone manner, patience and tact are needed.
House visits.    We always like to visit prospective adopters in their homes, to meet them and to see where the cat would be living. Help with this is needed especially in the inner city and north side.
Emails.             This involves responding to email inquiries, passing on queries, etc.
Foster Carers    Temporary homes are urgently needed for our kittens and cats.
Transport          Bringing cats to and from vets and homes. Delivering traps, etc.
Fundraising      People to organize fund-raisers and new ideas for fund raising needed.
If you can help us in any way, please either add your name and contact details to this page and hand it to one of our Core Group, or leave a message on our Helpline on 01 2751665 or email catsaid@gmail.com. Please spread the word; we can't continue without your help.
Thank you for taking the time to read this appeal.
Christmas Gift Suggestion!
CHRISTMAS GIFT SUGGESTION
Are you looking for a Christmas gift for someone who loves cats? You can sponsor a cat or make a donation to us as a Christmas gift. We can design a personalised Certificate for the recipient. Suggested minimum donation €20. Email catsaid@gmail.com for further details.
Foster families always needed!
Foster families are always needed for scared and lonely cats and kittens to bring them on so they can have a happy life instead of living in fear under a hedge or shed scrounging for food and being chased away terrified. You may be just one person with a kind heart or a busy family willing to spare some time, depending on the kitty's needs, but it makes a huge difference to them to send them on their way, well fed and confident into their new life. Can you help them for a relatively short time? If so please call 016683529 and leave a message or email: catsaid@gmail.com with your phone number also.
New Text Donate
Cats Aid are delighted to say we now have a text donate option. We are hoping this means we can reach out and help even more cats in Ireland. If you love cats and would you like to help stray cats in Ireland then please text LOVE to 50300 to donate €4 to Cats Aid. Every cent we receive goes towards helping unwanted and abandoned cats. We do not take a salary.
Without the generous support of our followers we could not continue.
Thank you.
The Team at Cats Aid.
Coppers for the Kitties!
Coppers for the kitties!!
Anyone out there with lots of loose coppers thrown in a jar that you don't want? We have a home for them!
We would love if you could donate them to us to help the kitties.
All you have to do is bring them along to either of the following this weekend –
Next Friday 30th and Saturday 1st we are bag packing in Supervalu, Malahide then also on the Saturday we have our Autumn Fair in Raheny. (All Saints Church of Ireland Rectory Hall, beside Watermill Rd., oppposite Supervalu and near Raheny Dart Station.)
We will count them, bag them and use them wisely.
Thank you for your support 🙂