Meet Elliott!
Hi, my name is Elliott and I am a black and white male cat aged approximately two years old. Before I came to Cat Aid I was not an neutered cat roaming freely with no home then I got lost from where I was hanging out and could not find my way back. However luckily a kind lady began to feed me and put a call into Cats Aid about me needing help.
I was brought immediately to the vets where I was neutered, given flea treatments, wormed and I also received my first vaccination.
When I got to my foster home I was so exhausted I slept for the first 5 days. After that I felt rested and safe and my true personality started to shine.
My foster mammy thinks I am super friendly, inquisitive, playful and I love my cuddles.
I am really fond of my scratching post so a cat tree as high as can be would be really nice. I love to play games so my new owner would need to have lots of mice and feather toys as these kind of games would help me burn some of my energy.
I am on a special gastrointestinal food as my tummy was upset most likely as I was eating whatever I could find while I was out on my own living rough. That will settle down and once I have a good-quality diet in the future the vet said I should be fine.
Ideally I would love an indoor home for the first six months while I adjust to a new area (this is a must) and then gradually I could be introduced to a safe lifestyle whereby I could be living in a loving home indoors and have safe access outdoors. Please consider me for adoption.
Lots of love Elliott.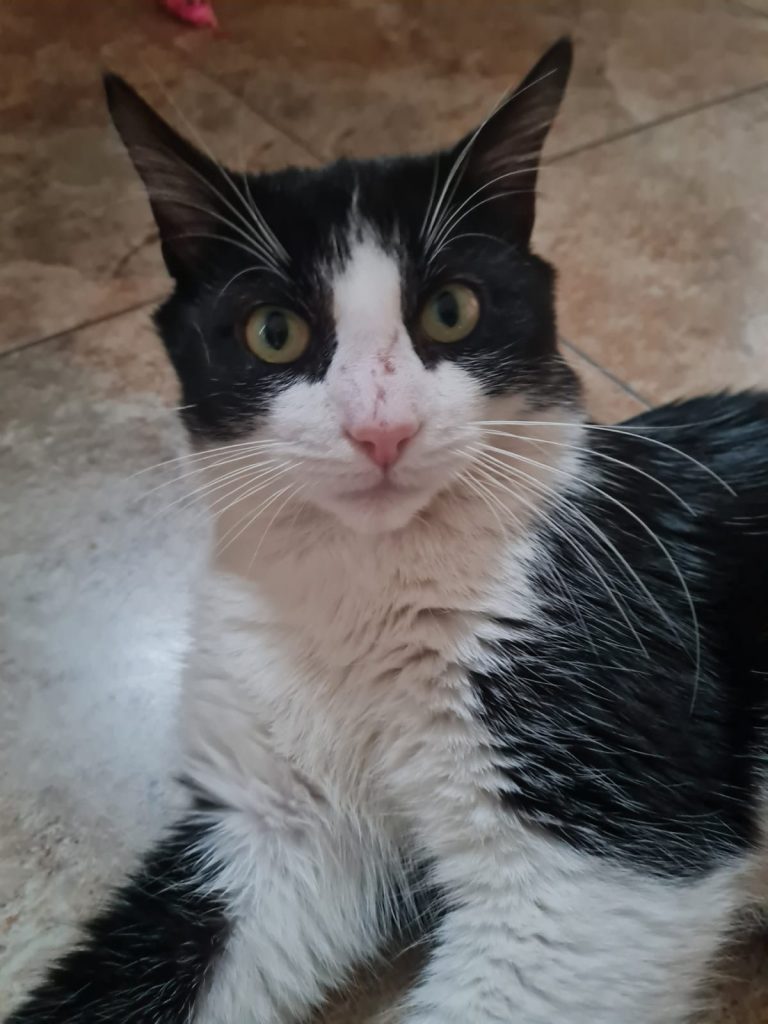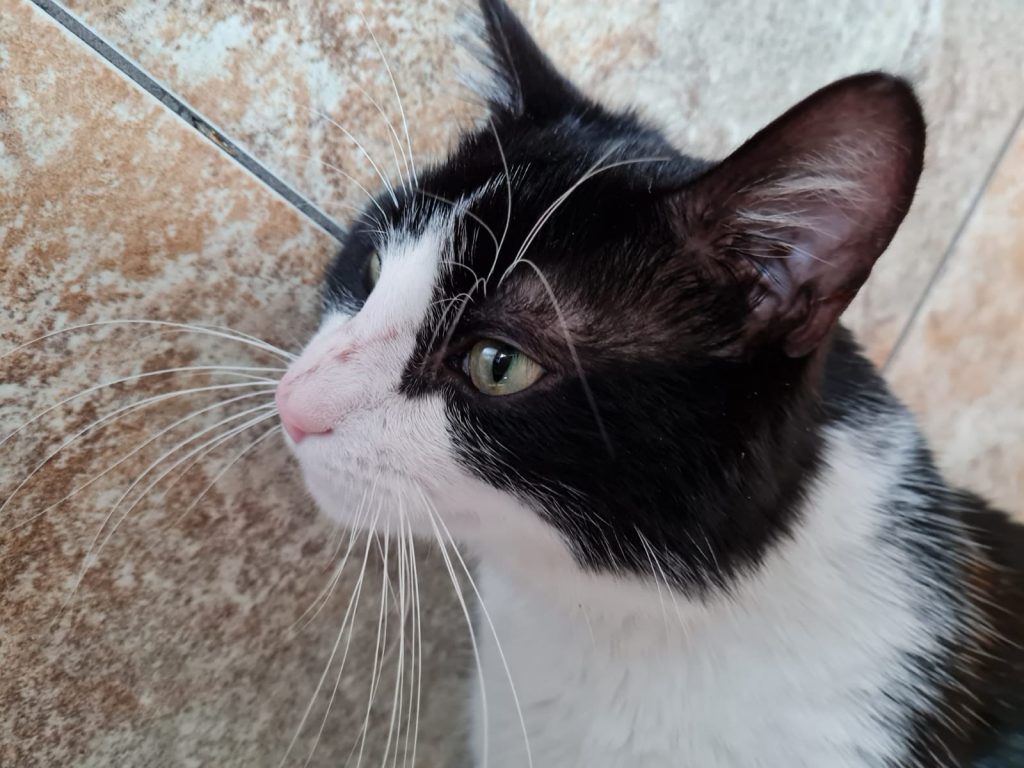 Valentines Gift Suggestion!
Please consider sponsoring one of our long term cats for 30euros as a gift to a loved one in your life for Valentines Day.
The cost is 30 euros, you can choose any cat from our sponsor a cat page, email us, pay via Paypal and we will email you a certificate.
This is a great way to help us raise much needed funds during February.
From the Editor
2020 has been an extraordinary year for all of us, including Cats' Aid.
We would like to reassure our supporters that our work of Intake, Rehoming, TNR and general help has continued throughout the year. TNR involved rescuing from many difficult situations, including an attic with a cat trapped behind a wall.
The cats didn't observe Social Distancing and the kittens kept arriving! During the year to the end of Oct. we took in 54 cats, including pregnant moms, and we rehomed 79.  

We have had to follow advice about contact with people and we have carried out 'virtual' home checks via Whatsapp. This has proved to be quite time-consuming, and we thank people for their patience. 
We haven't been able to hold Sales or fund-raising events this year, so our income has dropped. Of course we understand that many people are on reduced incomes at present and may not be able to continue their support. We really appreciate whatever support you can give and we assure everybody that our administration expenses are kept to an absolute minimum and that any money received goes directly to benefit the many cats in our care (58 at the end of Oct., including long-term.) 
 
Fab Kittens Now Available!
Cats Aid are delighted to announce that they have an assortment of beautiful friendly kittens ready to go to new homes.
They are aged approximately 9 weeks old and are super friendly.
If you are interested please get in touch with Cats Aid today.
We will endeavour to do home checks using What's App.
**Found & sadly deceased** Fluffy is Missing From Bray Area Since July 18th

Fluffy has been missing since Saturday, from Woodbrook Glen Estate in Bray . Fluffy is a timid, docile and older Tom Cat, 8 years old with rough white fur. He was wearing a red flea collar and does not have a collar tag but is chipped and neutered.
Please contact 087 997 9941

**IMPORTANT NEWS – Homing Has been Suspended**
*** HOMING SUSPENDED ***
In response to the government's announcement about measures we should all be taking to help contain the spread of the Coronavirus, we are suspending home visits and homing until further notice, also lending traps for TNR. We are very sorry for any inconvenience this may cause. We are still here, working away to help homeless, stray and feral cats and kittens. We can offer advice; we can post notices about lost and found cats and possibly help with emergencies. We look forward to resuming our full services soon.
We feel it is very important to stress that there is currently NO evidence that cats can contract the virus. The World Health Organization (WHO) currently advises that there is no evidence to suggest that dogs or cats can be infected with the new Coronavirus. Centres for Disease Control and Prevention (CDC) seconds that opinion, stating, "At this time, there is no evidence that companion animals including pets can spread COVID-19."
Tortie Missing for 2 years.
My cat was missing for past 2 years, but we still hape hope to find her.
Tortoiseshell female cat, 10 years old, neutred and microchipped.
Had back paw broken when was a kitten and paw is a little bit disformed.
If you have any information on where or who i can contact to find her I'd very grateful.
If you have any information please phone the number on the flyer
Gus Is Missing From Donny carney Since Nov 18th
Please click on the link to see the details.
Kitten Recently Found Near Charlestown SC Dublin. November 19
Found (followed me home) last Sunday evening. I brought her to the vet yesterday and she is not chipped and I also gave her a flea and worm treatment. I would love to keep her but have had a very bad allergic reaction, so unfortunately I can't.
Shadow is adorable, lovely temperament, easy, friendly and full of life. Would make a great family pet.
Many thanks 086 0609935
DOREEN GRANT – A REFLECTION
Cats' Aid sadly lost one of our longest-serving members, Doreen Grant, last February. This tribute is written by Ann Woulfe, another of our Core Group members. Cats' Aid extends our sincere sympathy to Doreen's daughter, Lesley. Ed.
A smiling face and twinkling eyes are what I vividly remember about meeting Doreen for the first time. That was in March 2004 at Pat Keating's vet practice in Raheny. We clicked immediately and thus began a great friendship. One year later I was handing the proceeds of a fundraiser over to Doreen when she said, "Do you fancy doing one or two nights on the Helpline?"
Doreen was our "go to" person within Cats' Aid for many years and her home became an indoor haven for rescued cats. When I first met her she had up to thirty cats dependent on her. She was for many a "last gasp saloon!" She loved each and every cat that came into her care and she tried to give each of them individual attention every day. Her shopping list/bill was all about wet food, dry food, cold meats etc. all for the cats. She mourned the passing of each cat she lost. She was a private person re: grieving but did appreciate support when she received it.
Doreen had many other interests which had been sacrificed along the way for the sake of the cats. However, she did enjoy the company of other people and she would smile when I would say "You scrub up well," when we went out for lunch.
She was an acute observer of human nature and was very shrewd in her dealings with others. Although she was no fool, she was instantly sympathetic if someone shared with her a loss or difficulty they were encountering in their daily lives. She would spend hours on the phone every day, starting with the Helpline. She provided an informal counselling service (for us.)
Doreen didn't drive and giving her a lift to or from meetings proved to be a mixed blessing. She would have the agenda in front of her (in the car) and would proceed to air her thoughts on the various items. By the time we would get to the Hall she would have herself completely wound up and would walk into the Hall saying "I'm going to have to go; I have thirty odd cats to feed." We would try to appease her by saying "Ah, stay a while; you're just here." I never knew whether to burst out laughing or to say a silent prayer .
After the very sad passing of Doreen's son, Hugh, a few years ago, Doreen's health started to bother her more. She tried valiantly not to complain, and she became a true warrior in terms of keeping going for everybody's sake. Life had become very difficult. She was able to continue living at home and passed away suddenly but peacefully in February of this year . . .
We still remember all the cats and kittens she took into her home and heart.
GONE, BUT NOT FORGOTTEN.