Meet Dirvish!
She's 11 years old (born around May or June if you fancy throwing a little party), she's neutered and litter trained, and she's primarily an indoor cat but occasionally likes to lay on the grass. She is currently in her home but needs a new home through no fault of her own.
Pros:- She's old to the point of not really being able to jump very high anymore, so no fear for the chicken you've left on the counter (well, maybe a little fear, she LOVES chicken so she might find a way)- She has an incredible trilling purr when she's happy- She's super low maintenance; all she wants in life is to be near/on you while watching TV, some food and treats, and a place to go hide and sleep for the rest of the day.- She's extremely affectionate once given her space and patience. All she wants is head pets and neck scritches- She's gorgeous and chonky.
Prerequisites:- She needs to go to a her-as-the-only-cat household (ideally only pet, but we don't know how she'd get on with other animals. I can't imagine well)- She's primarily indoors and wouldn't suit barn cat life- She's been anxious/skittish her entire life and gets easily spooked by noises or sudden movements, so a house with children or a lot of unpredictability wouldn't be suitable.
She's had to deal with a LOT of changes and new people coming in and out of the house lately and I thought it'd be too much for her – she did hide for the first day – but honestly she's been coming in and interacting way more than I could have ever imagined with people she'd never met before.
If you can offer this gorgeous gal a home please get in touch today by emailing us on catsaid@gmail.com
Photos to follow soon.
Meet Gretel & Gucci!
Introducing a delightful pair of kittens, each with their own unique and endearing qualities. They are now about 3 months old. These feline companions are sure to capture your heart with their playful and affectionate nature.
Gucci boasts a striking white coat of soft, fluffy fur. With bright, curious eyes and a gentle disposition, this kitten is a joy to be around. She is the typical nosey kitten and wants to be involved in and lend a paw in everything. She loves to snuggle up in your lap and purr contentedly as you stroke her velvety fur.
Gretel is a sleek and agile little creature, with a coat of glossy tabby and white fur. She is full of energy and loves to play, darting around the room with lightning-fast reflexes and pouncing on anything that catches her eye. But don't let her mischievous streak fool you – she is also very affectionate companion who loves nothing more than following you around or curling up in your lap for a nap.
Both of these kittens are in excellent health and have been well-cared for by all their fosterers. They have received all necessary vaccinations and have been checked by a licensed veterinarian. They are also litter-trained and have been socialized with humans, making them the perfect addition to any loving home.
In summary, Gretel and Gucci are a delightful pair of feline companions with their own unique personalities and good points. Whether you are looking for a cuddly lap cat or an energetic playmate, these kittens are sure to bring joy and companionship to your life.
If you are interested in adopting this gorgeous pair please email us on catsaid@gmail.com
Meet Chip & Beast!
Our names are Chip & Beast and we are three year old brothers. We are named after Walt Disney characters. We are both neutered, litter trained and fully vaccinated and ready for our forever homes.
We are the best of friends and love to play and cuddle so we really need a forever home together. We are super sweet and love to be petted and cuddled.
If you feel that you are able to offer us a home together please email us today at catsaid@gmail.com
Photos to follow soon!
If you are looking for kittens it's time to get in touch….
We have gorgeous kittens that will be ready to go to their forever homes in July.
All colours and personalities available.
Don't delay contact us today!
Please email us at catsaid@gmail.com to register your interest.
Meet Sofi!
Indoor only home applications please.
I am a small tuxedo cat aged around three. I was rescued by Cats Aid after giving birth to kittens, who quickly found their forever home. It took me longer to adapt to human company so I was placed in a foster home.
I can be nervous and hissy around people at first, but it hasn't taken me long to grow comfortable with my foster parents and I now love to sit on their laps and sleep in bed with them at night! I am VERY sociable with other cats and I love to spend my days cuddling with my foster brothers on the cat tree. Especially Hugo as we are the best of pals.
I am neutered, chipped, and vaccinated. I would love a forever home with other cats, and with adults only or older children.
We are looking for a special indoor only home for Sofi with an owner who has experience dealing with a shy cat using patience plus giving her plenty of time to adjust.
Please email catsaid@gmail.com if you feel that you can offer Sofi a home based on the information above. Alternatively please ring us on 087 693 5100.
Meet Holly!
Holly is ten years old this year and has lived indoors her whole life. She is very much a lap cat who loves nothing more than having cuddles on the couch. She can have her crazy kitten moments where she loves to chase balls of tinfoil or play with toys. 
Holly loves being petted while she eats and also loves to watch people eat! If it's sunny outside you will find Holly in the hottest window and if it's cold you'll find her asleep under your duvet.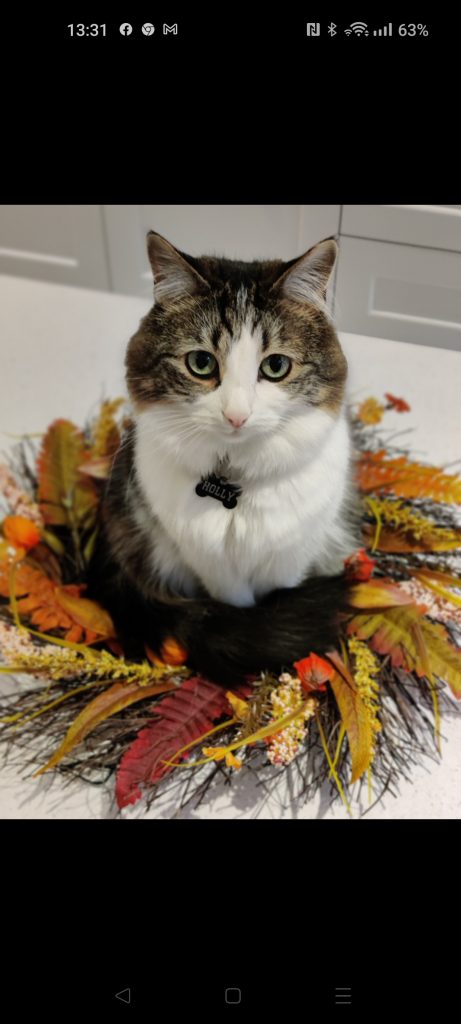 She's has been so loved and deserves a home now that can offer her one on one attention as she enters old age.
If you think you have the perfect retirement home for Holly please do get in touch with Cats Aid today.


Ref -Louise
Meet Zappa & Pepper!
This gorgeous pair are nine year old brother and sister indoor cats called Zappa and Pepper. Both are very friendly and cuddly, no aggression ever from either – except with each other when have a disagreement, but they will be found grooming each other and have always been happy in each others company.
Both are neutered and in terrific health apart from Pepper's claw – she is clumsy with putting them away and never got the hang of scratching posts: she needs her front claws trimmed monthly.
They have some experience with other animals and are good around children. Absolutely wonderful cats.
If you are interested in adopting this pair please do get in touch with Cats Aid today.
Ref Elliot
Merry Christmas Everyone!
We are now closed for new adoption enquiries till January 9th 2023.
Please email us at catsaid@gmail.com after January 9th if you are interested in adopting for us. We would be delighted to hear from you.
Thanks very much to all of our wonderful supporters for making 2022 a very successful year for rescuing and rehoming cats and kittens.
Looking forward to hearing from everyone in the New Year.
Seasons Greetings from all in Cats Aid.
Meet Ali! (Booked)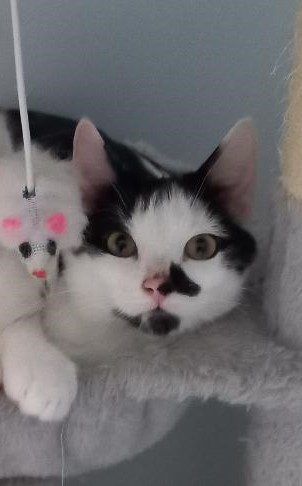 Ali is a six-month-old black and white short hair and is ready to find his forever home. He is in good health and has had his initial vaccines, has been neutered, and is microchipped.
He has a distinctive black mark on the left side of his very cute nose, is a cuddle monster, he loves human attention. He's also very playful and loves to chase a cat teaser.
Ali and his brothers came to Cats Aid after their wild mother was spotted in a garden in Dundrum. She has since been neutered and returned to her garden where she is looked after by a collection of neighbours.
If you feel that you have the right home for Ali please get in touch with Cats Aid today.
Good News – Cats Aid Christmas Cards 2022 are now available!
The Cats Aid Christmas Cards for 2022 are finally here and are ready to be ordered!
The cost is €8 for a pack of 10 beautiful individual cards plus postage & packaging as outlined below:
| | | |
| --- | --- | --- |
| No of Packs | Plus Postage & Packaging | Total Cost |
| 1 pack (8 euros) | €4 | €12 |
| 2 packs (16 euros) | €5 | €21 |
| 3 packs (24 euros) | €7 | €31 |
| 4 packs (32 euros) | €7 | €39 |
Step 1 – Best way to order is to send us an email to catsaid@gmail.com
Step 2 – Payment can simply be made via PayPal with a PayPal account or credit/debit card. Please provide your full name and address when you make a payment this way and we will receive an email from PayPal with all your details.
Go to www.catsaid.ie use the blue DONATE button on the top right hand side of the home page. Then scroll down the page to the yellow DONATE button and you are there😀
Some vets will also have them in stock. We will compile a list in a couple of weeks.
Any problems please drop us an email, we are always happy to help!
Please note that Cats Aid can avoid paying bank fees on individual charges on Paypal transactions if you select your payment to be made to friends or family.
Thank you everybody for your support.❤️